Ayeza Khan has a pretty face and she looks great in every makeup look, this is the reason why she is seen doing all kinds of different photo shoots. Ever since Ayeza Khan made a comeback after the birth of her first baby, she has changed her style altogether. She went from being a really simple looking actress to a style icon. Ayeza Khan is naturally pretty so she looked beautiful even when she was not sporting these grand looks.
Whether it is a grand makeup look or a simple one, Ayeza Khan has such features and face that she looks good in them all. Ayeza Khan is also one of those actresses who have sported so many different bridal looks. She is a favorite of all makeup artists. Ayeza Khan also experiments with her looks very often unlike before when she had the same look in every single project.
Here are the 5 best makeup looks which were sported by Ayeza Khan. These looks can be a major inspiration for all those girls who want to look different every time they are going out to attend a dinner or to a wedding.
The Royal Asian Bride
This look will inspire many bribes-to-be out there who want an all glammed up look on their wedding day which is perfect in every way. Ayeza Khan's make-up in this look isn't too loud or too little. The stylist and the makeup artist very tactfully have given her a royal look by complimenting a somewhat simpler makeup look with heavy jewelry. Ayeza Khan's contouring, eye makeup and the shade of her lipstick in this look is perfect. Everything gels in together to give a look which is flawless and makes Ayeza Khan look stunning. The right choice of jewelry of course makes a huge difference since everything in this look is color coordinated which makes it so appealing.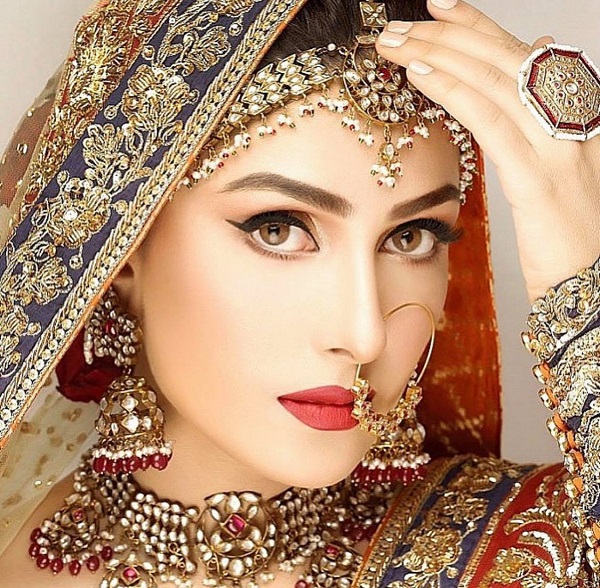 Smokey Eyes & Nude Lips
Smokey eyes paired with a nude shade of lipstick is a makeup look which has been around for many years and it isn't going out of fashion any time soon. There are various ways in which makeup artists keep on experimenting with the basic concept but ultimately the overall look is always a winner, if done right. Ayeza Khan's makeup artist gave her a subtle smokey eyes look without going overboard which is why this look is perfect for an evening out with friends. The hairstyle Ayeza Khan is sporting in this look plays a major part in giving her that soft look which very often doesn't come with a smokey eye look. The shade and texture of the lipstick gives the overall look a more fresh appearance. The perfect highlighting and bronzing gives this look the perfection it needed to stand out.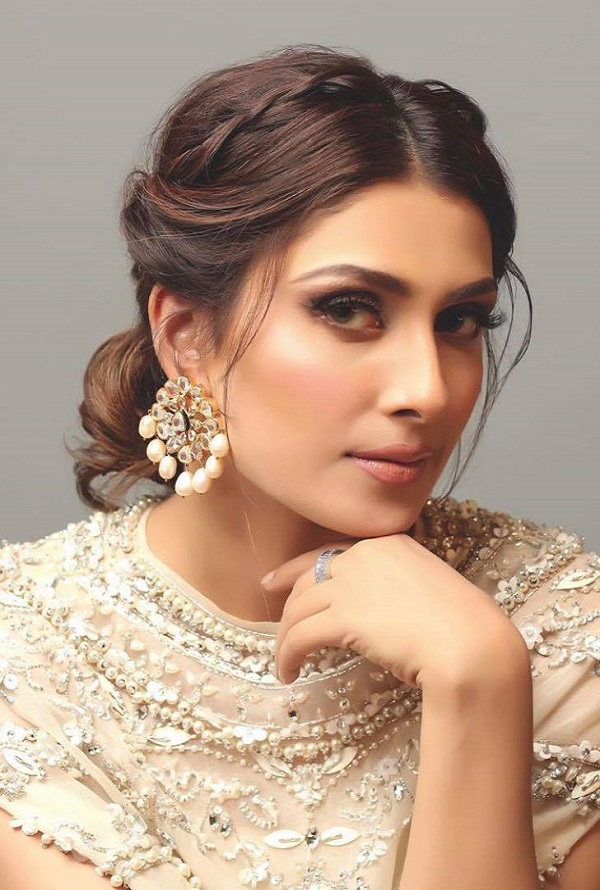 Peachy Pink For The Win
Ayeza Khan's peachy pink look appears to be simple but a lot of hard work goes into achieving such a subtle yet perfect look. Every makeup essential is used in such looks but in such a way that nothing stands out and the outcome is an ideally soft but refreshing look. This has to be the perfect summery look for daytime events like lunches and get-togethers with friends. This is also the kind of look which can be done by using one makeup product for the lips eyes and cheeks while the rest of the look requires a perfect foundation to start with and some subtle highlighting to finish it off. Mascara also plays a key role in shaping the eyes since there is no eyeliner used in this look. Once again, this look is perfect only because the makeup artist kept into consideration what Ayeza Khan was going to wear and which accessories she was pairing her look with.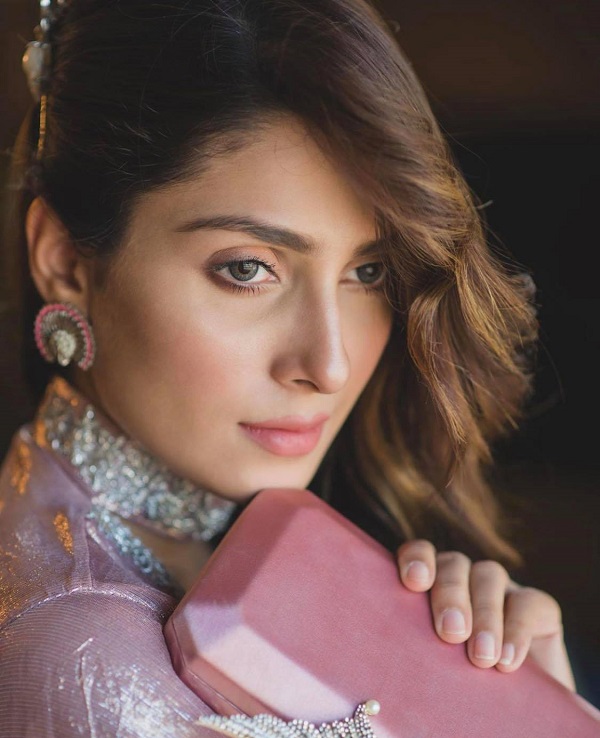 The Perfect Mehndi Bride
Ayeza Khan looks absolutely gorgeous in this mehndi look. Some girls prefer a 'no makeup' makeup look on their mehndi but there are so many others who would much rather go for a look which is formal but at the same time is different from the looks they are going to sport on the rest of their functions. Ayeza Khan looks stunning in this makeup look which makes her eyes look bigger and her lips more prominent. The makeup artist accentuated all her features to give them a more definite shape. Since Ayeza has good facial features therefore the makeup artist intelligently made use of them. Ayeza Khan's smile definitely adds more beauty to this look. Once again the choice of colors used by the makeup artist while doing the makeup has made all the difference. Well defined eye brows and the semi smokey eye liner look makes Ayeza Khan's eyes look really beautiful.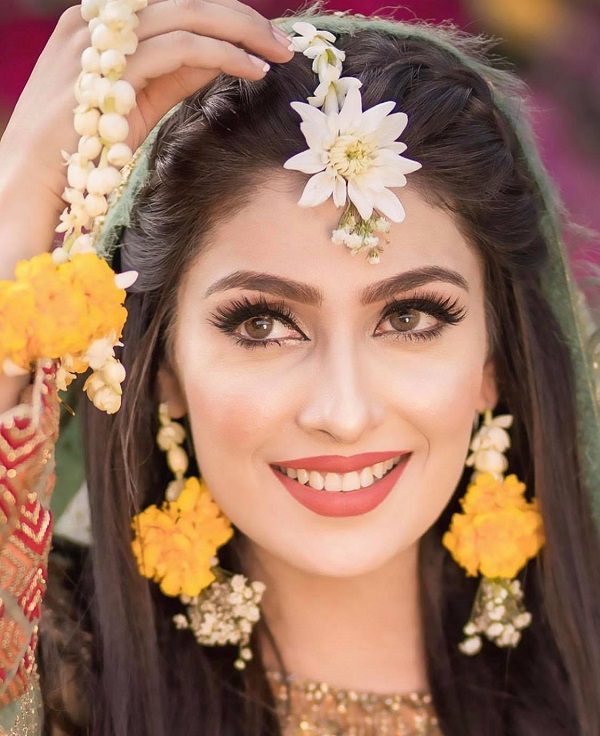 Simple and Appealing
No one pulls these simple makeup looks better than Ayeza Khan. Sometimes not wearing a liner and avoiding too much highlighting can give the face the perfect finish it needs for a day out without making you look too formal. Ayeza Khan added jewelry which gives her a look which young girls can sport to a friend's dholki or even on Eid. This is the perfect Eastern look that would be ideal for any such occasion. Once again Ayeza Khan's makeup artist decided to combine peach and pink to give her this simplistic yet detailed makeup look. Ayeza Khan's lips once again are outlined in a way that her upper lip looks slightly bigger than it already is.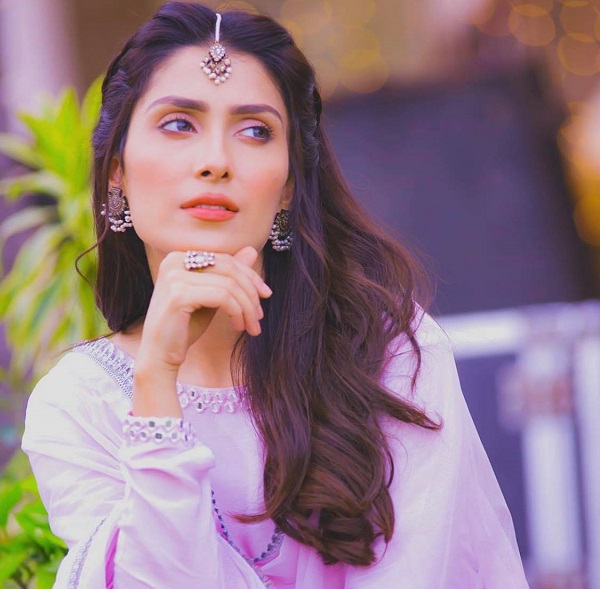 Which one of these looks is your favorite? Do you think Ayeza Khan looks prettier in minimal makeup looks or with a more grand makeover? Do share your views in the comments section.