Ayeza Khan has a pretty face and she looks great in every makeup look, this is the reason why she is seen doing all kinds of different photo shoots. Ever since Ayeza Khan made a comeback after the birth of her first baby, she has changed her style altogether. She went from being a really simple looking actress to a style icon. Ayeza Khan is naturally pretty so she looked beautiful even when she was not sporting these grand looks.
Whether it is a grand makeup look or a simple one, Ayeza Khan has such features and face that she looks good in them all. Ayeza Khan is also one of those actresses who have sported so many different bridal looks. She is a favorite of all makeup artists. Ayeza Khan also experiments with her looks very often unlike before when she had the same look in every single project.
Here are the 5 best makeup looks which were sported by Ayeza Khan. These looks can be a major inspiration for all those girls who want to look different every time they are going out to attend a dinner or to a wedding.
The Royal Asian Bride
This look will inspire many bribes-to-be out there who want an all glammed up look on their wedding day which is perfect in every way. Ayeza Khan's make-up in this look isn't too loud or too little. The stylist and the makeup artist very tactfully have given her a royal look by complimenting a somewhat simpler makeup look with heavy jewelry. Ayeza Khan's contouring, eye makeup and the shade of her lipstick in this look is perfect. Everything gels in together to give a look which is flawless and makes Ayeza Khan look stunning. The right choice of jewelry of course makes a huge difference since everything in this look is color coordinated which makes it so appealing.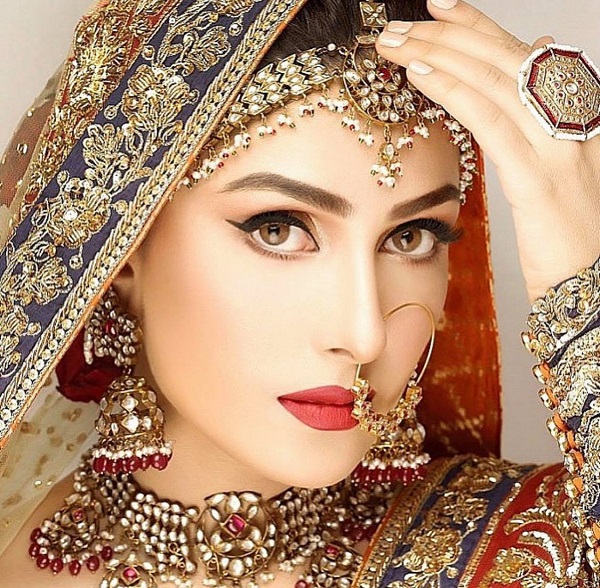 Smokey Eyes & Nude Lips