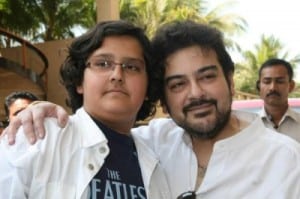 Taking a deeper notice of the existing Talent in Pakistan, it would be evident that the country is overloaded with the talented and passionate people. Here comes another juvenile budding talent, the dead ringer of Adnan Sami, his son Azaan Sami. Following the footsteps of his father by coming in the music industry of India, he is now up to direct a Lollywood movie featuring multitalented Indian actor Naseeruddin Shah and actress Iman Ali will be starring this movie as a leading character.
It has turned into quite the order of the day for children to desire to follow in their celebrity parents' footsteps. This zealous teenage guy has got down to brass tacks to open his way to Pakistan's film industry and nowadays he is busy in preparation of his upcoming film. Azaan is in the collaboration with his mother "Zeba Bakhtiar" and the famous TV and film story writer Zafar Mairaj, who is writing the story of his imminent film, soon will appear on big screen with
his film.
As Adnan Sami and Azaan, both father and son belong to Pakistan, they are making film on the story of Pakistani society and its dynamics, views expressed by the story writer Zafar Mairaj. This movie is going to convey a great message and significance to Pakistani people and nation. In this film it will be shown that how a leader step forward to resolve the tribulations of a country. This movie will certainly hit the mindsets of Pakistani nation. Where the moral of the movie is concerned, it will present a point that if you need a change in your country, be the first one to come into real action. You will have to change yourself first, and this will absolutely come up with a huge revolution in country.
Being a son of legendary music composer Adnan Sami Khan, Azaan will compose the music of this movie himself, whilst Iman Ali and Naseeruddin Shah, Noman Ejaz, Adnan Sami Khan, Shan and other big names will be playing diverse roles in the movie.
Well we hope this young talented boy will reach the heights of success!