Baaghi isn't the kind of drama which gives you a lot to talk about since every episode reinforces the same messages which have been put forward repeatedly in every single episode for the past ten weeks or so. Every episode of Baaghi shows how different people whether they are strangers or members of her family, exploit Kanwal. Kanwal Baloch came to the city looking for a career because working in showbiz was her dream and also because she wanted to have a better life but now she is simply doing whatever it takes to help her family members financially and otherwise. So far, the writer hasn't shown the actual nature of Kanwal's work therefore I am assuming that she is earning all this money from her videos.
Kanwal ended her relationship with Shehryar after realizing that having a "normal" relationship might just be a dream for her. The "favor" Kanwal gave the police officer so that he would free her brother from prison had to be the most forced and unnecessary development in this episode which is why all the other developments which were linked with this one appeared to be pointless. Why didn't Kanwal turn to Shehryar for help? She could have bribed this officer as well or asked someone else for help. Just like every week, the writer yet again put her in a situation which would highlight just how majboor she was. While I can relate to how the pressure her family is putting on her would push her to do something extreme, I cannot understand why this woman who has come this far is still so naive that she will allow anyone to use her! Unfortunately, Kanwal Baloch has been turned into a weak character and her story is going around in circles. Shehryar's character hasn't added much to the story either other than showing how Kanwal had to let go of a perfect companion because she wanted to focus on helping her family.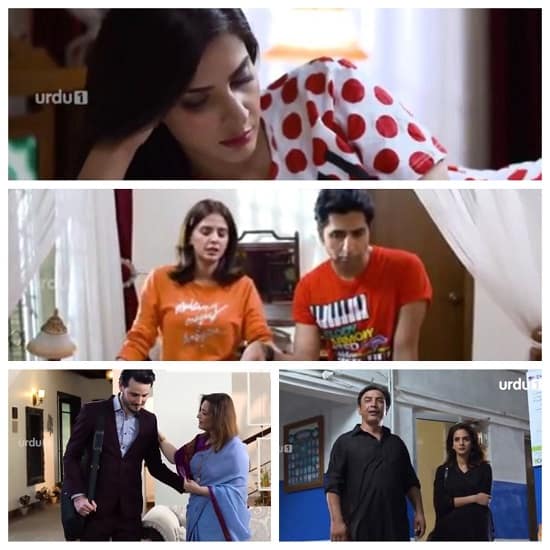 Kanwal's bhabi proposed that she should go to the village with her where she could see her son, it would have been so much better if Kanwal put forward this idea herself. Kanwal's brother's attitude towards her has changed completely because he needs financial help from her constantly. Right now the focus is entirely on Kanwal's relationship with her family and mainly on her brother because of obvious reasons.
Like every other episode of Baaghi, this one too was shouting out loud "please feel for Kanwal Baloch" but just like always I had a really difficult time staying awake while watching it. This drama lacks depth, intensity and enough content to cover 20 plus episodes. It has been dragging for weeks now and the fact that the story is highly predictable makes it even more difficult to sit through this show. Kanwal's scenes are the same in every single episode. Pakistani drama makers have made plenty of quality dramas in the recent past and there are some really good dramas on air even now which highlight the problems faced by women in a male dominated society therefore Baaghi is definitely not the first or the last play to highlight these issues! The fact that it isn't doing so too convincingly doesn't make it the best one either!
There was a time when Pakistani writers were focusing entirely on how women are exploited by their in laws, bechari bahu was the most TRP generating topic but now it seems that sexual exploitation has taken the place of bechari bahu. While there are plenty of dramas which are doing justice to the topic and addressing it in a proper manner but there are many more which are using it to gain attention and popularity and excelling at it too!