Baba Jani Episode 16 Story Review – This latest episode of Baba Jani showed Najiba's reaction to the proposal and eventually Asfand finding out the truth about Saqib. With this episode, the only solution Asfand had for this situation also turned into an even bigger problem. Asfand's problems are increasing with every passing episode but there seems to be a possible solution in sight since Najiba's husband tried to convince her that if Umair got married to Nimra, it will be beneficial for them too. Najiba and Naila's scenes are always the same, their characters so far have been one-dimensional – there is nothing positive about them at all which is disappointing and makes their characters less appealing as well as annoying. The only attraction right now is Asfand playing the role of Baba Jani and his relationship with Nimra but so far there have been hardly any scenes in which these two interacted on an emotional level.
Even More Pressure
After Najiba told Asfand off and the neighbors questioned his relationship with Nimra, Asfand was forced to take a step which he wouldn't have otherwise. This particular development made perfect sense since Asfand was perhaps thinking about Nimra more than himself when he asked Naila to stay. Naila, Saqib and Najiba's scene were the same as always, some of these could have been easily chopped down. The pressure which Asfand felt was shown convincingly but he was not shown taking Nimra into confidence before making this decision. Nimra suffered in silence with little or no solace from Asfand, which was disappointing. The fact that Asfand loves Nimra and will do anything to keep her safe has been well-established by now but we have not seen Asfand comforting Nimra in a way which would make Nimra feel less lonely. A few more scenes covering their relationship and a little less of rest of the family would have made this episode more poignant.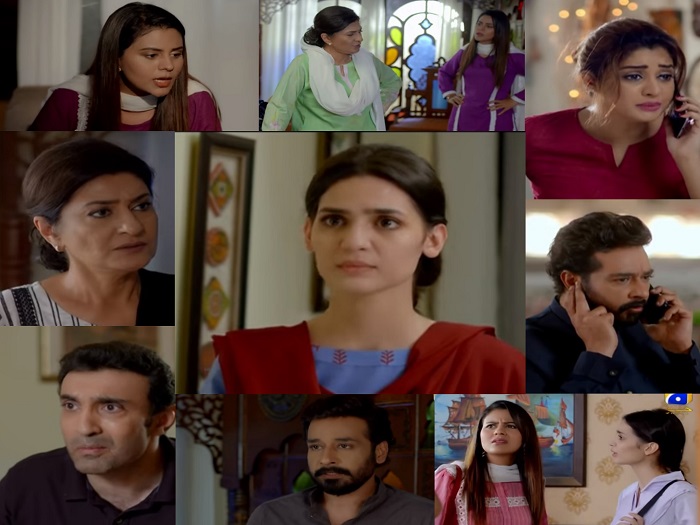 Nabila Decides To Speak Up
Nabila's support for Nimra dwindled in between but her concern for Nimra today was one of the most refreshing aspects of this episode. I am glad this particular track was not dragged and Asfand found out the truth in this episode. It would be interesting to watch him handle this situation because so far he has been shown as someone who hardly ever loses his cool. Asfand listened to the entire story sitting in the factory where there was so much noise, he should have walked out to have this conversation.
Performances and Situations
Faysal Qureshi translated Asfand's confusion as well his 'innocence' convincingly on screen in this episode. Madiha Imam has been remarkable as Nimra throughout, her expressions and body language never fail to impress. The rest of the actors also performed well but their tracks are losing their appeal with every passing episode. Since Mehwish is back in the picture now and so is Nasir therefore they should be given some screen time in every episode, it will give the viewers a much-needed break from Najiba's rants as well!
What will Asfand do next? I am waiting to find out. How many of you watched this latest episode? Don't forget to share your thoughts about it.