With this episode of Baba Jani, many of the misunderstandings were cleared. This was another episode which showed Asfand trying his best to keep everyone happy but failing to do so because now there is one more person in his life who needs constant reassurance. Mehwish and Nimra's relationship is off to a rocky start. Just like every other episode of Baba Jani, this one too had at least one scene which was really amusing. Baba Jani continues to be a well-executed family drama which can get slightly slow at times but it is always satisfying.
Umair To The Rescue
Umair played an important role in this episode in clearing the misunderstanding between everyone. Umair has suddenly changed into a positive central character and unlike before there is a good reason why Nimra really should get married to him. He is probably the only family member who truly looks out for Asfand. Nimra's attitude tonight was a lot like it was when Asfand and Sadia got married. The apology was short and sweet, it was also good to watch Asfand and Nimra communicating with each other for a change. Najiba's emotional dialogues suggested that she might finally show some signs of change but it looks like she will continue to believe that she is the only one who deserves Asfand's love and attention. All these developments were covered convincingly and in an intelligent manner the writer changed the viewers' perspective about Umair hence laying the foundations for future developments.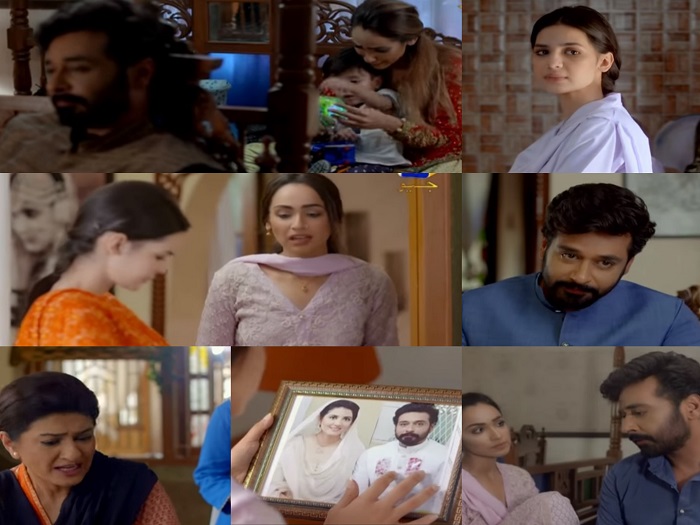 The Newly-Weds
Asfand and Mehwish's scenes were a lot like the scenes which covered Sadia and Asfand's initial days together perhaps because the writer wanted to show the viewers the difference between these women. While Sadia was more thankful and in awe of Asfand right from the beginning and she started to get extremely insecure later on, Mehwish is already skeptical about Asfand since he let her down in the worst manner possible once before too. Secondly, Sadia never had the confidence to tell Najiba or Naila off but Mehwish is not going to let Najiba get away with saying all those nasty things. The fact that this marriage was nothing short of a shocking development for Mehwish, makes it easier for the viewers to relate to her frame of mind. The slight shock Mehwish felt when she saw Nimra for the first time was captured nicely. It seemed like she did not know before how old Nimra was. Asfand's patience and cool-headed nature was tested several times in this episode and every time he proved that he was incapable of losing his cool. Asfand's sensible and mature approach throughout has been the most refreshing element of this drama. The fact that even after trying so hard, he cannot please everyone and ends up making some mistake or the other, makes his character more human.
Overall Impression
This latest episode of Baba Jani took the story forward considerably and the changes in Asfand's life were covered flawlessly. The fact that this drama is always close to reality and the story stays on track makes it one of the best family dramas. Faysal Qureshi and Madiha Imam's outstanding performances are the highlight of every episode. All the other actors have also played their parts superbly. I am looking forward to a few fast-paced episodes and a gratifying ending to this beautiful journey.
Please share your thoughts in the comments section.