This latest episode of Baba Jani mainly focused on Najiba and Naila's plan to create a rift between Nimra and Mehwish. There was some progress in Nimra and Umair's track as well. Asfand continued to play referee in the most graceful manner possible. Umair's character development is the most positive aspect of the story right now.
Najiba & Naila's Plan
Najiba and Naila's insecurities yet again were the driving force behind all their plotting and planning. Once again they invested a lot of time in brainwashing both Mehwish and Nimra. Although Mehwish and Nimra know these women only too well but since they don't know each other well enough, they started doubting each others intentions. At this point, most of the viewers want to see a decent ending to this play which would ideally include a change in Najiba and Naila's behavior although right now it is impossible to predict how that is going to happen. Saba Hameed and Sundus Tariq's performance throughout has been on point but their characters are not layered. They are negative, bitter, over-possessive and insecure, they love Asfand but their controlling tactics always create problems for him. These characters are not likable but they definitely are a true representation all such women who cannot 'share' their brothers or sons with anyone. Thankfully there are enough positive characters in this drama to keep ones interest alive. Asfand, Umair, Zahoor and even Mehwish's mother are always wise and thoughtful even though they are not always perfect.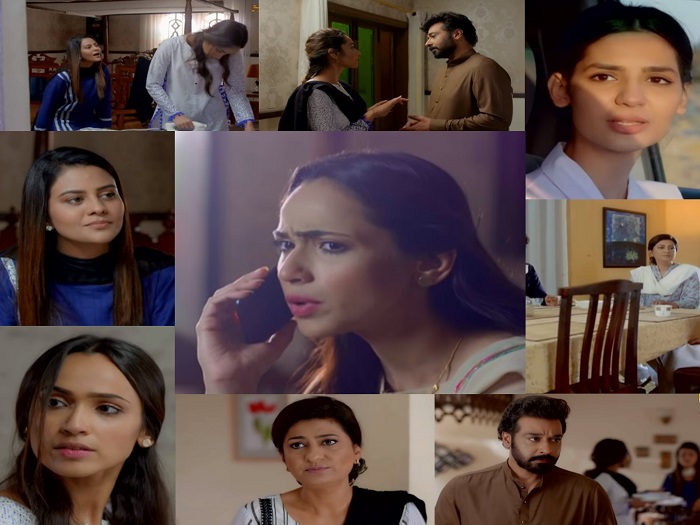 Umair & Nimra's Relationship
Umair and Nimra's meeting in the restaurant was one of my favorite scenes in this episode. The dialogues were well-written and the change in Umair is extremely likable. He is turning out to be a mature person who knows exactly what he wants yet he is not being emotional. Umair's approach was practical and gradually the writer has managed to convince the viewers that Umair will be the perfect life partner for Nimra. Ali Ansari has played this role convincingly and Madiha Imam owns her character completely.
Different Shades Of Love
This episode showed how people love differently. Some people love like Najiba and Naila – they like to control, then there are people like Umair and Asfand who look out for the people they love and have a more practical and wise approach, others are like Nimra, who love silently and get hurt easily. And then there are those like Mehwish, who are afraid to love!
Asfand & Mehwish
While Asfand is always willing to give every relationship his best even though he has also been back-stabbed in the past by the people he loved the most, Mehwish is still healing from the bitter experiences she had in the past. Mehwish's mother is always there to remind her how blessed she is to have a man like Asfand but Mehwish has a completely different perspective. This episode covered how Asfand made Mehwish feel wanted and loved but his sisters did whatever they could to undermine his efforts. The preview of the next episode suggested that Mehwish will have bigger issues to worry about really soon and this time too it seems like she will not take Asfand into confidence. No matter how hard Asfand tries somehow the women in his life never seem to have enough faith in him! Faysal Qureshi has translated Asfand's character brilliantly on screen. Faryal Mehmood has also done justice to her character. I am sure I am not the only one who is anxiously waiting to see Asfand worry-free and happy in the end? This drama has given us one of the most responsible male protagonists and that continues to be the best thing about Baba Jani.
Do share your thoughts about this episode.
Fatima Awan