This latest episode of Baba Jani focused a great deal on making the viewers understand why Mehwish found it impossible to trust Asfand with her secret. Najiba finally got a reality check and although this alone is not going to change the way she perceives 'love', it seems like such reality checks will ultimately change her thinking. Asfand continued to be the cool-minded loving and caring husband and father. Some of the conversations tonight were not too satisfying and Faryal Mehmood's performance wasn't up to the mark in few of the scenes. Also, her get-up did not go well with her situation.
The Blackmail
The fact that Mehwish had no choice but to give in to her husband's blackmail was well established in this episode. Mehwish's insecurities and fears are understandable but the scenes covering what was going through her mind were repetitive. Her mother is probably the only person who truly understands Asfand which is why she had enough faith in him to trust him with this secret. Out of all the women Asfand has 'invested' in, the only one who gives him the credit he deserves is this woman otherwise all the others including Nimra take undue advantage of his love and concerns.
The Conversations
Asfand's conversation with Nimra about why she met Umair made me feel for him more than ever and for the first time Nimra appeared to be rude without a reason and thankless too. The conversation Mehwish had with Nimra after she saw her with her ex-husband showed that Nimra loved her Baba Jani and was looking out for her. It would have been so much better if she shared with Mehwish how her Baba Jani let her keep her father's picture and allowed them to celebrate birthdays even when he was going through hell himself. Nimra could have helped Mehwish understand her baba jani better but that opportunity was lost. Zahoor Elahi's conversation with Najiba was the most satisfying of them all since he said everything which the viewers wanted to hear. Najiba's controlling tactics and her strange concept of love was elaborated well by her husband in this conversation. Although Najiba thought about it but she was obviously not going to have a change of heart all of a sudden.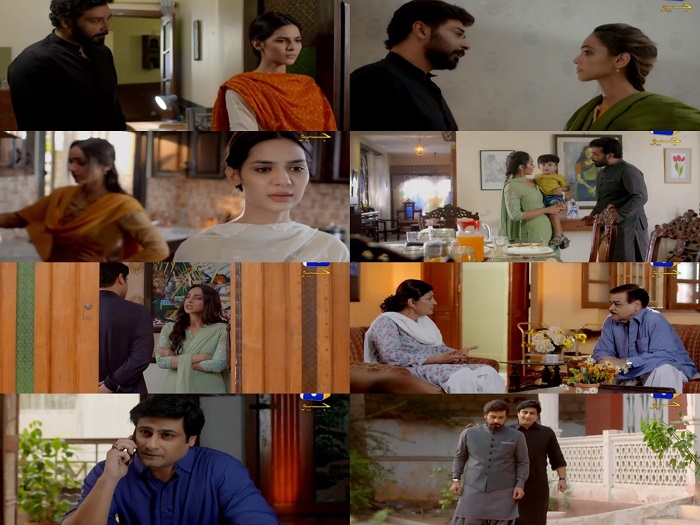 The Meeting
Asfand has always been shown as someone who believes in solving problems quickly and he did just that when his khala told him what was going on. Mehwish's ex-husband was not going to make things easier for him and for the first time we saw the cool and calm Asfand slightly losing his cool. Seems like Asfand will pay him off to get rid of him.
Overall Impression
Baba Jani has been a superb family drama but it has been stretched quite a bit in these past few weeks. This drama will end next week and I am looking forward to a decent ending. It would have been good to see Nimra treating her baba jani better in this episode, her attitude towards Asfand was upsetting. Having said that, Madiha Imam's performance has been impressive throughout. The preview of the next episode suggested that Mehwish will go ahead with the plan of selling her jewelry. Will Asfand tell her that he knows the truth? Will Asfand ever get the unconditional love he deserves, from at least Nimra and Mehwish? Waiting to find out.
Do share your thoughts about this episode.