Bachaana (بچانا) is an upcoming Urdu film shot in Mauritius and Pakistan and is under production for past two years. The film stars Sanam Saeed in the lead role with Mohib Mirza. Sanam Saeed is playing the role of an Indian girl named Aaliya, while Mohib Mirza is appearing as a Pakistani taxi driver.
The trailer of the film is released today i.e. 5th January 2016 at 7 PM in a ceremony at a five star hotel of Karachi. Its first official poster is released last week. The film is releasing on 26th February 2016.
Cast: Sanam Saeed, Mohib Mirza, Adeel Hashmi
Written By: Saad Azhar
Director: Nasir Khan
Produced By: Rizwan Saeed for Big Films
Distributor: Hum Films and Big Films
Bachaana is one of the five films featuring Sanam Saeed but are due to release sometime in 2016. The other four films are Mahe Meer,Azaad, Rehm and Doobara Phirr Se. Seeing the progress so far, Bachaana might be the first released film for Sanam Saeed.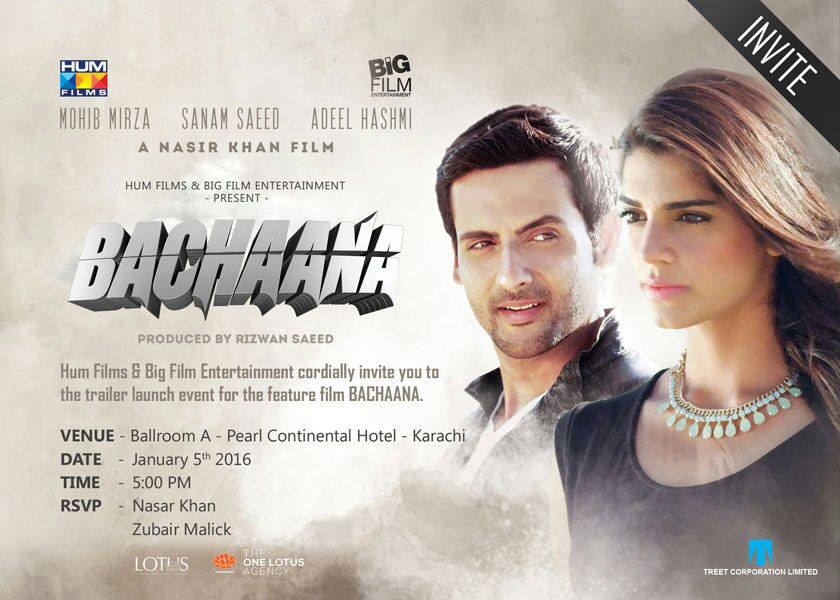 Rashid Nazir Ali