Bakhtawar's journey continues to be filled with surprises and some of these surprises are hard to accept especially initially. Her focus shifted in this episode and by the end of this episode, I couldn't help but wonder if her mother's illness perhaps will put her back on track. Although, it was somewhat disappointing watching Bakhtawar going astray, at the same time it is good to see that she is not an epitome of perfection but she has all fundamental human emotions which made her do something which she knew was not right. So far, Bakhtawar was completely focused on her goal but her attraction toward Dilawar has, at least for now, made her go off track. She thought about her father as she smoked, I felt that this was such an intelligent way of showing why she was so adamant at staying away from these boys and wanted to live a purposeful life, other than the obvious reasons. For the first time, Bakhtawar disappointed her mother and these scenes were executed brilliantly as well. The flashback scenes were integrated well in this episode and I felt it was important to show them since so much has happened in these past few weeks that the viewers needed to be reminded of this background.
Latest Developments and My Thoughts
This latest episode opened with a dismayed Bakhtawar doing exactly what she had been successfully evading for the longest time now. Dilawar and Hooriya's engagement made her realize more than ever just how strong her feelings for Dilawar were and how difficult it was for her to suppress them. Although, Dilawar is a sweet boy, so was Ahad therefore it is a little difficult to guess why Bakhtawar fell for him and not Ahad. This particular aspect of the track could have been taken forward slowly. Such vulnerability in a character gives it the kind of human traits which are inherently present in each one of us. Therefore, I am definitely not saying that what Bakhtawar did was illogical but I felt it was too soon. For that reason, Bakhtawar's reaction came across as a little too extreme. This was obviously the writer's way of showing Dilawar's intense emotions for Dilawar but it definitely caught me off guard.
For the first time, Bakhtawar's mother was shown thinking about her other daughter. Her thoughts resonated with me; it was easy to understand why she felt scared all of a sudden and could not cope on her own. So far, she had been calmly going along with everything Bakhtawar had been doing. However, more than once she shared her actual feelings and fears with Bakhtawar in a subtle manner. Her reaction made perfect sense, Bakhtawar's regret and the apology were also covered beautifully. This mother-daughter duo continues to be my favorite because of the performances in particular. Bakhtawar finally decided to tell Dilawar the truth after her mother asked her to do so but Hooriya's controlling behavior stood in the way and Dilawar never found out the truth.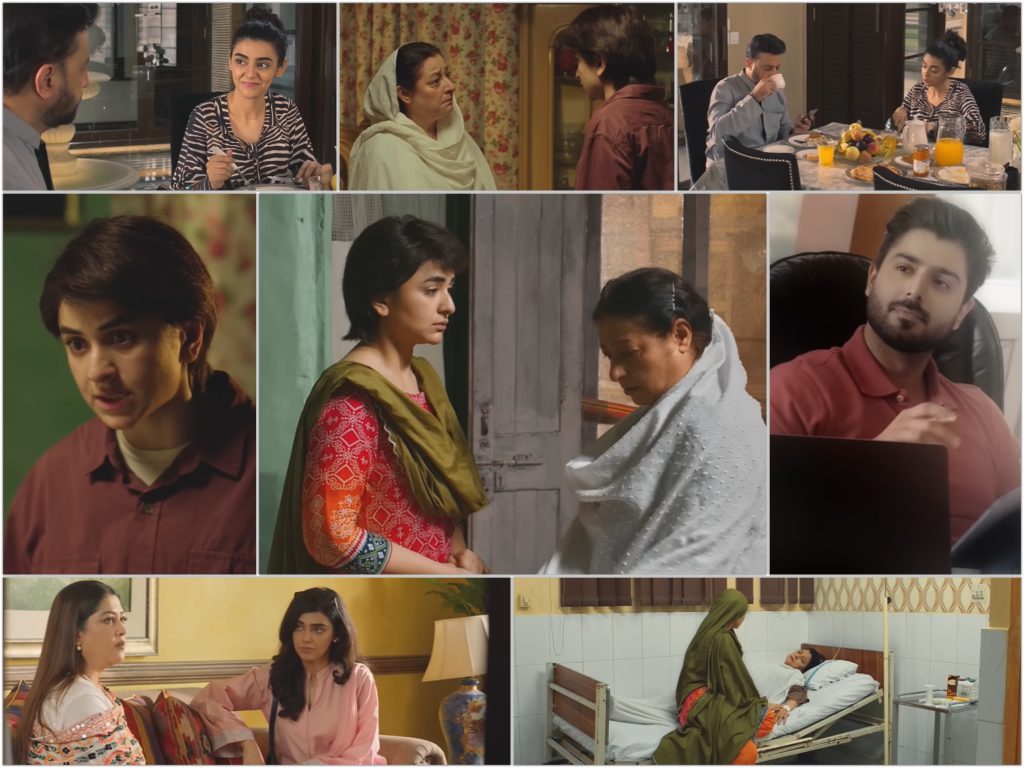 Hooriya is turning out to be one of those rich and modern characters we often see in dramas who could do a lot more with their life but end up investing all their time and energy on a man who is not interested in them. There is nothing interesting about the character so far. Noreen Gulwani is an ace actress but this role doesn't have enough going for it. Dilawar's role so far is quite plain as well; I would have liked to see more of his assertive side. When it comes to Bakhtu he is a little too laid back. Trusting him enough to not check her id card is one thing because he saved him but the fact that he did not even have his phone number was strange. Also, the entire setup of the office does not make it look like Dilawar is running a big business enterprise. Hooriya and Dilawar's scenes yet again showed how different their personalities and goals were. Hooriya wants to "own" Dilawar and run his life for him. Dilawar has shown his actual feelings and impression of Hooriya more than once. But, like Hooriya's father said "shadi ke baad sb theek ho jaye ga" is the reason why all of this is being brushed under the carpet by the girl and her family.
Final Remarks
Bakhtawar went through so many different emotions in this episode and Yumna Zaidi switched from one emotion to the other effortlessly. She made me feel for her character even in these circumstances. My favorite scene was the one in which she calls Dilawar as Bakhtu, asking for help. Huma Nawab was equally exceptional as the mother who had so much faith in her daughter and was extremely disappointed as well as hurt by her actions. Sunil Shankar also stands out as Sheeda even though there's nothing new or outstanding about the character but the acting definitely has made it noticeable. Good actors make even the most basic characters stand out and actors who are still learning the craft tend to make even the most likable character appear plain on screen as is the case with Dilawar.
The episode ended on an exciting note and the preview of the next episode was even more interesting. I am really looking forward to the upcoming episode.
Did you watch this latest episode of Bakhtawar? Share your thoughts about it.