Opening Thoughts:
Ohkay so, this episode of Balaa was well executed & quite interesting. I am glad that the story moved forward & there were a lot of developments to this episode's credit. So far Balaa does have a story that has been seen before but the kind of execution that has been given to it as well as the characters makes it interesting enough to tune to every single week.
Developments:
Zafar & Nigar knew that if they will directly tell Junaid to divorce Zeba, he will never do that out of his love for her, that is why they started with their evil mind games only to further their agenda. Nigar wants Zeba out of Junaid's life because after that Zafar will be able to push Shama to get Taimoor married to Nigar & Batool to Junaid. Even though Zafar & Nigar spent quite a lot of money as well as energy to malign Junaid's heart against Zeba, it was unfortunate that it did not take a minute for Junaid to believe everything that was being presented in front of him.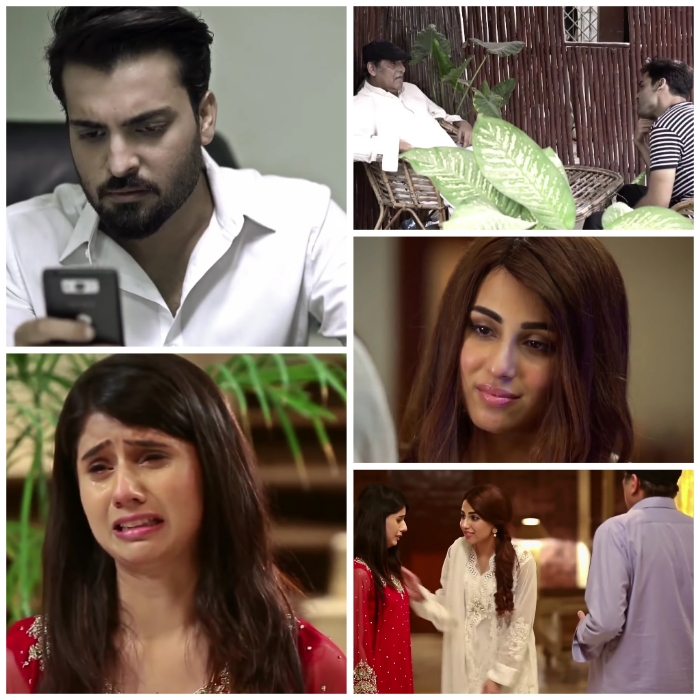 At times Junaid did try to reason with Zafar & he also defended Zeba but he couldn't stay firm because Zafar was adamant & was making sure that he kept on brain feeding his son against his wife constantly. Junaid might be the victim here but then I will label him as a weak individual who could not stand by his decision of protecting his wife & most importantly trusting her.
I guessed it right, Nigar & Zafar hired Mateen, Saba's boyfriend, for this task. Nigar obviously saw him with Saba & knew that he would do anything to get her so I am sure she gave him 10 lacs to do this job which was a decent amount for him to get his life started with Saba on his own. Mateen did what he was asked to without thinking about the consequences that he will have to face later but for now, things turned out to be exactly how Zafar & Nigar wanted. Junaid will never be able to unsee walking onto Zeba & Mateen in the same room. I so wish they show Nigar & Zafar paying a huge price for ruining someone's life like that.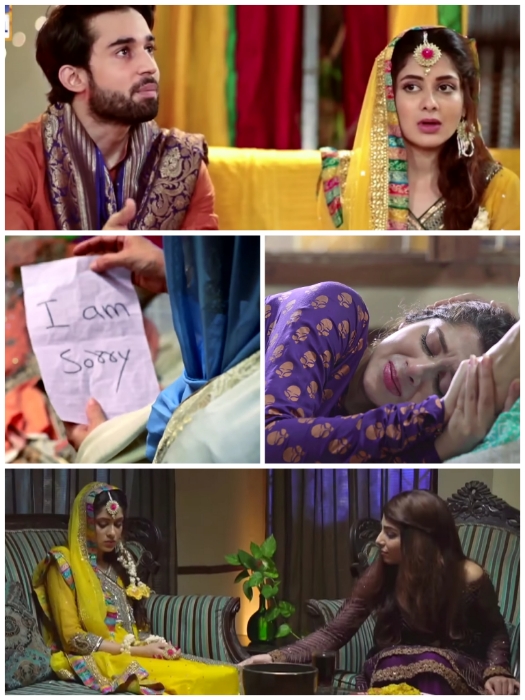 On the other hand, Saba tried to talk to her mother once again but Rashida continued to praise her luck of scoring a damaad like Taimoor. I agree, anyone would want a damaad like Taimoor but it can not & should not be ignored if the girl who is being forced to marry someone is mentally ready for it or not? Saba did say rightly so that Taimoor might be nice but not necessarily meant to be an ideal for her but Rashida chose to overlook Saba's wishes because she liked Taimoor more than Saba did. Whatever happened later was basically a result of Saba's choices not being respected. If Rashida had allowed her daughter to be with the one she loved, this wouldn't have happened!
Nigaar was lurking around only to showcase how nice & kind-hearted she is. Zafar didn't want to be a part of Shama's happiness but Nigar scored some brownie points by going against her father in front of Shama. Nigar is quite manipulative & it is sad that she is building up her relationship after destroying a couple of other relationships. Let's see what price she will pay.
I feel Zeba should bounce back & show it to Junaid that she is better off without him. It was sad seeing her defeated & dejected already by saying again & again that she was nothing without him or his support. I am sure after their divorce the character of Zeba will make an exit from the story but I hope they keep her as a side track & do show her progress & how she works to become an independent strong woman only for Junaid to realize later that he was wrong about her. Let's see if this happens.
Closing Thoughts:
Overall, this episode covered a lot of scenarios & details. I also like the filler scenes that Balaa has, it keeps things flowing nicely & help changing the scenario as well – like Taimoor & Saleha's argument over different topics & Taimoor & Shama's conversations, all of that makes it quite interesting. All of the actors are performing brilliantly but Sajid Hassan is fun to watch, Zafar's mannerism is hilarious & the way he speaks, Sajid Hassan has really nailed this character. Please share your thoughts about this episode of Balaa.
Keep Supporting,
Cheers,
Zahra Mirza.