Bashar Momin has been in the news for quite some time now. According to news, it has been produced on a grand scale, and its budget is big enough to make it the most expensive drama ever made in Pakistan. It stars Faysal Qureshi, Ushna Shah, Sami Khan, Sundus Tariq, Yasir Mazhar, and Maheen Khaild. It is produced by A&B Production in collaboration with GEO.
Bashar Momin is a saga of romance, hatred, revenge and love. The photos of the first look of the serial that have been released on the internet have managed to impress us all. From the looks of it, it is going to be an extremely unique serial and first of its kind for the Pakistani Drama Industry. The producers and actors have so far remained tight lipped about the show and its story. An air of mystery is created around this new serial to make the viewers' curious to know more. This can serve as a strong promotional strategy in itself for the show.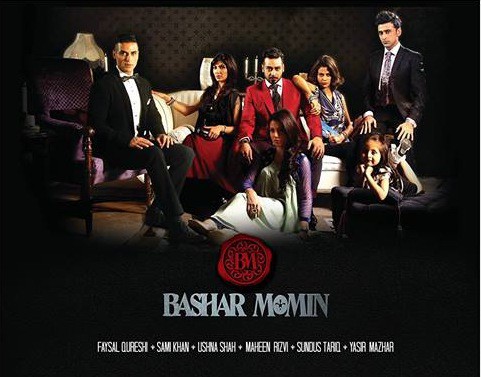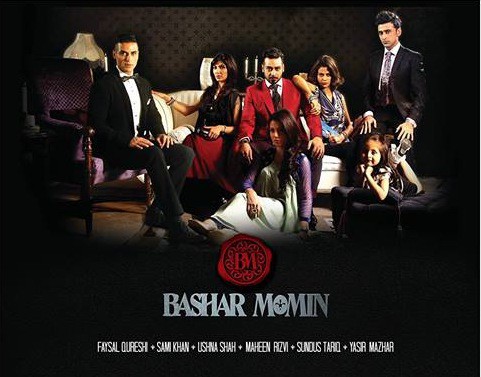 The highlight of this show is Faysal Qureshi, one of the finest actors of our Industry. It has been a while since he has been seen in serials except for his small cameo in the show, Mann Ke Moti. It is unusual for him to stay away from TV for more than a short while. There was a time when we used to see him in serials airing on every other channel at one time. Now that he has been away for a while, all the fans are eager to see him back in a central role in some quality drama. The quote 'absence makes the heart grow fonder' perfectly suits this situation. Faysal has been sporting the army haircut and full beard look for quite some time now for his role in this show. Apart from Faysal Qureshi, the rest of the cast did not appeal to me. I wish they had taken better female leads and supporting actors.
The play has been written by Zanjabeel Asim who had written screenplays for plays like 'Saat Pardon Mein', 'Ek Nazer Meri Taraf' and the hit telefilm 'Anjuman'. Her writing style is quite different from other writers in our industry since she had written quite unique stories. All her stories have emotional depth that makes the viewers' feel and experience the raw emotions. She touches bold topics in her writing that most writers refrain from discussing in their stories.
The serial is directed by Syed Ali Raza who has directed countless plays, and one of the best movies of last year, Main Hoon Shahid Afridi. He has also won the 4th Pakistani Media Award for the best director for this film. After seeing his work in MHSH and how he handled the larger than life movie with such finesse, we can be sure that directing Bashir Momin would have been a piece of cake for him.
It has also been in news that Bashar Momin would be the first serial to hit the Indian Television screen. It will soon air on a popular Indian channel, but the name of the channel has not been disclosed yet. Usually Pakistani dramas air on Indian channels like Rishtey after they have been declared a hit. This is the first time that it has been announced that a Pakistani serial will be shown on an Indian Channel even before it has gone on air in Pakistan.
The expectations are pretty high from this show. Now let's see if it manages to fulfill the people's expectations and the hype that is created around it.
So what do you guys think about this show? Share your views!
Mariam Shafiq