There's no denying the fact that for any girl, one piece of jewelry that means the world to her has to be her engagement ring. It is one of the most cherished jewelry pieces a girl owns because it denotes the officialization of a relationship and has a lot of beautiful memories attached to it.
This rings true for Pakistani actresses and celebrities as well. Although a lot of times, female celebrities have to wear different accessories when they are working and doing different projects, however in their personal pictures on their social media they are often seen wearing their favorite and beautiful engagement rings.
Let's take a look at the beautiful engagement rings of Pakistani actresses:
Aiman Khan
Aiman Khan and Muneeb Butt got engaged in January 2017. After that Aiman was seen wearing her engagement ring in almost all of her personal pictures. Her engagement ring was elegant and beautiful. It was a simple design with one prominent diamond shining in the middle of a plain gold band. The bed that carried the bigger diamond also had two smaller diamonds around it. It was a dainty ring that looked perfect in Aiman's ring finger.
Ayeza Khan
Although Ayeza Khan has not regularly worn her engagement ring in her personal pictures, it was seen in her ring finger when she and Danish Taimoor had their Nikkah in August 2014. It was a beautiful engagement ring with a bold design that made it stand out on her finger. The band was encrusted with small diamonds and one solitaire protruded in the middle of the bed of diamonds.
Iqra Aziz
Iqra Aziz's husband Yasir Hussain faced backlash when he decided to propose to her at Lux Style Awards 2019. People felt it was pre-planned and because Yasir and Iqra already got engaged in an intimate ceremony earlier that year, Yasir didn't have to resort to a public proposal.
However, Iqra Aziz shared the image of her beautiful engagement ring and stated how it was one of the happiest moments of her life. Her engagement ring is indeed beautiful. A beautiful and elegant design with one bigger diamond in the middle surrounded by smaller diamonds that cover the entire band of the ring.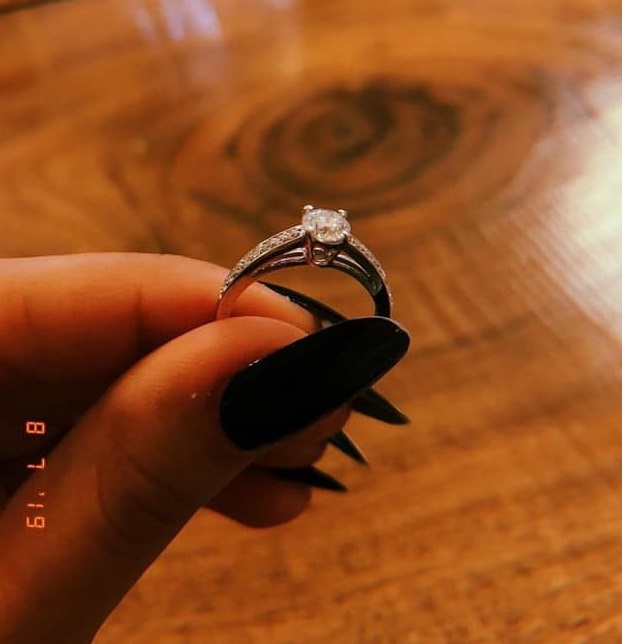 Naimal Khawar
Naimal Khawar and Hamza Ali Abbasi's wedding took everyone by surprise when they announced it in August 2019 right after Hamza Ali Abbasi had just returned from the Holy pilgrimage of Hajj. Although the couple got married straight away, the ring that Naimal chose to wear in her ring finger during her Nikkah and Walima ceremonies is enough of a proof that this was indeed her favorite piece of jewelry.
Naimal's engagement ring has a thicker gold band and a cluster of diamonds placed in an oval shape. Due to the fact that she wore it in her ring finger, it surely must've been a gift from Hamza which he must've gifted while proposing marriage to her.
Sajal Aly
Sajal Aly and Ahad Raza Mir got engaged in June 2019. Sajal too doesn't wear her engagement ring regularly but the one that she wore in the picture that she shared announcing her engagement to Ahad Raza Mir was dainty and beautiful. Sajal Aly's engagement ring has a thin band of gold which carries one round solitaire in the middle. A very simple and timeless design that a girl loves.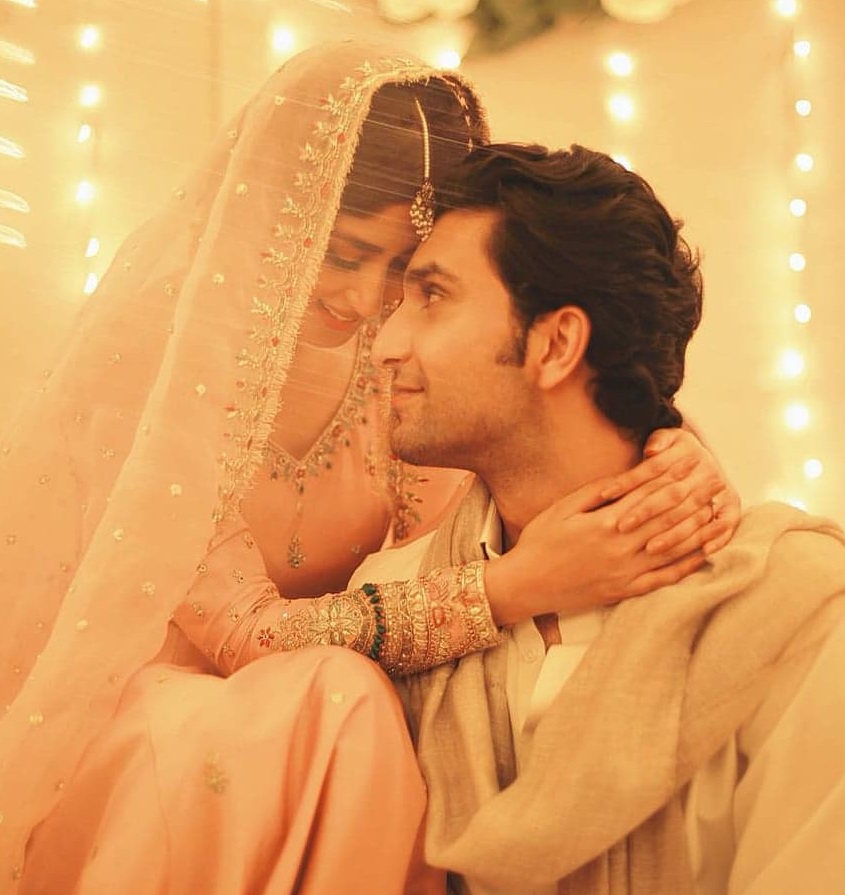 Sanam Chaudhry
Sanam Chauhdry tied the knot in November 2019. In some of the pictures, she is seen wearing a gorgeous diamond ring in her ring finger and it is safe to say, it must be her engagement ring. It has a unique design with all the bands encrusted with diamonds, leading up to one big solitaire on top of the ring. A unique design that looks beautiful on her finger.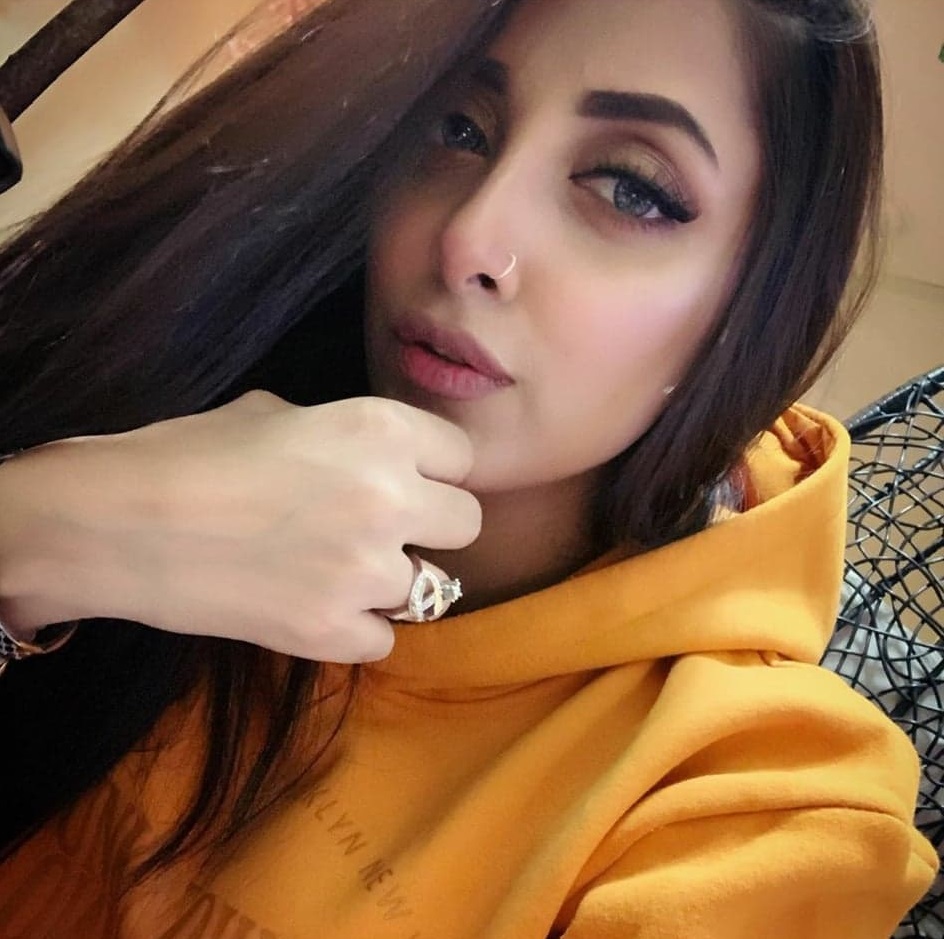 Sarah Khan
Sarah Khan is the new bride of the drama industry. She just tied the knot with Falak Shabbir and he proposed to her in a magical way on her birthday. Sarah Khan shared the picture of her engagement ring when she announced saying YES to Falak. It is a beautiful ring with a platinum band that carries a big diamond in the middle with two smaller diamonds surrounding it.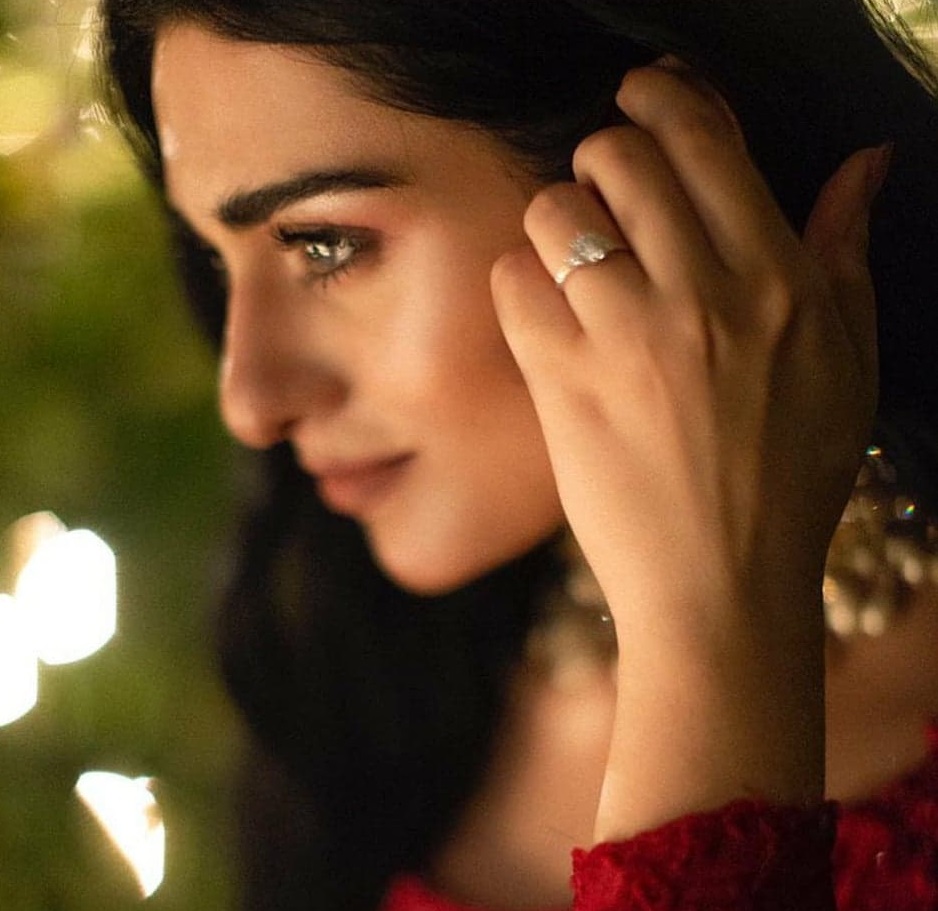 Sarwat Gillani
Sarwat Gillani and Fahad Mirza tied the knot in August 2014. In a few interviews, Sarwat Gillani has shared the special way Fahad Mirza proposed marriage to her. She stated he had booked an entire restaurant and had made a special arrangement with decor, cake, and a ring to propose.
Sarwat Gillani is often seen wearing it. It is a thicker band of gold that carries a beautiful squarish diamond in the middle. There are also rectangular diamonds in a smaller size that cover the rest of the band. Sarwat Gillani's engagement ring makes quite a statement and looks absolutely beautiful.
Urwa Hocane
Farhan Saeed proposed to Urwa Hocane in the most romantic city Paris in December 2016. He decided to propose right underneath the Eiffel tower and shared his happiness when she said yes. The engagement ring Farhan Saeed chose for Urwa was beautiful. It was a square bed of diamonds which carried a smaller square-shaped diamond in the middle. The band of the ring too had a unique design and this engagement ring makes quite a statement.