Mehnd also known as Henna has always been a huge part of cultures all around the world, especially in the continents of Asia and Africa. Mehndi denotes happiness and this is the reason why it is always a part of bridal makeovers. No bride in the regions of South Asia, Middle East and Africa is complete without mehndi or henna-clad hands. The best thing about mehndi is that it can be applied suiting the preference of the bride. Where some brides love adorning their hands with traditional heavy mehndi on their wedding, there are also some who go for simple and minimalistic intricate designs. When it comes to mehndi and its designing, there are no rules and the best part is that it is bound to look good irrespective of what the design is. Mehndi has been used for celebratory purposes for years and years. In this day and age, mehndi application is nothing short of a proper profession and those who apply mehndi beautifully are artists in their own way.
Pakistani showbiz industry has seen a lot of big names and celebrities getting married and turning into beautiful brides. Like all the women, Pakistani celebrities also took their mehndi seriously and made sure to cover their hands with the kind of mehndi they personally liked and wanted to wear on their big day. Mehndi definitely completes the look of the bride and there is always something super special about mehndi clad hands.
Let's take a look at the beautiful mehndi worn by Pakistani celebrity brides:
Urwa Hocane
Urwa Hocane opted for natural looking makeup on her wedding. Similarly she also chose the mehndi design which was minimalistic and simple. It seems Urwa Hocane always wanted to opt for simplicity that is why she reflected that in her hair, makeup as well as her mehndi designing. Urwa wore mehndi on the back of her fingers. It got her hand wedding ready but in a way that Urwa personally liked. This little amount of mehndi can also be worn on Eid and all of Urwa Hocane fans can take inspiration from her.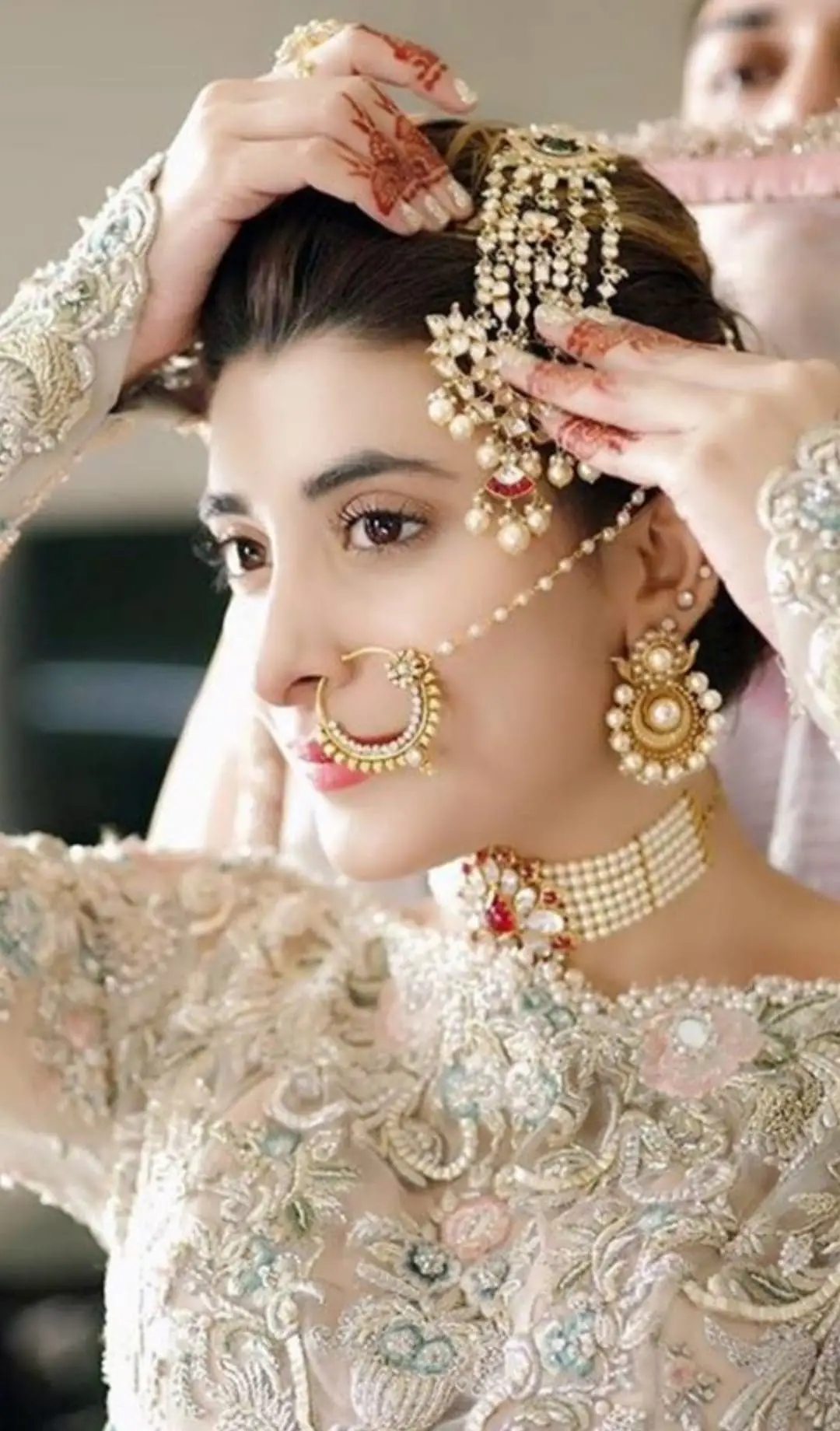 Sanam Jung
Sanam Jung opted for traditional bridal fashion on her big day. From her hair to makeup to her bridal outfit, everything was regal, lavish and out there. Similarly, when it came to mehndi designing, Sanam Jung showed she preferred wearing a heavy design which covered her entire hands from front and back. There is a bit of a gap in the mehndi designing which separates her fingers and back of her hands. It is a beautiful intricate design with visible rings on her fingers. The beautiful design on the back of her hand also has a thick border. Mehndi design on both her hands is identical and it is a beautiful vibrant shade of orange.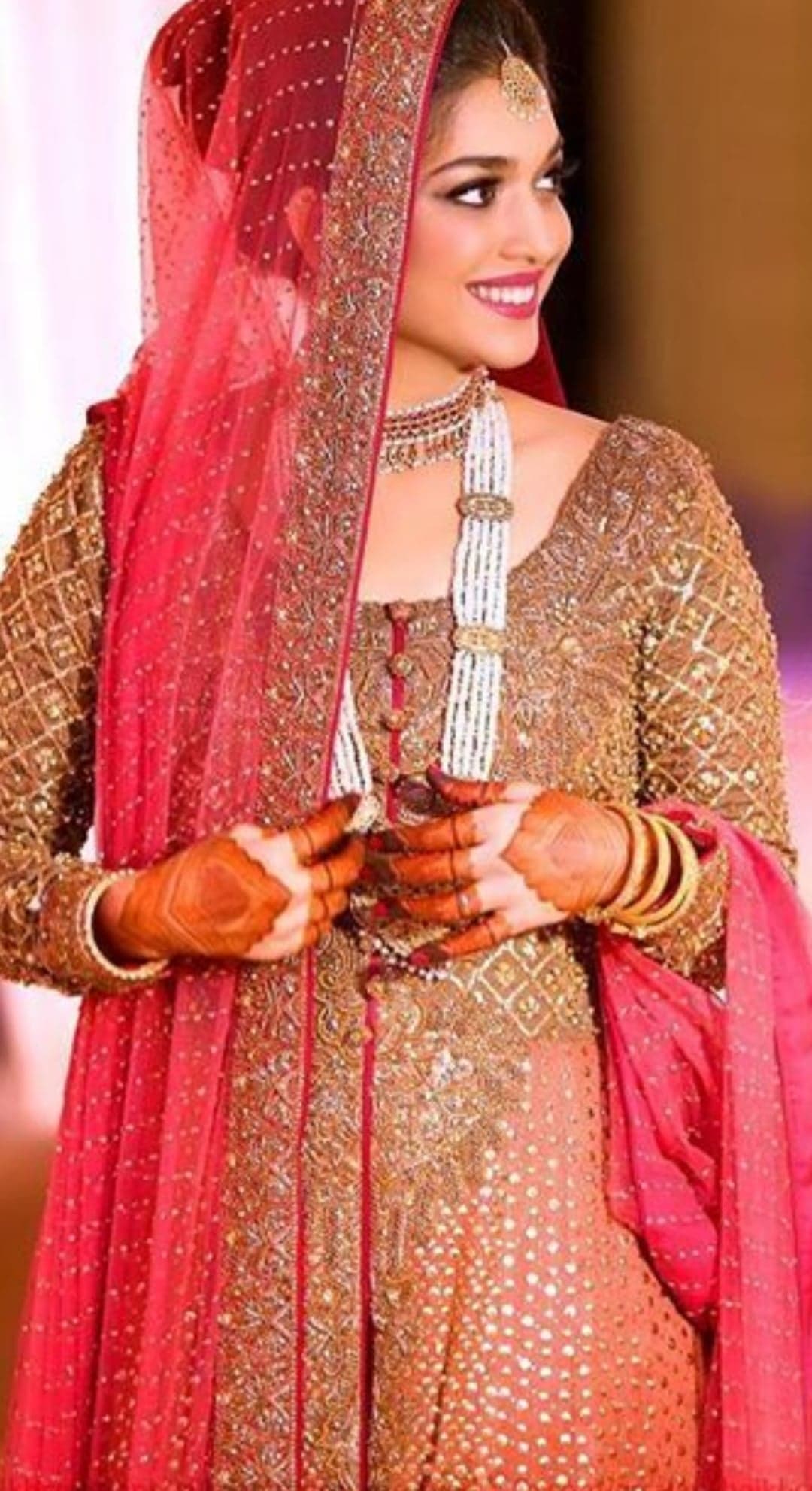 Aiman Khan
Aiman Khan also is one of those celebrities who chose the traditional bridal fashion for herself on her wedding. From her jewelry to makeup to dress, Aiman Khan did not hold back and turned herself into a gorgeous and fully glamorous bride. Aiman Khan also opted for traditional bridal mehndi design which covered her entire hands in a beautiful and intricate design. Aiman Khan also opted for french manicure, which gave her hands a very classy look. The mehndi design of Aiman Khan is absolutely beautiful and a gorgeous shade of dark brown. Aiman Khan also wore an identical design on both her hands. Although the entire mehndi is intricate, the roses on the back of her fingers are visible and break the monotony of intricate designing. The tips of her fingers were also covered with an opaque mehndi application, which make the french manicure pop a bit more.
Ayesha Khan
Ayesha Khan's bridal looks were beautiful and ethereal. They were not overdone but were just perfect enough to turn her into a gorgeous bride. Ayesha Khan also chose for a very simple mehndi design which was applied on the tips of her fingers on the back of her hands. This simple but beautiful design in the kind which young girls often wear on Eids. It is quickly applied and looks simple yet beautiful. The tips are covered with an opaque application of mehndi and there's a bit of designing beneath the dark tips.
Ayeza Khan
Ayeza Khan's wore different mehndis on her functions. On her mehndi night, she wore a simple circular tikka on the back of her hand and covered the tips. Ayeza Khan had a grand mehndi therefore she wore a stain to at least have some color on her hands. Since there was a gap between her mehndi and baraat functions, she then got a proper bridal mehndi the night before her baraat. She also wore a traditional heavy bridal mehndi which is filled with criss cross patterns. The fingers have an identical design and the back of her hands are completely covered beautifully too.
Iqra Aziz
Iqra Aziz's bridal mehndi was definitely one of the highlights of her wedding preps. Iqra Aziz's overall choices showed she was that girl at heart who wanted to become a traditional bride on her mehndi and all of her picks depicted just that. She opted for a heavy bridal mehndi which covered her arms completely. Iqra Aziz's mehdi was a work of art. It had beautiful patterns which were intricate. The color of her mehndi was gorgeous as well. She also had a little gap in the mehndi which broke the monotony. Her mehndi was royal and regal.
Saheefa Jabbar Khattak
Saheefa Jabbar Khattak chose to be an unconventional bride with minimal makeup, pink wedding dress and dupatta draped on one of her shoulders. This is the reason why her mehndi preferences depicted her unconventional choices. She opted for a simple tikka and covered the tip of her fingers with a bit of mehndi. That was enough for Saheefa to give her hands a bridal look and she was happy with it. This is the best thing about mehndi that it fits everyone's preferences the way they want to.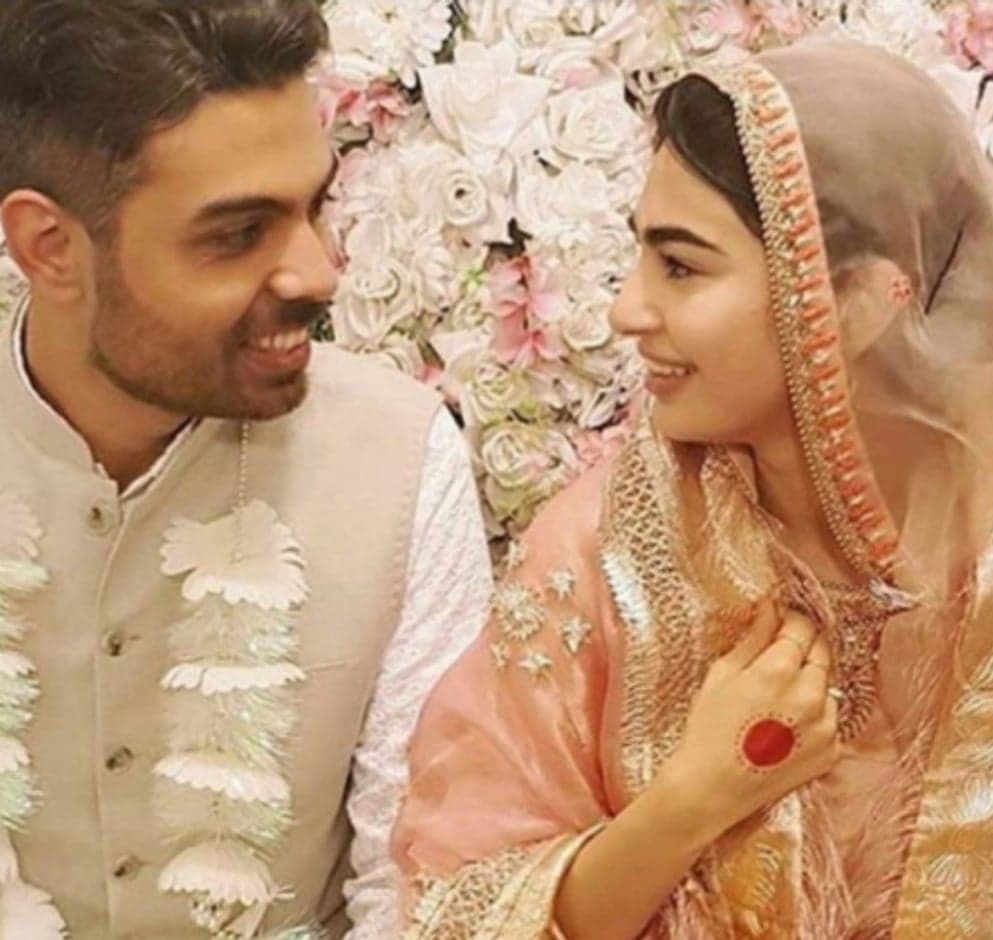 Naheed Shabbir
Naheed Shabbir also chose heavy bridal mehndi. Her mehndi was graphic with lines and identical patterns all over her fingers. She wore a modified and more glamorous version of circular motif, it was beautified with extended designing. It looked more like a beautiful circular sun which was applied with a lot of designing.
Saniya Shamshad
Saniya Shamshad went all glam when she became a bride. Her makeup, jewellery, hairstyles and outfits were elaborate and lavish, turning her into a beautiful traditional bride. Mehndi design that Saniya Shamshad opted for had a bit of everything. She wore heavy designing on her fingers, a circular motif beautifully designed on the back of her hands and a floral patterned mehndi on her arms. The design of her mehndi was definitely beautiful.
Sara Razi Khan
Sara Razi Khan made a young and gorgeous bride. She also went for a beautiful and traditional bridal mehndi. It was all about intricately filled design, with florals and criss cross patterns, some roses and thick lining. Sara Razi wore a beautiful bright red nail polish on her french-tipped long nails. Her mehndi design is the kind that is worn by most of the brides in Pakistan, it looks absolutely beautiful and traditional.
Zara Noor Abbas
Zara Noor Abbas's choices for her big day were unconventional and unique. She wore a black bridal outfit on her reception and went for heavy glam. When it came to mehndi, she wore a circular motif on the back of her hand and modified it with a bit of designing. It looks like a beautiful flower on her hand. She has also covered her tips with mehndi and worn bright nailpolish on her nails which pops a bit more due to darker tips of her fingers.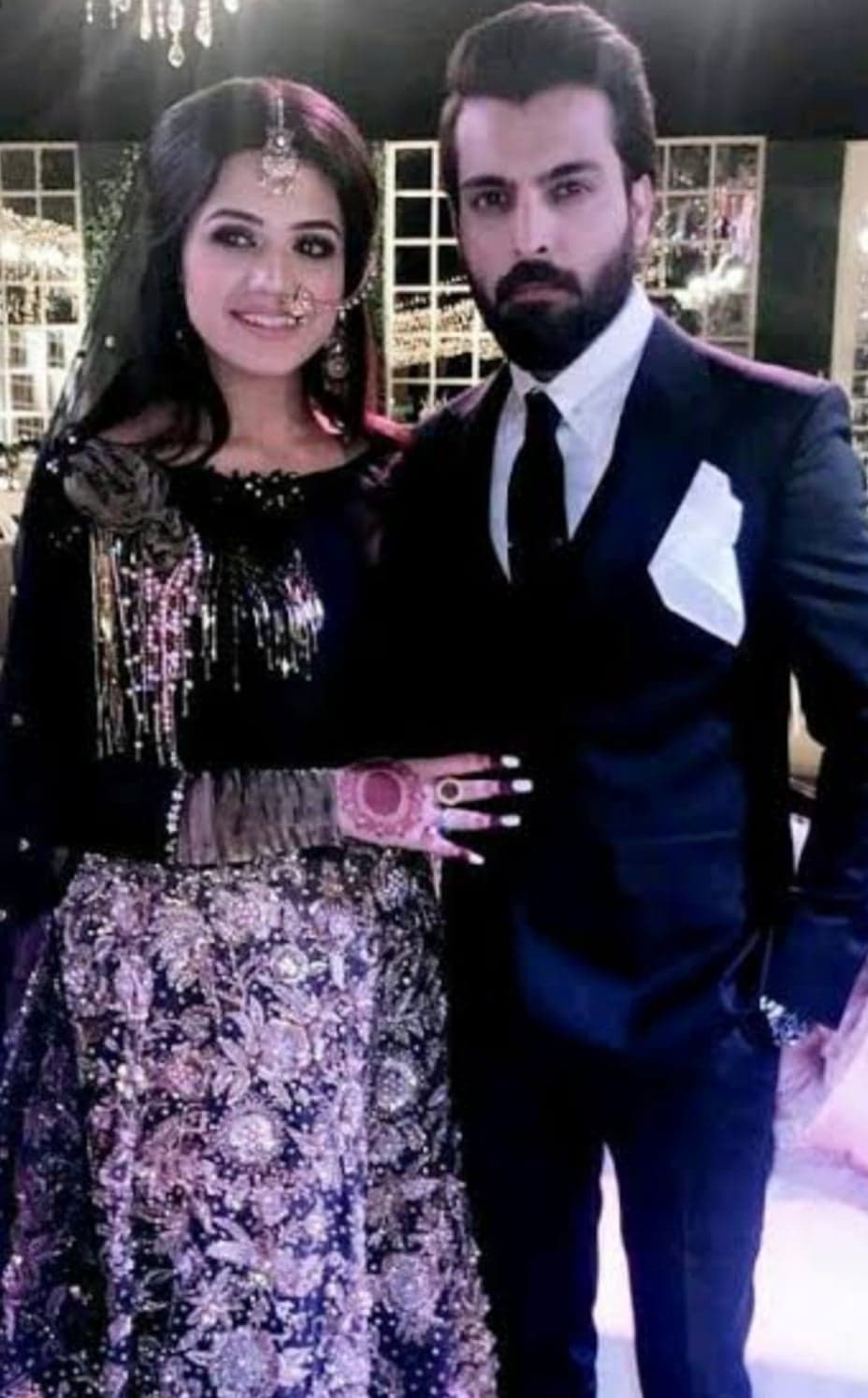 This concludes the list of beautiful mehndi designs seen on the hands of Pakistani celebrity brides. Which ones are your favorites. Please share your thoughts in the comment section below.