The mood of each and every celebrity this Eid ul Fitr was somber. A lot of Pakistani celebrities didn't feel like celebrating the Eid due to the lives lost in the recent PIA crash of the flight PK8303 and due to the Coronavirus. It took them a couple of days to share the pictures that they clicked in the vicinity of their homes. Where a lot of celebrities chose to stay silent, there were a lot more who then became comfortable with the idea of sharing pictures and connecting with their fans, to show that it is alright to be resilient and it is perfectly fine to find an excuse to be happy when life in general is tougher. The spirit of all such celebrities was appreciated by their fans and followers and to see them looking absolutely beautiful wearing gorgeous outfits was nothing short of a treat.
Here are some more pictures of the beautiful dresses worn by Pakistani celebrities during Eid ul Fitr 2020:
Aubergine Gharara of Maya Ali
Maya Ali wowed everyone with her choice of clothes this Eid. First the taupe pishwas and now this regal looking Aubergine gharara was beautiful on her yet again designed by her best friend Faiza Saqlain. Once again, a solid colored dress with some design detailing on the gharara and dupatta showed how sometimes the simplest of looking dresses are enough to make a statement. This color looked gorgeous on Maya Ali and she kept her styling simple too with hair tied neatly in a high bun and kohled eyes doing all the talk. She wore dainty dangling silver earrings to compliment the silver embellishments on her dress. She looks as perfect as an ethnic doll.
Orange Formal Angrakha of Iqra Aziz
Iqra Aziz went the traditional route and didn't miss the opportunity to get ready and look good because it was her first Eid after her wedding. This beautiful orange tangerine aghrakha was heavily embellished with intricate sequin work and embroidery; keeping in mind that it was being worn by a newly wedded girl. Iqra Aziz wore this beautiful orange and gold heavy formal angrakha designed by Faiza Saqlain. The shirt was half sleeves and the bottom was a beautifully flared skirt. The overall dress sat well on Iqra's petite frame and gave her a regal look. The designer Faiza Saqlain was sweet enough to put in a lot of consideration into this dress by writing 'Iqra Aur Yasir Ki Pehli Eid' at the border of her dupatta. Iqra Aziz couldn't appreciate it enough. Iqra tied her hair at the back and let a few strands loose. She wore heavy jhumkas and gold bangles as her accessories. She looked beautiful.

All White Chikankari Ensemble of Sana Javed
Sana Javed was one such celebrity who was regularly seen on TV during the entire month of Ramadan because she was a part of Jeeto Pakistan team. Each and every dress that Sana Javed wore was beautiful and she wore almost all the beautiful colors out there, so it made sense that on Eid, she chose to go for an all white dress which made her look ethereal. White has not looked this good before and Sana Javed is a vision in this creation of Ansab Jahangir. Beautiful chikankari patterns and cutwork laces on the bottom of the gown as well as the netted dupatta, embroidered bustier and so many textures made this dress gorgeous. Sana Javed went for a clean and fresh makeup look this Eid and chose jhumkis as her accessory.
Heavy Formal Lehenga of Syeda Tuba Amir
Syeda Tuba Amir went all out wearing this beautiful and colorful creation of Nomi Ansari. Syeda Tuba Amir along with her husband Amir Liaqat hosted a Ramadan transmission, therefore for Eid, she decided to make a statement and she did. This formal bridal lehenga has Nomi Ansari written all over it. From patterns to motifs to embroider and heavy embellishments, this dress was beautiful and Tuba Amir carried it gracefully. She wore her hair straight and kept her makeup dark enough to compliment the heavy lehenga she was wearing. She also wore statement earrings and looked perfect.
Bright Blue Outfit of Areeba Habib
By now, everyone knows this is one of the best creations of Ansab Jahangir for this season. This dress has been worn by Ayeza Khan and Sana Javed in different colors such as maroon and sap green. Ayeza Khan wore the similar shade in one of the photoshoots that Areeba Habib now chose for Eid. A sleek and stylish solid colored dress which has beautiful design elements to it. The best piece happens to be the ruffled tissue dupatta. This dress has looked good on all the celebrities.
Deep Red Pishwas of Aiman Khan
Aiman Khan wore Maria B on the second day of Eid. A beautiful cotton pishwas with intricate embroidery on the bustier and sleeves done in dull gold. The dupatta is orange which breaks the monotony of red and goes well with the dull gold design on the pishwas. Aiman Khan looked beautiful in this shade of deep red.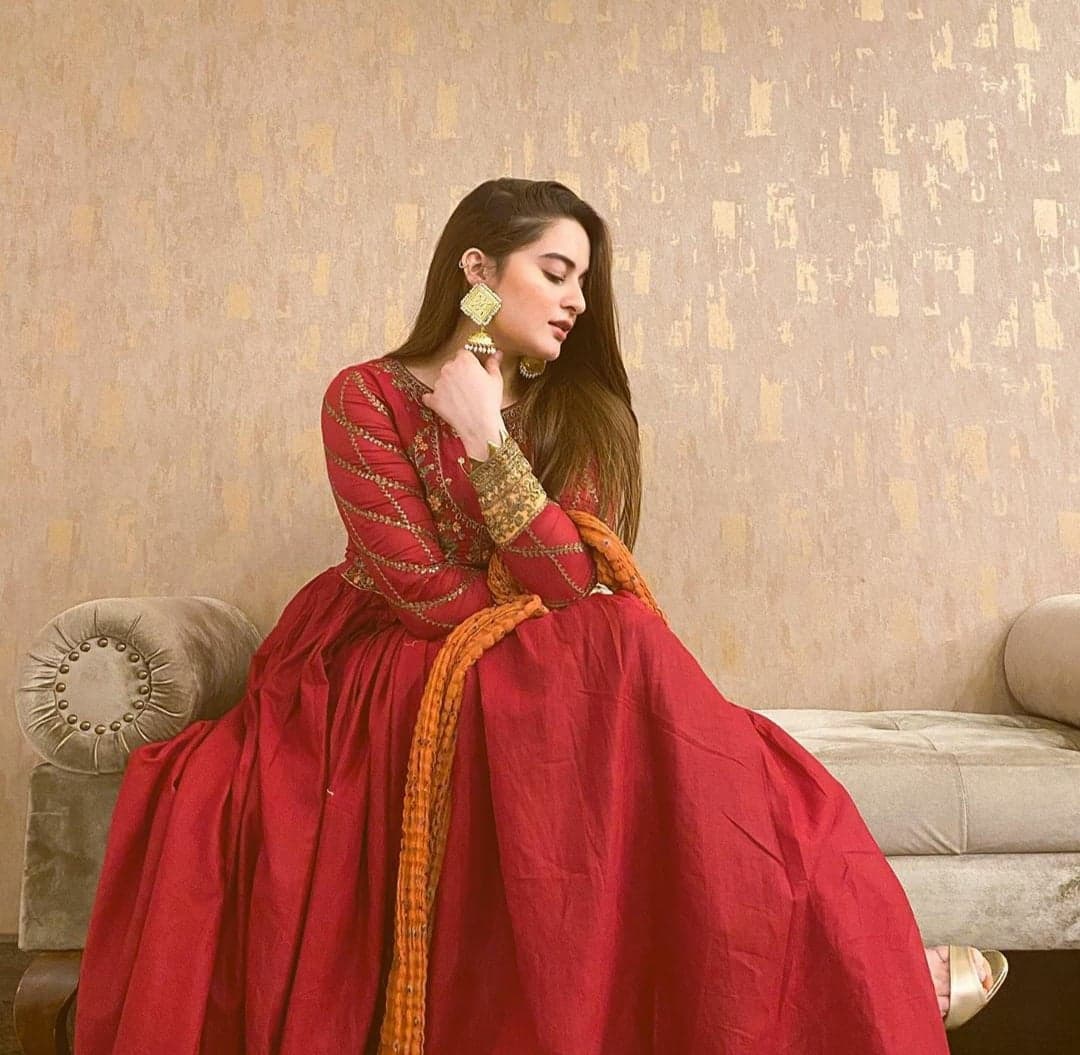 Layered Formal Dress of Ayesha Omar
Ayesha Omar wore a creation of Zaha Official. She wore this on one of the pre-recorded Eid shows hosted by Nida Yasir. Ayesha Omar is known for having the best dressing sense and she showcased it this Eid. This beautiful formal outfit was layered with a self-printed sleeveless long shirt worn inside and then a chiffon overall worn on top of it which had designing details such as a colorful border at the bottom of the shirt and the end of the sleeves too. The similar border was pasted on the dupatta as well and the outfit was completed with maroon churidar. Ayesha Omar carried it gracefully and kept her styling fresh and simple with hair tied in a bun. She wore earrings and gold heels to complete the look.
Mint Green Dress of Anmol Baloch
Anmol Baloch chose to wear Ansar Jahangir's creation this Eid. Another beautiful pastel shaded dress which is summer appropriate and is soothing to eyes during the hot humid days. It was an Angrakha style full-length shirt with a flare to it. The entire dress had a pop of white used for designing and styling. Heavy lace finished the bottom of the shirt. The dupatta had a beautiful and intricate white thick border which added the wow-factor to this dress. Anmol Baloch wore her hair in curls and chose heavy statement earrings as her accessory. SHe paired it with silver khussas and completed her traditional look.
Pastel Grey Shirt & Trousers of Naveen Waqar
Naveen Waqar looked elegant and classy in Haris Shakeel's creation this Eid. She wore a straight cut long shirt and fitted trousers. The shirt had a beautiful vine design with floral patterns, it was all embellished with the help of sequins. The dupatta was kept plain to not take the eye away from the beautiful shirt which was the main designed element of the entire dress. She looked beautiful.
Pink & Golden Shirt & Trousers of Nida Yasir
Nida Yasir wore a creation of Shireen Lakdawala for one of the pre-recorded Eid shows. Nida Yasir wore beautiful outfits and this happens to be one of them as well. A beautiful self-printed shirt with gold flecks to it. The dupatta also has a gold tinted fabric attached to ti. The sleeves and and the trousers have the same designing elements to them, to tie it all together. A beautiful classy dress which looked perfect on Nida Yasir.
All Red Ensemble of Neelam Munir Khan
Neelam Munir took her sweet time in posting her Eid pictures and she looked absolutely gorgeous in an all red ensemble designed by flair by Mawsim. A full length shirt made in gorgeous deep red color. It was almost a traditional dress with an influence of pukhtoon textile designing. A full sleeve dress with silver lace borders on dupatta, front of the shirt and sleeves. Neelam Munir wore her hair in a bun and went for a statement flower earring. Simple and beautiful.
Sky Blue Silk Suit of Sumbul Iqbal
After wearing red the first day, Sumbul Iqbal went for a beautiful shade of blue the very next day. She wore a creation of Haris Shakeel. It was a straight cut shirt with shalwar. A perfect traditional attire with embellished motifs splattered all over the shirt. The sleeves and the shalwar have embellished borders too. She wore a chiffon dupatta with it and chose earrings and silver rhinestone khussas as her accessories.
White & Peach Suit of Sarah Khan
Sarah Khan wore this intricately designed creation of Wardah Saleem. It was a beautiful all white shirt with brown/peach embroidery on the neckline and one of the panels in sleeves. It ties the beautiful shade of dupatta together. Sarah Khan went for a very simple look on this day of Eid but needless to say, she carried it well and looked elegant like she always does.
Pastel Pink & Lilac Pishwas of Sanam Jung
Sanam Jung wore a beautiful creation of Ka Official on one of pre-recorded Eid episodes of Good Morning Pakistan. It was a beautiful solid colored flared dress which made quite a statement. The lilac shade suited Sanam jung beautifully and the pink self-patterned dupatta brings in the wow factor to this dress. The border of the shirt had silver printed fabric attached to it. The bottom was a flared palazzo made out of banarsi fabric. Sanam Jung looked absolutely beautiful in minimal makeup and basic hairstyle. She wore a statement necklace to tie the whole look together.
Heavy Formal Green Dress of Ayeza Khan
Ayeza Khan has continued to do promotional campaigns for different clothing brands and designers during the lockdown. This was yet another beautiful photoshoot that she shared on her social media and people could not help getting mesmerized. She wore a creation of Samar Abid. It was a heavily embellished dress in a gorgeous shade of emerald green. It was a straight cut shirt with a bustier separated with a built in belt. The front of the shirt had a huge slit which let the palazzo flow beautifully. The sleeves were heavily embellished as well. The dupatta had ruffled detailing to it. Ayesa Khan tied her hair in a sleek ponytail and kept her makeup simple. This dress was perfect for newly wedded ladies who were celebrating their very first Eid after their marriage.
Black Street Style Outfit of Nazish Jahangir
Nazish Jahangir wore a beautiful creation of YQB Design Studio.s This was a casual chic outfit made out of cotton fabric. A long shirt with a skirt to pair it with. A block printed dupatta paid a tribute to the traditional patterns found in Pakistani clothing. The slits of the shirt had tassels to it and the sleeves had the lace made out of the same fabric as her dupatta. This was a unique choice of Nazish Jahangir but it was different and made her stand out more. It showed that you can still make a statement wearing comfortable outfits like these on Eid.
Beautiful Black & Red Outfit of Iman Aly
Iman Aly wore a creation of Zara Shahjahan and looked gorgeous. She made a statement without putting in a lot of effort. A beautiful black outfit having traditional embroidery and embellishment on it paired with red dupatta finished with golden laces. Iman Aly wore a dark colored lipstick and called it a day, looking absolutely beautiful.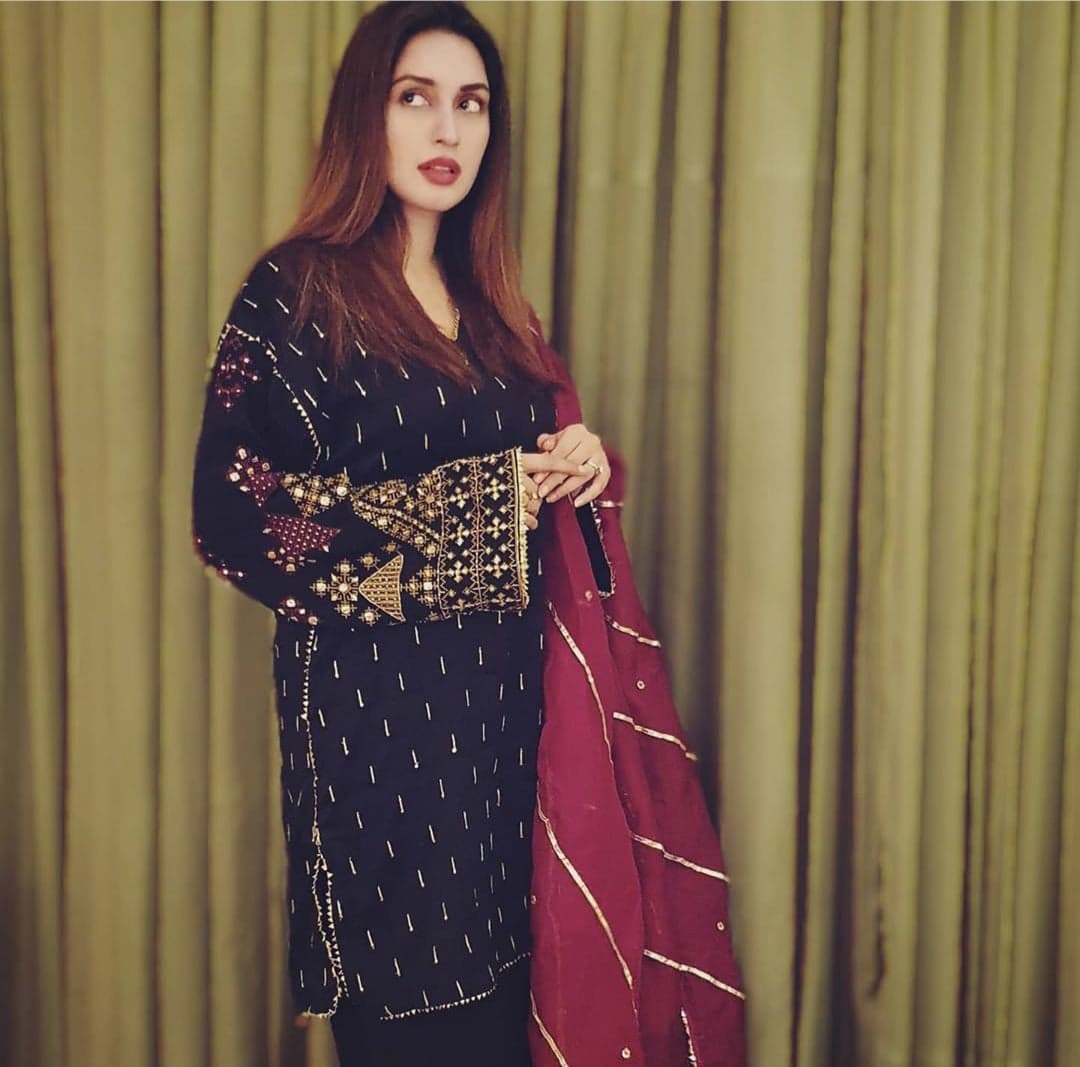 Heavy Formal Dress of Kubra Khan
Kubra Khan wore one of the beautiful creations of Maria B. It was a heavy formal jora with a color combination which was perfect. A panelled dress having different design elements at each one of the panels. A self-printed gorgeous red dupatta which looked beautiful with this dress. Kubra Khan tied her hair and wore heavy earrings, effortless and classic is what Kubra Khan's Eid look can be described as.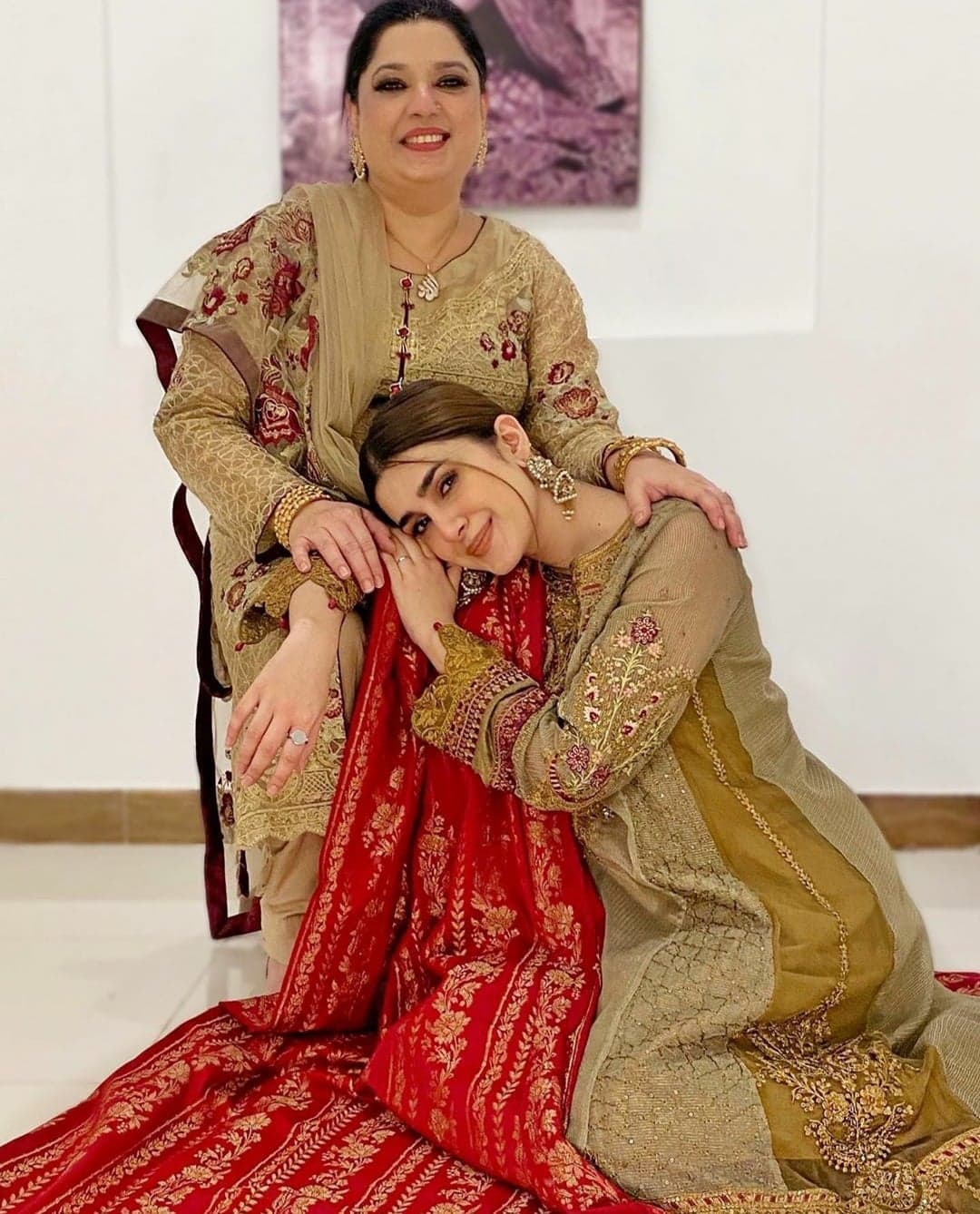 Black & Gold Outfit of Humaima Malick
Humaima Malick showed up on Ahsan Khan's Eid special show wearing this beautiful creation by Mansoor Akram couture. Once again a solid colored black pishwas with a heavy border on the neckline. The sleeves had sequins splattered all over and it kept the dress from looking too plain. The dupatta of this dress is to die for because of it being intricately embroidered, finished with beautiful diagonal striped laces. Humaina wore her hair in waves and chose dangling jhumkis as her accessory. She went the traditional route and looked gorgeous.
White Pishwas of Nausheen Shah
Nausheen Shah wore a creation of Nitasha Bilal. This was the kind of dress which is bound to make a statement. A beautiful flowy chiffon pishwas with one statement motif at the bustier. Sheer sleeves and thick striped border at the bottom of the shirt. She paired it with dull gold khussas and looked gorgeous in her usual wavy hair style and minimal makeup.
Powder Blue Embroidered Kurta of Sunita Marshal
Sunita Marshal also showed up on one of the pre-recorded Eid shows wearing this beautifully embroidered kurta designed by Rizwan Beyg. A gorgeous shade of powder with heavy and intricate patterns made out of thread work embroidery. Sunita Marshal wore a white tulip shalwar and white heels to complete the outfit. She wore statement earrings and ring to match the outfit and kept her styling simple with a bright shade of lipstick. She looked superb.
Pink Pishwas of Yashma Gill
Yashma Gill brought in some color the second day after wearing an all white on the very first day of Eid. She wore this gorgeous creation of Nilofer Shahid and looked beautiful. It was a beautiful shade of pink; a flared pishwas with dual fabric and pattern design details that made the bustier. The dupatta was a darker pink shade; a perfect combination.
Pink Princess Dress of Anoushay Abbasi
Anoushay Abbasi wore a creation of Zubia Zainab this Eid. It was a gorgeous netted and flowy gown made in pastel pink shade. The gotta was used in such a way which created the designs and motifs on the dress, at the front of the bustier as well as formed panels at the flare of the shirt. The dress had a plain pink net dupatta; showing simply how less is always more.
Patterned Lawn Suit of Fatima Effendi
Fatima Effendi went for a simpler look the following days of Eid. She picked up a beautifully printed suit from Mystique fashion label. This dress had a lot of floral and solid patterns with chiffon flowy dupatta. A perfect suit which is comfortable and still makes you look Eid ready.
Mustard Color Dress of Arisha Razi Khan
Arisha Razi Khan wore a creation of Khas officials. A heavily embroidered shirt with nett design details at the bottom of the shirt. A fitted trouser and regal looking dupatta. This suit is perfect for unmarried girls and is enough to make a statement while still feeling comfortable during the hot summer Eid days.
These were the beautiful dresses Pakistani celebrities wore during the Eid days. Which one of these are your favorite? Feel free to share your opinion in the comment section below.