The relationship that a father shares with his children is very special. When it comes to celebrities, their fans love watching them act different characters on screen but when they decide to give their fans a sneak peek into their lives, that is when they connect with their favorite celebrities a lot more. This rings true for all those male celebrities who share snippets of their day to day activities and involvement in their children's lives. This gives their fans a chance to see them as regular people who are doing their best to entertain their little angles.
Here are some of the best moments of Pakistani celebrity fathers with their children:
Shahid Afridi
These pictures of Shahid Afridi with his daughters are going to bring a smile to your face. Shahid Afridi recently recovered from Coronavirus and while he was dealing with it, he took it to his Instagram to share how much he was missing his youngest daughter Arwa. After his recovery, he decided to share the most heartwarming picture of where he is holding his youngest angel and kissing her. When Shahid Afridi decided to announce the arrival of his youngest daughter, he made sure that her 4 elder sisters were a part of the picture too. There was so much beauty in one picture that made everyone's hearts melt. Shahid Afridi is a doting father, he doesn't mind giving his daughters a ride on his back when they get tired walking the streets of Makkah.
Faysal Qureshi
Faysal Qureshi had a son Farmaan Qureshi this year and since then, his feed has been full of those cute moments he spends with him. In a recent post, it could be seen how his son was showing affection to his father when he returned home after 3 hours. Faysal Qureshi has been very vocal about his daughter Ayat and how much he loves her, he has spoken about his affection for his daughter on his morning shows continuously, however now with his son in his life, Faysal Qureshi also gets to wear color-coordinated matching outfits with him. Another cute picture that Faysal Qureshi shared was of him welcoming both Ayat and Farmaan in the same manner.
Imran Ashraf
Imran Ashraf is very particular about keeping his son away from the public eye, however, he doesn't mind sharing snippets of those times when he is with him. Out of all the moments that he has shared, the cutest one was a video that showed Imran Ashraf doing his best to put his son to sleep. Another picture shows that he is being attentive towards his child during the family outing.
Shoaib Malik
This picture is surely going to soothe the eyes. Shoaib Malik gets to beat the heat with his son Izhaan Malik in a pool. Surely father and son had a great time together.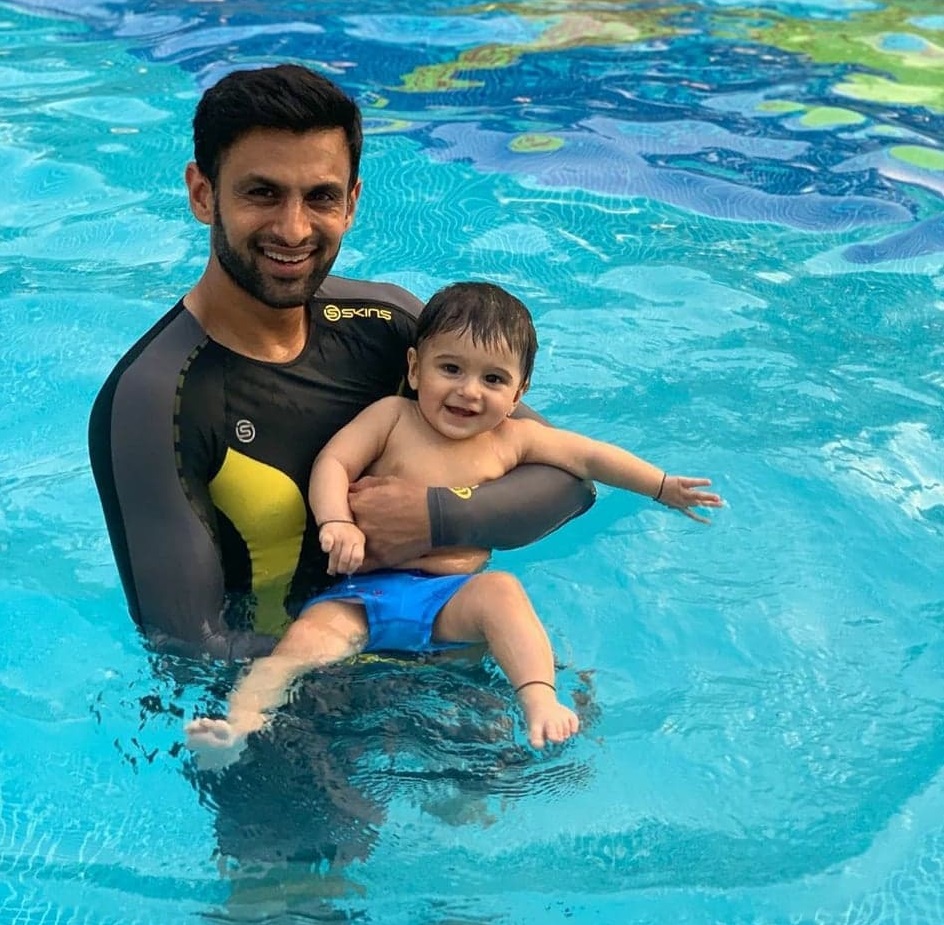 Zahid Ahmed
Zahid Ahmed likes to keep his family life private but every now and then he likes sharing some of the special moments spent with his sons. Zahid Ahmed showed how his family welcomed him after he came back home from a shoot after some days. He also shared a fun picture depicting the chaos that usually happens whenever parents decide to get a picture clicked with their children. Zahid Ahmed also states that nothing's more special than a child's hug.
Fahad Mustafa
Fahad Mustafa is very much known for his unique specs collection, therefore he loved sharing a comparison of him and his son wearing specs too. This goes to show he definitely enjoys coordinating with his son, be it in terms of clothing or accessories.
Feroze Khan
Feroze Khan is also one of those celebrity fathers who likes to keep his son away from the public eye, therefore his fans have gotten to see his child's back. However, Feroze Khan has shared some of the cute moments he spent with Sultan where he is always kissing and cuddling him. The most interesting one was Feroze Khan holding his son on one hand and sharing that the main thing he is going to teach his child is 'no fear'.
Bilal Qureshi
Bilal Qureshi is one of those celebrities who makes the presence of his child felt on his social media. His son Sohaan is very much a part of his feed and Bilal Qureshi continues to share all the activities and pretend-plays he does with him. Be it acting as a patient for his doctor son or playing basketball with him indoors, Bilal Qureshi surely makes the most of his time with his son.
Danish Taimoor
Almost all the pictures of Danish Taimoor and his family are photoshoots, which are bound to look perfect but Danish Taimoor has also shared some of the sweet pictures where he is keeping his daughter engaged. He doesn't mind playing games with her and making her laugh.
Shahzad Sheikh
Shahzad Sheikh is a hands-on father who loves attending his child's first school play. He also doesn't mind posing goofily to make his son smile. Shahzad Sheikh has shown the fun side of being a father where he is very much involved in keeping his children engaged.
Syed Jibran
Syed Jibran is also a doting father whose life revolves around his entire family. Be it Eid shoppings or school activities, Syed Jibran makes sure to be a part of everything. He also enjoys planning different adventures for his kids when they are out for the family vacation. Another cute moment he shared was when his family came together to celebrate 14th August in color-coordinated outfits.
Naveed Raza
Naveed Raza also recovered recently from Coronavirus and after he did, he shared a beautiful picture of him with his daughter where he was cuddling her, showcasing how much he missed her during the time he was observing self-isolation.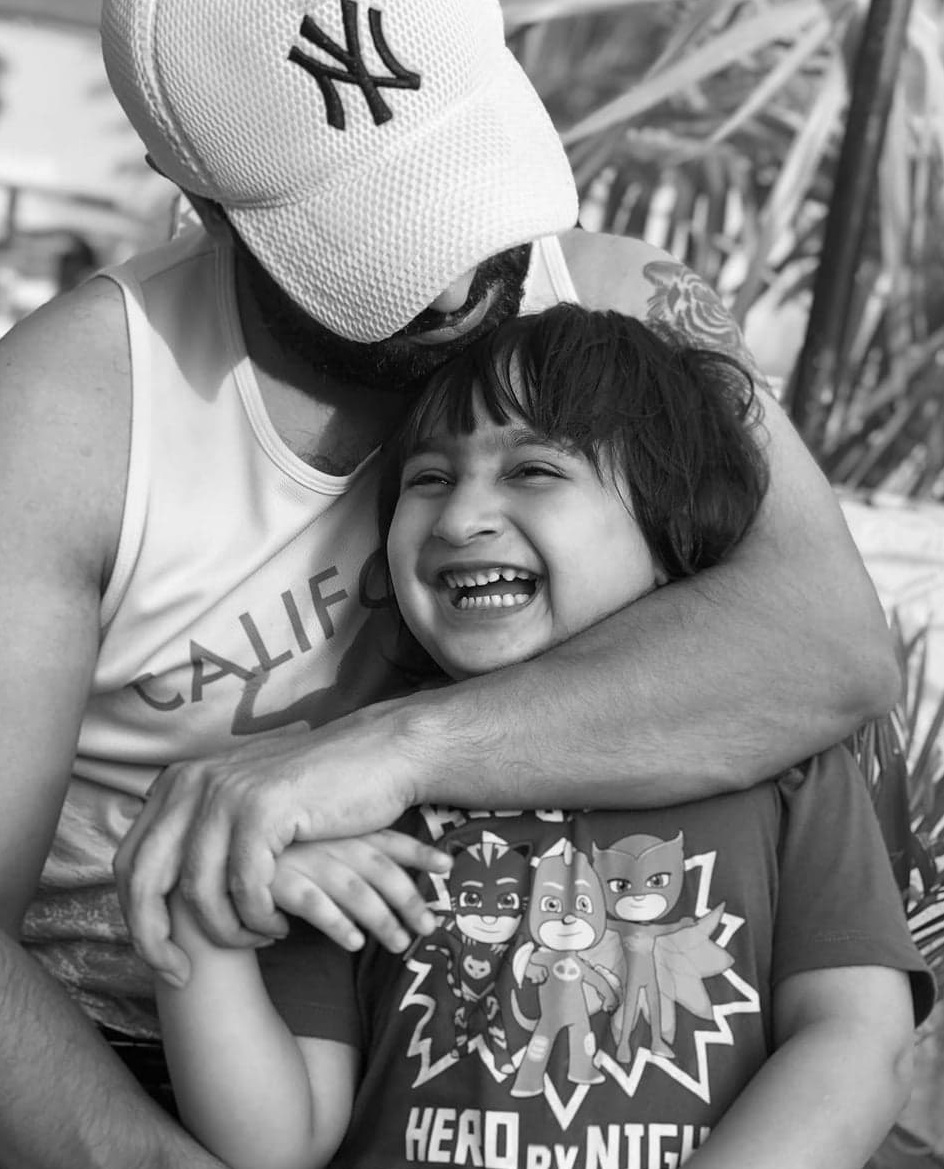 Shahroz Sabzwari
Be it father's day or sports day, Shahroz Sabzwari likes to spend these special days with his daughter. He also shares some of his special moments spent with his daughter Nooreh on his Instagram. He feels the love that he has for his daughter makes his world go around.