Finally an episode which had some major developments to its credit and had a few emotional scenes as well thanks mainly to Mahira Khan alone but still I feel that this episode could have been way better if the viewers were once again not rushed to the next twist in the story. The pace of Bin Roye is awkward to say the least. In my opinion this episode should have covered the realization by Saman that Saba loved Irtiza and Saman's death alone. The reactions after Saman's death and dadi's suggestion should have been shown in the next episode. Saman realized how much Saba and Irtiza had in common, she also thought of Saba's reactions not only to Amir's proposal but also to many other things and she realized that Saba loved Irtiza. This realization part was covered flawlessly but what happened after that was a complete disappointment. What was the point of showing Saman figuring this 'mystery' out if it was going to have absolutely no impact on the story. Saman's conversation with Irtiza which was a direct result of this realization was yet again one of those weak and shallow conversations this drama is littered with. Also, Saba did not recall Saman's last words often enough therefore this development also fell completely flat and had absolutely no repercussions at all. Saman acted normally with Saba, did not feel guilt or anything else and her conversation with Irtiza revealed nothing about her thoughts either. This development in the story was an epic fail because of the way it was handled! This isn't the first time that something like this happened in Bin Roye and something tells me that this won't be the last time either.
The viewers were shown Saman and Irtiza's romantic scenes repeatedly so that they would feel for Irtiza's loss after Saman died but Irtiza was hardly shown after the accident except in three scenes and in all these scenes he talked about moving on! Once again the writer and the director laid the foundations for something but failed to carry it through. Irtiza and Saman's father's scene was the most ridiculous scene of this entire episode! Irtiza's wife and the love of his life died in a tragic accident but somehow Maliha's state of mind was supposed to be a bigger concern than his state of mind. This scene was an extremely lame attempt to show that it was time to move on! I am shocked that these scenes were penned down by Farhat Ishtiaq because they lack depth and even logic.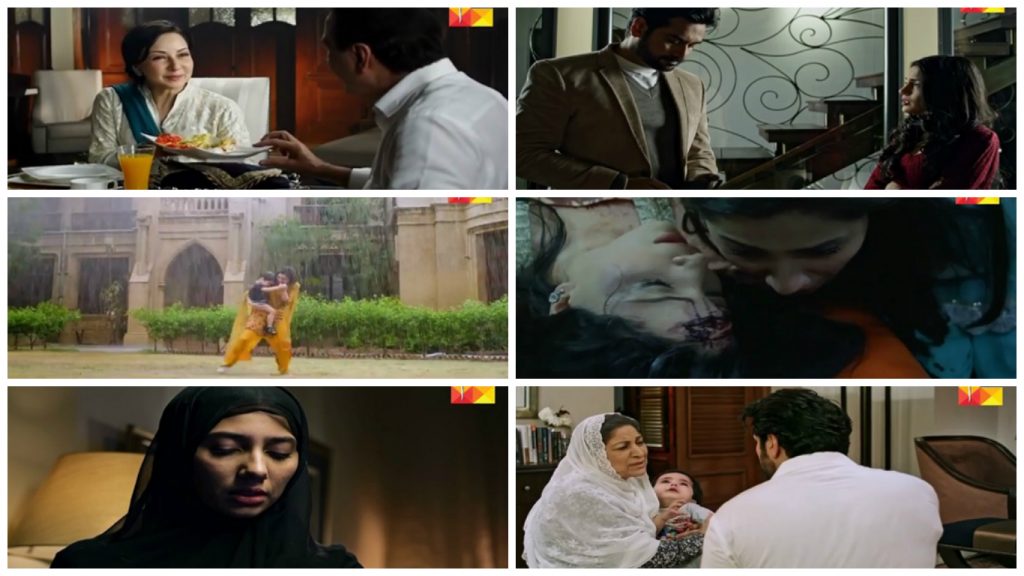 Saba's track was the only one tonight which made perfect sense and was covered flawlessly. Mahira Khan nailed every single scene in this episode and it was easy connecting to the emotional turmoil and guilt she felt. Although some of the scenes weren't shot flawlessly but overall Saba's track and Mahira Khan's acting made this episode better than the previous episodes. Saba tried to do whatever she could in order to get rid of the guilt she felt from praying to taking care of Maaz. After Saman's death there was more focus on her than any other character. A heart-to-heart talk between her and Irtiza was what I missed the most in this episode.
The scene in which Saman is thinking "Ghalib ki poetry, barish ke ilawa bhi ap ko kuch pasand hai" was strange because she wasn't saying it out loud but somehow Irtiza read her mind! So far the writer has relied heavily on deaths and marriages to take the story forward and all the major twists involved just that! After watching this episode and the preview of the next one I am still wondering what was the logic behind introducing Safeer's character and his entire track to the story. The scene covering Saman's accident was exactly like the way Shama had the accident in Dil Banjara, I am wondering if Siraj-ul-Haque took the inspiration from Bin Roye since this scene must have been part of the film.
There wasn't a single scene in this episode either in which Saba and her mother were shown interacting. Their non-existent relationship is one of the worst parts of this drama because it creates a big vacuum. Bin Roye doesn't have a lot of impressive performances to its credit, Mahira Khan is the only one who is giving her best, Hamayun Saeed's character does not have much to offer and Zeba Bakhtiar and Armeena Rana Khan are the weakest link in this play. Every time this drama airs, I can't help but think about the expectations I attached to it and what a huge disappointment it is turning out to be in terms of script, direction, editing, acting and even make-up. The only saving grace of Bin Roye is Mahira Khan's powerful performance and Saba's character.
How many of you watched this latest episode? Do share your thoughts about it.