And the loser of the year award goes to Safeer! The zabrdasti ki shadi finally took place in this episode and Safeer's first conversation with his second wife made as little sense as this latest development. Safeer said he was ready to face any kind of reaction from Saba's family and his own mother yet somehow he depended on Saba to tell everyone the truth! I kept on wondering what was stopping him. This entire track has been handled quite recklessly. This wedding could easily have been avoided especially because Safeer was so willing to deal with the consequences as soon as the marriage took place. I am wondering if this is an attempt to make the viewers feel for Saba. While I did feel for Saba after watching tonight's episode but the fact is that this particular track has done-to-death written all over it.
Eventually Saba and Safeer both decided they could after all live with each other mainly because Saba was willing to keep Safeer's secret and even "help" him in more ways than one! Saba's reaction was quite interesting! It went to show just how much she had changed and had she not held herself responsible for Saman's death and for feeling guilty about loving Irtiza even after he was married to Saman she would have come across as a complete Allah mian ki gaye today. Saba feels like she deserves all this and she is no longer the girl who would fight to have her own way. The relationship between Safeer and Saba however was awkward to say the least. The way Saba was so "understanding" of Safeer's situation and the manner in which Safeer actually seemed to be attracted towards Saba for a few seconds made this marriage one of the most weird marriages we have seen on screen. The viewers did not get to see/hear firsthand what was going on in Saba's head but Safeer's conversation with her about why she was alright with everything and the last scene of the previous episode suggests that Saba has now dedicated her life to proving that she is a good person who will not harm anyone. Even though there was a good reason behind Saba's reaction to the shocking news Safeer gave her but the fact is that this track is turning out to be another one of those dusri biwi tracks in which the first wife is demanding and the second one will put up with anything at all. The only big difference here is that the husband will never leave his first wife for the second one.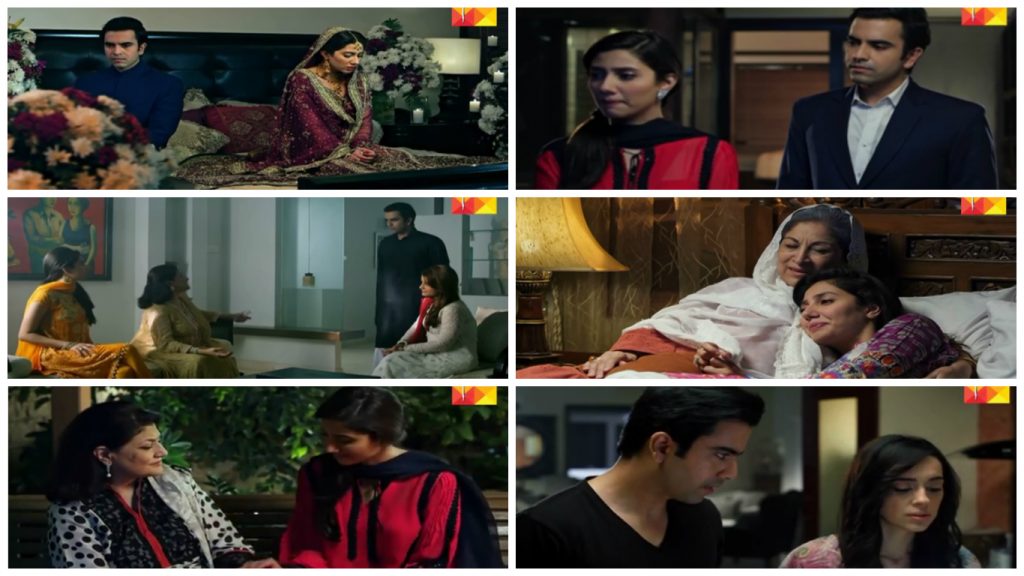 As if things were not awkward enough as it was, Sonia's announcement that she was having another baby made things even more complicated. Saba's parents were completely missing from tonight's episode. She got married, came to live at her parent's house after an entire month but was shown only spending time with dadi. It would have been so much better if they died in a car crash too because their disappearance every now and then would have made more sense then! The focus in tonight's episode was more on Saba's willingness to accept this new relationship she had with Safeer. I am wondering how this track will help take the story forward because the preview of the next episode suggested that even after 7 months or perhaps more Saba was just as willing to compromise as she was before. While Saba's reasons are very clear, there is absolutely no reason why Safeer is willing to go along with it since his mother will also find out in the next episode that Saba knows the truth.
Mahira Khan looked exceptionally beautiful in most of the scenes tonight and she acted brilliantly too. Saba yet again was the only good thing about this episode and the only character which makes perfect sense even now. Other than that, Saba's parents' disappearance, Safeer's mother's unreasonable attitude and Safeer's unfair/irrational behavior stood out like a sore thumb. Bin Roye should have been a perfect package considering the fact that it has some big names attached to it yet there are plenty of times when you question so many aspects of this drama. So far apart from the choppy editing, the script of Bin Roye has been its weakest link. Also, although there are only few characters in the play but even then there have been many episodes in which the key characters did not get the screen time they should have been given.
How many of you watched this latest installment? Please share your thoughts about it.