In tonight's episode the viewers saw Saba putting up with all those things which would break anyone's heart and spirits completely, with a smile on her face. While the viewers know exactly why Saba is putting up with all this but watching her put on an act because she is trying to prove something to herself and to Saman (who is no longer alive) and also because getting married to Irtiza is not an option for her but what the writer completely failed to cover was Saba's actual frame of mind. The viewers did not see her thinking about how she actually felt about the situation or the painful experiences she had been through quite recently. Also, she did all this like it was not effecting her in any way. While it is possible for someone who has lost somebody very close to them especially when they hold themselves responsible for their death to disconnect themselves completely for sometime but watching someone do that for a whole year isn't something most people can relate to. Anyone who is rejected the way Saba was by Safeer and is insulted time and again should at least get depressed if nothing else! Watching Saba play the victim like a pro wasn't exactly easy to relate to.
Iritiza's sudden interest in Saba was another aspect of this episode which made me wonder where this love and interest had disappeared when he got married to Saman. Irtiza and Saba's relationship was established well in the first few episodes but it wasn't carried forward properly and due to that disconnection it is difficult to feel the same way about Saba and Irtiza at this point. Hamayun Saeed and Mahira Khan however make Saba and Irtiza's scenes likeable and there are times when you want to see both of them happy even though this entire track has been handled poorly.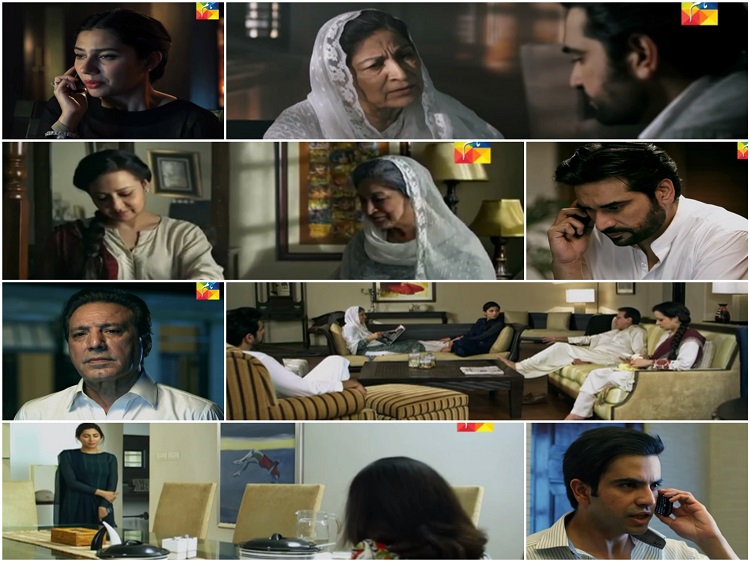 Safeer's character is a lot like Mikael from Mann Mayal; a person who is only there to make the leading lady suffer. There is absolutely nothing likeable about his character and he makes my blood boil when he keeps on telling Saba what a big favor he is doing for her! Why can't he tell Saba's parents the truth himself since he does not care about the consequences? Why is he doing Saba this huge favor when he knows that Sonia will leave him if she ever finds out that he is married?
There was a lot of talking in this episode and many of the dialogues were repetitive. The only scene in this episode which was truly gratifying was the one in which Saba breaks the news to her mother in law! The timing was perfect and the way Saba did it was definitely quite gratifying. Saba's mother in law is another character in this play which is quite annoying! Her double standards and her explanation for everything is confusing most of the times. Safeer has two children with Sonia yet she is looking forward to the day when he will leave her!
Bin Roye's OST and Mahira Khan's dresses and acting are the only two good things about Bin Roye but then these things are not enough to make up for the lackluster story and direction which isn't as skillful or creative as one would have hoped for it to be. The preview of the next episode showed Irtiza finding out the truth in the most dramatic manner. It would be good to see Sonia leaving Safeer. The fact that Irtiza's concern and love for Saba only surfaced once again after his wife died is sticking out like a sore thumb. If these conversations which show Irtiza's concern for Saba were also part of those episodes in which Irtiza was married to Saman, it would have been easier for the viewers to connect to his feelings and the connection between these two. Also, Saba and Safeer's shadi is too forced; Safeer decided he was willing to face the consequences only after he got married to Saba and Irtiza is only worried about Saba's visa and all the other details about Safeer after Saba got married to him! If Irtiza did his homework before the marriage this wedding wouldn't have taken place.
How many of you watched this latest episode? Don't forget to share your thoughts about it.