I was expecting this episode to be intense and emotional but honestly speaking after watching this episode my first thought was "aur bhi dukh hein zamane mei shadi ke siwa"!! The way Saba's parents were so eager to get rid of their "ladli beti" was beyond me. Just like many other dramas of recent times which did not work for me, this one too is full of characters whose actions do not match their words! And we all know that actions speak louder than words which makes the entire scenario and these characters confusing! So Irtiza decided to get married to Saba because he wanted to "save her". I would call this shadi another forced development in this play because of the way it was handled. If Irtiza really was looking out for Saba he should have done what she wanted and not forced her yet again to do something she did not want to do! Letting Saba go with Safeer would have been wrong but getting married to her knowing that the connection they once had was completely dead was ridiculous. Even after the way Saba reacted to living in Saman's room, Irtiza continued to dictate to her.
Saba shouted a lot in this episode and the dialogue "Mujhe marne se dar nahi lagta" was repeated once again which makes me wonder why are the dialogues in this drama so plain and repetitive. Also for the second time Mahira Khan used the word "alfazu" (words) and I am wondering if that actually is a word! These are minor things but ones which make you wonder what the directors were doing on the sets and why couldn't a writer like Farhat Ishtiaq show a more sound reason for Irtiza getting married to Saba. Saba's parents are well off and supposedly they love their daughter to bits yet they were okay with marrying her off for the second time without her consent. The justification that Saba does not know better was quite lame!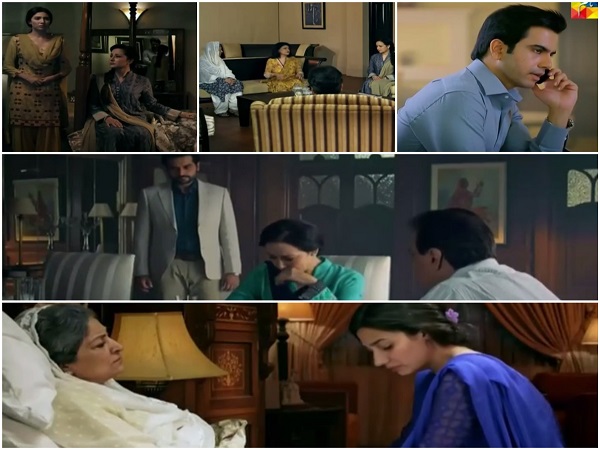 In the entire drama so far Saba hasn't had one meaningful conversation with her father or her mother, something which surely sticks out like a sore thumb. Even tonight when she was screaming and she fainted, her parents were not even around!! Also, Saba's brother's reappearance in this episode and his concern for her lacked emotional appeal because the brother has been completely out of the picture too. The relationships between all these characters which were shown quite well in the first 3 episodes or so were not taken forward in a proper manner as the story progressed. Also, there have been many instances in which there is no continuity between the scenes which is definitely a huge disappointment most of the times. In tonight's episode for example the maid told Saba that dadi was calling her and in the next scene Saba was shouting. They should have shown this conversation properly but it was completely abrupt.
Everything that Safeer said to Saba today went to show that Sonia was back in his life! This was another disappointment. Until now the viewers saw Safeer shouting at Saba every single time she talked to him and now he pretended as if he was looking out for her! This was the most useless scene in tonight's episode which ruined the effect Irtiza's lashing out on Safeer and Sonia walking out on him had.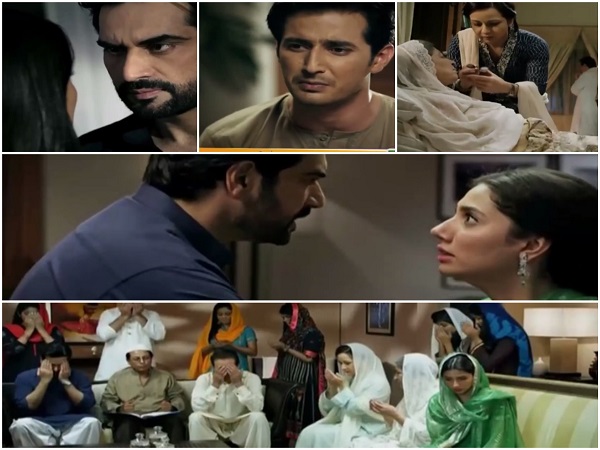 Apart from the weak direction, choppy editing and unconvincing developments one aspect of this play which makes it a complete disappointment is the fact that the dialogues are so plain, repetitive and even weak. In tonight's episode for example the dialogue "aap ke saath meri baat khtm ho gaye, ab mein akele rehna chahti hu."  was confusing. Also, the word talaq was used excessively in tonight's episode even when it was not needed. The background score in tonight's episode and the last one too was inappropriate to say the least! Bin Roye has two amazing actors who also share sizzling on-screen chemistry playing the lead yet this episode fell completely flat because of the way these latest developments were taken forward. The only powerful scene in this episode was the one in which Saba remembered how she had wished Saman would die and she ran out of the room screaming.
After watching this episode I don't have huge expectations from the next two episodes. After watching the previous episode I thought the last three episodes might give the viewers something to remember but that seems unlikely now.
How many of you watched this latest episode? Don't forget to share your thoughts about it.