Bollywood film Dishoom which was due to release on 29th July 2016 in Pakistan has not been released yet as it is still not cleared for screening by any censor board of Pakistan. As per the English Daily Dawn censor board has not yet formally announced any decision about the film
The promotion of the film was in full swing where the distributor has advertised the release of the film in all the leading Urdu and English dailies.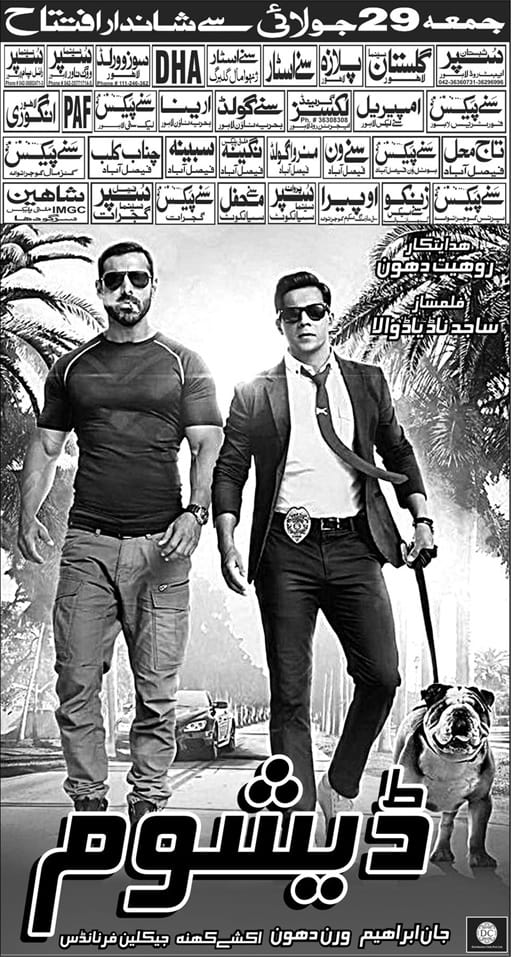 As per English Daily Dawn,  the film Dishoom shows the two leads attempting to kidnap an Indian cricketer before an India-Pakistan cricket match.
The delay in the decision from the censor board has resulted in the rumors and it is widely reported in the Indian press that the film is banned. Even the leading artist of the film Varun Junaid Dhawan has tweeted showing his disappointment that the film is banned terming it as a wrong decision.

So the release of the film is uncertain in Pakistan and it might get banned.
Every year around 50 – 60 Bollywood films are released in Pakistan. The screening of the Bollywood films has helped reviving the struggling cinema industry of Pakistan. In order to screen a Bollywood film in Pakistan it has to be imported after getting a No Objection Certificate from federal ministry. Once imported Bollywood films have to get a screening certificate from three censor boards operating in Pakistan. However every year few Bollywood films fail to get the certificate or NOC for various reasons. The most frequent reason is the content deemed as anti-Pakistan or anti-Islam by the censor board, then there are also few films which failed to get the screening certificate due to the content considered too obscene or adult by the censor board.
This year so far two Bollywood films have failed to get the censor certificate or NOC.
In January Bollywood's Kiya Kool Hain Hum 3, was banned by censor board quoting "It is an out-and-out obscene film that not only shows nudity but also has a lot of vulgar content in its dialogues. The board has officially disallowed the film from public viewing and sent a show-cause notice to the distributor. The problem with this film is that we couldn't even allow it with an Adult rating, it so vulgar".
In February Bollywood's Neerja also failed to get the No Objection Certificate (NOC) from the federal ministry required to import the film. The decision is said to be linked with the alleged anti-Pakistan content of the film.
Sources:
http://images.dawn.com/news/1175930/is-dishoom-banned-in-pakistan
http://tribune.com.pk/story/1033972/kyaa-kool-hain-hum-3-banned-in-pakistan/
Rashid Nazir Ali