The long weekend following Independance day has passed. Any such prolonged weekend proves a lucrative option for the film business. This year after a gap of more than three decades three Urdu films were screened. There were expectations as well as reservations about all these films regading the response of cine goers.
In Pakistan film producer/distributor seldom announce the revenue earned from their films. Few websites collect such data from various multiplexes, and this report is majorly based on the stats shared by www.boxofficedetail.com.
On 14th August four major films were screened which includes three Urdu films Shah, Moor, Dekh Magar Pyaar Se and one Bollywood movie Brothers.
Bollywood films – Brothers
Brothers a Bollywood movie was released on 13th August 2015 and has out-shined the rest of  the films in terms of revenue collection. Like any major Bollywood, it recieved a warm reception and the film is still running successfully in cinemas. Bollywood films are popular on both traditional single screen cinemas and newly built multiplexes. The film has collected about 4.7 crores from 14th August to 20th August and is still going strong.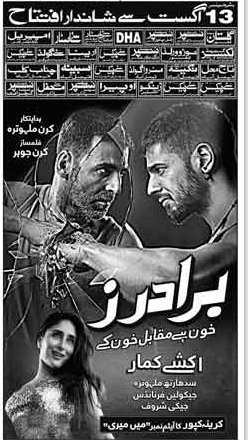 Urdu films
On Eidul Fitr (just a month ago), two Urdu films Wrong Number and Bin Roye were screened which received positive response from the audience and are still successfully running in cinema houses. Another film Karachi Se Lahore released on 31st July is also doing good business.
Here are the details of three films released on 14th August 2015.
Dekh Magar Pyaar Se (دیکھ مگر پیار سے)
Dekh Magar Pyaar Se (DMPS) is the second Urdu film of Humaima Malick after a gap of four years, where her first film Bol in 2011 was a super hit winning her many awards and appreciation. The film is produced in Karachi, and shot in Lahore and London (UK). It is directed by famous commercials director Asad Ul Haq and style icon Hassan Sheharyar Yasin has worked as creative and fashion design director as well. Sikandar Rizvi, who runs Xanders a famous restaurant in Karachi has appeared as hero in this film.
DMPS is the only commercial film released on 14th August 2015 and thus was screened in both single screen cinemas and multiplexes. The opening of the film was satisfactory and it collected majority of its revenue on the first two days and advance bookings. However the feedback of the audience shared on social media websites was quite negative and it was also reflected in the business of the film. The story of the film was quite weak and uneven in pace. Occupencies in cinema halls fell sharply as soon the indpendence day weekend has passed, and the film has collected merely 2.2 crores from 14th August to 20th August. After one week of screening it is removed from most of the multiplexes.
Moor (مور)
Moor means mother in the Pashto Language. Moor is about corruption which badly impacted the railway system in the Pashtun Belt of the Balochistan province. It is produced in Karachi, and shot in Karachi and Pashtun Areas of the Balochistan province like Muslim Baagh and Zhob.
A serious film of independent nature, it is released only in multiplexes as response of such films in single screen cinemas has always been quite unsatisfactory. Generally films like Moor only get appreciation from the critics instead of masses. Same happened with Moor, the film recieved a positive response but as soon the indpendence day weekend passed its sales fell sharply. The film received good reviews from critics and the viewers alike, but it was not sufficient enough to save it from sinking. So far the film has collected only 85 lakhs from 14th August to 20th August. The film is removed from many multiplexes, or otherwise has limited shows. The advertised budget of Moor was about 5 crore, if true it is proving a great financial loss to the producer.
Shah (شاہ)
A biopic about the Hussain Shah, an Olympian boxer who won a bronze medal in boxing for Pakistan in the 1988 Seoul Olympics. Shah mainly covers the professional life of Hussain Shah, his initial struggles, the final achievement and after come of his achievement.
The film has a limited budget of 1.7 crores provided by Bank Alfalah. Shah is majorly released in multiplexes, as such films are seldom welcomed at single screen cinemas. Like Moor, Shah was also well received on the weekend following the independence day but the occupencies reduced greatly in the following week. From 14th August to 20th August the film has earned 73 lakh. Considering its total budget it has recovered nearly half of its cost.
In a nutshell all the three Urdu films released on the independence day have not been much fruitful and their business has been below expectation. The one Bollywood film Brothers has earned as per expectation and despite the Independence day weekend, yet again an Indian Bollywood film has ruled the box office.
Interestingly the two Urdu films released on Eid Wrong Number and Bin Roye and another one Karachi Se Lahore (released on 31st July) continued their successful journey. These three films are still getting warm reception throughout the country.
All figures and stats courtesy of boxofficedetail.com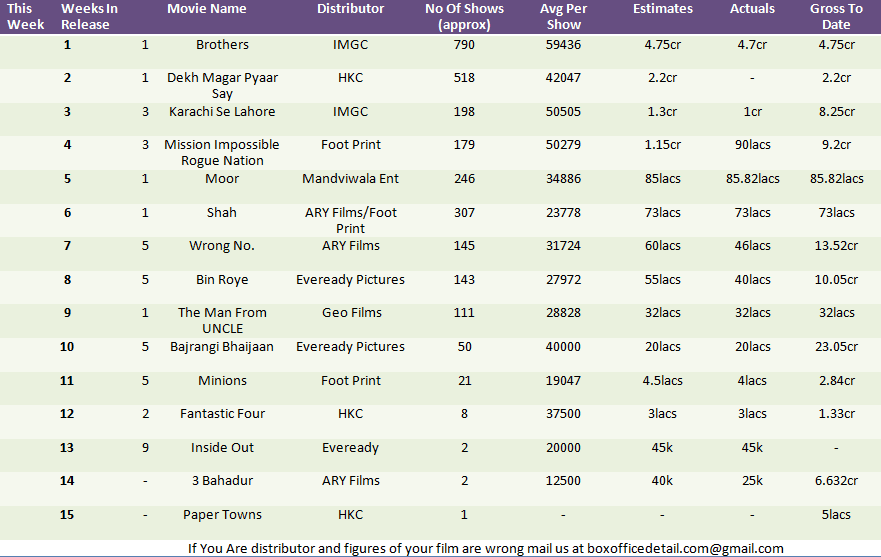 Rashid Nazir Ali