1980's is the decade in which the downfall of Urdu cinema started. Apart from Faisal Rehman, Neeli and Ismail Shah, no new notable face is introduced in the Urdu films in this decade. The artists of 1960's and 1970's dominated the Urdu films in 1980's like Nadeem, Shabnum, Babra Sharif, Javed Sheikh, Kavita. Few foreign artists also worked in Urdu films (produced as Co-Production) like Sabeeta Parera from Sri Lanka, Babita from Bangladesh, Sushma Shahi from Nepal and Nazan Sanci from Turkey.
Though Urdu cinema continued its downward trend in the 1990's; some new faces were also introduced in this decade, which till this day are the face of last days of our now defunct Lahore based film industry. The most notable among these artists are Reema and Shaan, two new faces introduced by director Javed Faazil in his film Bulandi released in 1990.
Bulandi was a smashing hit, the cine goers of that era welcomed the fresh blood injected in the Urdu cinema. Afterwards as a pair Reema and Shaan worked in many Urdu, Punjabi and Double Version (Urdu/Punjabi) films none of which proved successful like Bulandi.
https://www.youtube.com/watch?v=pX_OxRvpMhI
Reema & Shaan in Bulandi
Gradually the working relationship among both Reema and Shaan also strained and their pairing in films also ended. They expressed their differences time and again in the press. Due to the differences both have worked together in very few projects afterwards. However whenever they reunited, it weaved magic on the screen.
In the years to come Reema continued the upward path towards success due to her professionalism. But Shaan suffered due to his unprofessional and irresponsible attitude. By mid 1990's Shaan was out of the films, while Reema was ruling the screen as a new successful pair with new entrant Babar Ali.
The second era of Shaan in films began with the help of Syed Noor who introduced him as a vilian in the film Ghoongat in 1996 which proved successful. After the successful comeback Shaan worked successfully with many heroines like Resham, Meera and Saima but avoided working with Reema.
After a gap of almost six years, film director Sangeeta and producer Shahzad Rafique persuaded both Reema and Shaan to work together again in 1998. The reunion proved successful like Bulandi in 1990, when their film Nikah also proved successful.
https://www.youtube.com/watch?v=jhuRBvVgc30
Resham Ka Lehnga from Nikah
Despite the success of Nikah, Reema and Shaan afterwards worked only in one worth mentioning Urdu film Dil To Pagal Hai
Tu Hai Chand Aur Mein Hun Chand Raat from Dil To Pagal Hai
They also worked in one Punjabi film Laung Da Lashkara in 1999.
https://youtu.be/-UzIPAetjew?t=98
Zulf Da Kundal from Laung Da Lashkara
Reema favored Shaan by accepting the secondary role in Mujhe Chand Chahiye (opposite Moammer Rana), which was being directed by Shaan. Released in 2000, Shaan played the lead in Mujhe Chand Chahiye with Noor Bukhari and the film proved successful.
In mid 2000's Reema also ventured into direction with the hit film Koi Tujh Sa Kahan in 2005 starring Reema and Moammar Rana. For her second film Love Mein Gum, Reema offered Shaan the leading role with her, which he initially accepted. Love Mein Gum was expected to weave the same magic of Bulandi and Nikah on the silver screen, as Reema and Shaan were working together after almost ten years.
As per press reports the shooting of the film started abroad in Azerbaijan and Malaysia. But after few shots Shaan backed out of the project due to some differences with Reema. Moammar Rana replaced Shaan and Love Mein Gum eventually released in 2011 proving average at the box office.
With Reema no more acting in the film (she might continue as a director in the future), there are slim chances that Reema and Shaan are paired again in a film.
Apart from films, the other area in both Reema and Shaan have worked together is television commercials (TVC). Their first worked together in a series of TVC for Tulsi Paan Masala which surely is still remembered by their fans. They do add the required spark to the project whenever paired together, just witness it from the Tulsi TVC.
https://www.youtube.com/watch?v=2dBXQrkLQ2w
Tulsi Television Commercial
After years of gap they both are paired again for another TVC to be aired from May 2017. The brand is Everyday Tea Whitener from Nestle. It is yet to be seen whether this pair revives their well known chemistry on screen or not. But the posters of this upcoming advertisement are surely intriguing and something worth waiting. Titled "Pyar Ho Jata Hai Phir Se" , the still shots of this advertisements definitely have the same chemistry seen in the past in Bulandi, Nikah or Tulsi TVC.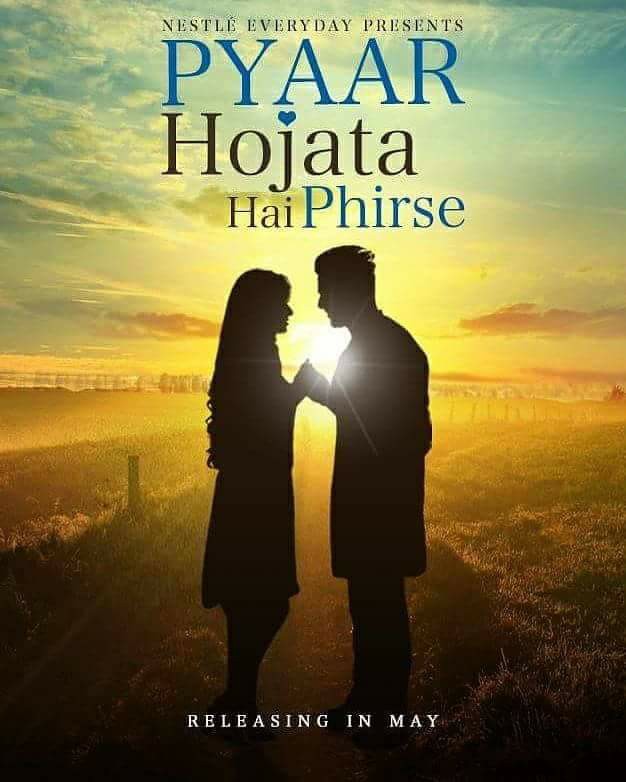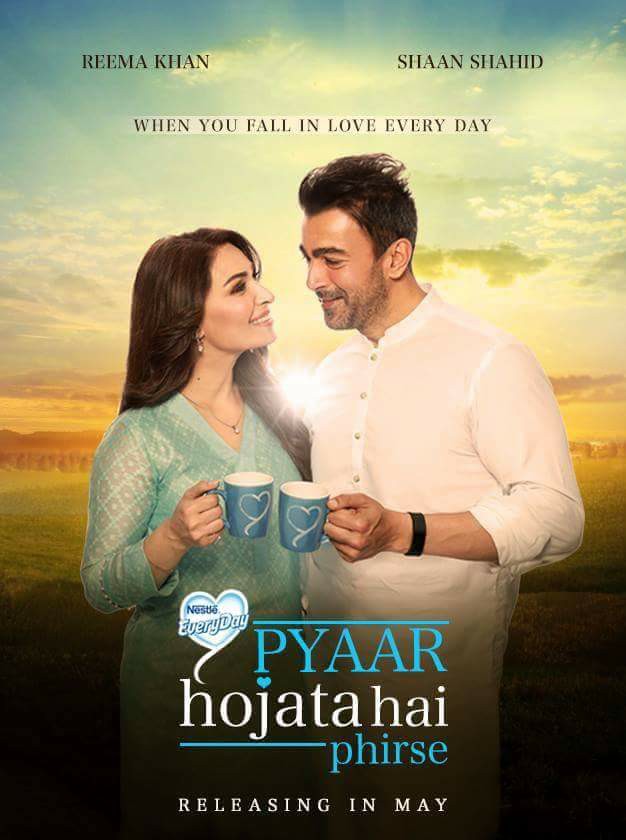 Rashid Nazir Ali