2020 couldn't get any worse first it was global pandemic and now Karachi rain. One of the biggest cities in the world is drowning due to continuous rain. Many people lost their homes, family members, and their properties.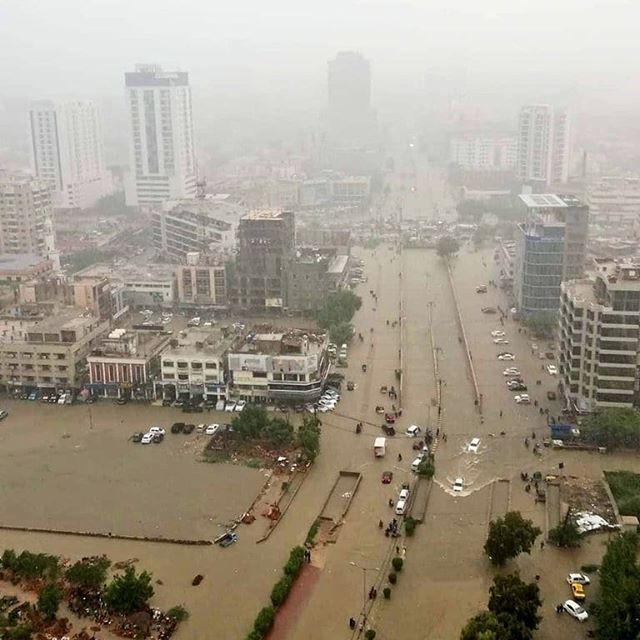 The whole city is suffering and people are crying for help. People are helping each other in this difficult time.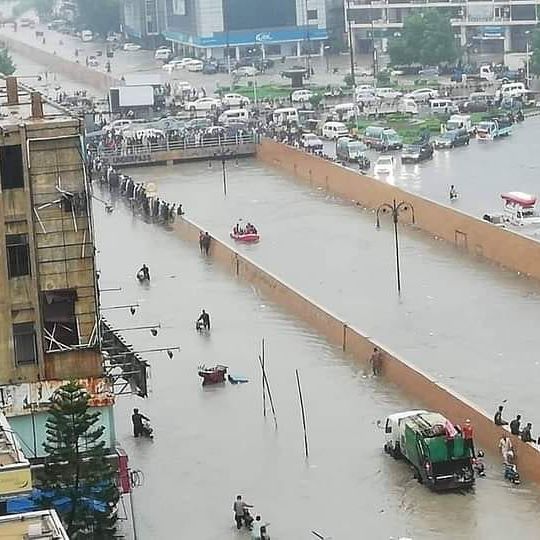 The devastating moon spells caused great damage to entire Sindh especially Karachi. People are angry and devastated and they have taken to social media to raise their voice.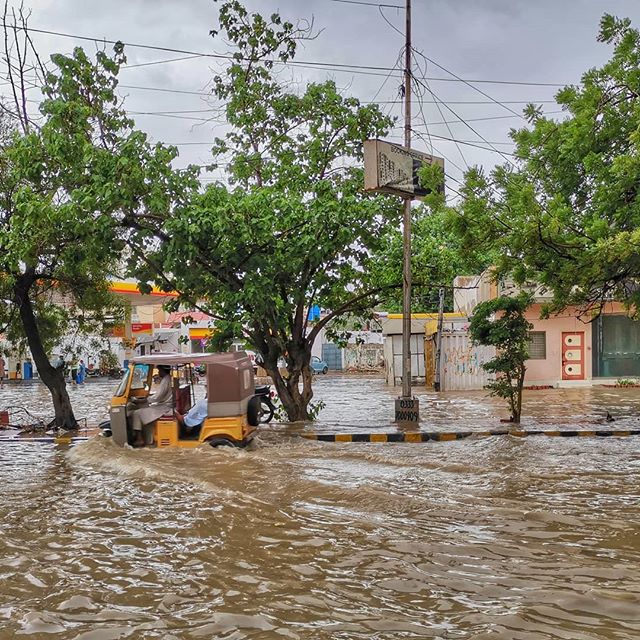 Celebrities including; Muneeb Butt, Yasir Hussain, Waseem Akram, Ayesha Omar, Mashal Khan, Shahid Afridi, Ushna Shah, Osman Khalid Butt called out the concerned authorities for not doing their work and also prayed for people who are suffering badly.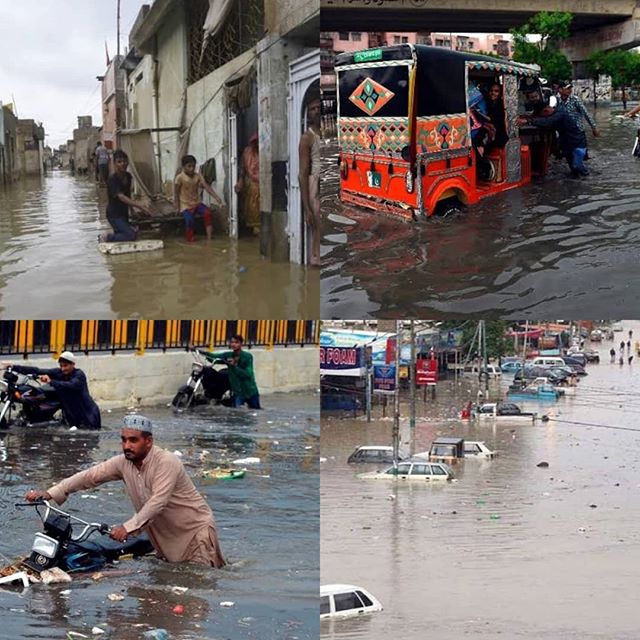 Check out the tweets by celebrities:
آج بہتوں کو کراچی کا غم ہے،کچھ اتنےدکھی ہیں جیسے چھیپا کے جھولے نیں کوئی کراچی پھینک گیا،جب کےالیکٹرک کے خلاف میں چیخاتوہمارے اندر گالی بریگیڈ نے جس کاشہریہاں مسائل سے تعلق نہیں گالیاں دیتے رہے ہمیشہ اپنی جماعت کو یاددلایاکراچی والے محسن ہیں ،کپتان سے امید ہے وہی کچھ کرے گا

— Aamir Liaquat Husain (@AamirLiaquat) August 27, 2020
It's a torrential downpour, not a normal one in Karachi … entire khi has drowned irrespective of any area … this is going to haunt people for lives … please have some heart and sympathies with the people and avoid posting "enjoying rain" posts … please 🙏

— madeha naqvi (@madehanaqvi) August 27, 2020
1. ہمارے پاس شہر کا mandate ضرور ہے مگر اٹھارویں ترمیم کے بعد شہر کے انتظامات صوبائی حکومت کی ذمہ داری ہے۔

2. این ایف سی ایوارڈ میں صوبے کا جو حصہ مقرر ہے ہمیں وہ نہیں دیا جارہا اس لئے شہر میں کام کرنے سے قاصر ہیں۔

3. میرے پاس شہر کے گٹر کا ڈھکن بدلنے کا بھی اختیار نہیں۔

— Muneeb Butt (@muneeb_butt9) August 27, 2020
Since June, we'd been complaining to DHA authorities about choked sewer lines & an inadequate drainage system in our street at Sehar (Phase 7).
Today, my ground portion is flooded. Can't even begin to assess damage.
Rains will continue – as per Met Office – till 11 pm.
Wow.

— Osman Khalid Butt (@aClockworkObi) August 27, 2020
2020 is one HEAVY year.

— Armeena 🦋 (@ArmeenaRK) August 27, 2020
Pakistan needs to come together for Karachi. May God have mercy on the residents. #KarachiRains

— Ali Zafar (@AliZafarsays) August 27, 2020
1/2 No doubt the government didn't care about the city but did we ! time to stop complaining & do something on our own & fix atleast our own colony issues in Karachi ! We can't even stop throwing the garbage everywhere we like. Gov doesn't have a magic wand! #KarachiRains

— URWA HOCANE (@VJURWA) August 27, 2020
2/2 It's the people who have to work hand in hand with the gov ! How many of you can come up with a solution. Why don't we start somewhere . Sab kuch government ka kaam nahi hota. Khud bhi kuch sochein, haath pey haath rakh k baithnay k ilawa ! #KarachiRains

— URWA HOCANE (@VJURWA) August 27, 2020
Phase 5 DHA … imagine this is One of the most expensive residential area of Karachi … Stay home Stay safe everyone 🙏 #KarachiRain pic.twitter.com/lSKccNaac2

— Asim Jofa (@asimjofa) August 27, 2020
With the videos I'm seeing, the stories I'm hearing, its a National Emergency situation. People are homeless, stuck on the streets, or being swept away. Are there relief packages being prepared? Is help coming? When? @MuradAliShahPPP #SindhGovt #KarachiSinks #KarachiRain

— Ayesha Omar (@ayesha_m_omar) August 27, 2020
Instead of complaining, let's all spread some positivity. Big salute to all the karachites who have been helping people stuck on the roads, helping people reach safely to their loved ones. People who aren't doing it bc it's their job but because they care.

— Ali Safina (@AliSafinas) August 26, 2020
If monsoons happen EVERY single year at the SAME time, what possible excuse can the government have for never being prepared?

— fatima bhutto (@fbhutto) August 26, 2020
Karachi has been in a state of denial….it baffles everyone that the country's largest city has only regressed over time. I say this with no political bias just as a citizen. It is almost like people of Karachi have been abandoned. #Karachi https://t.co/yEVPp6GM7W

— Fakhr-e-Alam (@falamb3) August 25, 2020
Electrocution, drowning, irreversible damage to property, poisoning, cross contamination, hepatitis, dysentery, typhoid, risk of polio outbreak, not to mention the diseases associated with mosquito infestation like dengue and malaria! How is Karachi not in a state of emergency?? https://t.co/KVBtSM77Rp

— Shaniera Akram (@iamShaniera) August 25, 2020
Dear All, it is extreme rain today, the Hub Dam has already overflow.Take special care, don't take this rain as fun, Karachi is not capable to deal with it. Stay Indoors, Stay Safe, take care of all people around you ..ALLH pak sab ko apni amaan mey rakhay ameen

— Faysal Quraishi (@faysalquraishi) August 27, 2020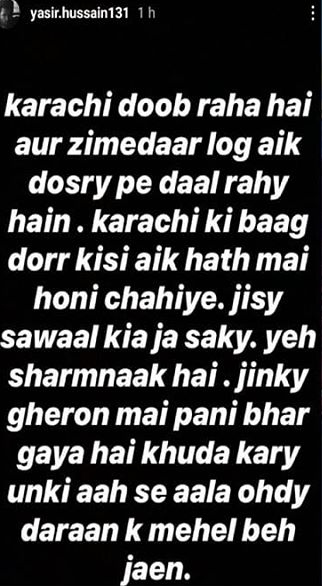 Prayers for the people of entire Sindh who are affected by rain. May God help each and everyone of us!