After Mahira Khan, the next celebrity that Lux Style Awards invited for a live chat session is Mehwish Hayat. She has proved that she is more than just a face. We have seen her versatility in many of her shows. Recently, she also took up singing as a profession.She has two nominations this year in Lux Style Awards. First nomination is for the Best TV Actress (Satellite) for Mere Qatil Mere Dildar and second is for the Best Actress (Terrestrial) for the drama 'Mein'. Fans asked live questions from Mehwish and she answered them on the Lux Facebook page. Here are a few of Mehwish's answers from the Chat session:
What is your Date of Birth and Zodiac sign?
6th January and my star is Capricorn
How would you describe yourself in one word?
Elegant
I am as old as I feel!
Yes, Mishu
Which is your all time favorite dish?
Biryani
What is your favorite color?
White
Karachi
Which is your favorite place in Karachi?
Seaview
What kinds of ornaments do you prefer to wear?
Bracelets and rings
What are your hobbies? Any favorite past time?
I love to read books. Other than that I like to listen to music and I also like dancing
What kind of music do you listen to?
Something that is soothing and helps me unwind
Who is your favorite singer?
Toni Braxton
Any song that you love listening to?
Spanish guitar
Which is your favorite sport and sportsman?
Cricket. I like Jacque Kallis
Which is your favorite book?
These days I am reading 40 rules of love by Elif Shafak
What are your qualifications? Where have you done your schooling from?
I have done Bachelors in Commerce. I have studied from School of Excellence.
Which is your favorite romantic film?
A walk to remember
My mom
Any favorite place that you love to go but haven't been there yet?
Paris
When do you plan to get married?
When the time is right…
How many siblings are you?
1 sister and 3 brothers
The most special moment in your life you think you can never forget?
It's the one I can't remember… it is when I was born!
How old were you when you first joined the industry?
I was 8 years old when I joined the industry
How did you enter the industry?
My mom is also a TV actress. Through her I entered the industry
When did you realize that you could also sing?
I always knew I could sing. I have a family background of musicians but I recently took up singing as a profession.
Who is your favorite costar?
Adnan Siddiqui and Ahsan Khan
Are you working on any movie?
Soon… It's in the pipeline. Keep checking my facebook official page for more updates.
Is there any Pakistani film director that you want to work with?
Shoaib Mansoor
Who is your favorite Pakistani actress?
Sania Saeed and Nadia Jamil
Who is your favorite TV actor in Pakistan?
We have plenty of talented actors. It is difficult to name one.
Who is your favorite Pakistani film hero?
Shaan
Which actor do you think looks good with you on screen?
Ahsan Khan and Mekaal Zulfiqaar
Any character that you would love to play?
Yes I would love to play Benazir Bhutto or Lady Diana sometime.
Would you wander into theatre or stick to TV dramas?
I enjoy doing theatre as it is an outlet for the actress inside me but I would stick to TV dramas as well.
Would you like to do comedy plays?
Yes, I can try.
Is there any upcoming drama of yours on Hum TV?
Inshallah soon…
Amongst your own serials, which one is your favorite?
Manjali, Mere Qatil Mere Dildaar
Are you as smart and wise in real life as the character that you are playing in Mirat Ul Uroos?
I am much more than that!
How many episodes are left of Mirat Ul Uroos?
Around 4 to 5
Do you have any plan to do morning shows?
Not anytime soon…
Which is your all time favorite Pakistani drama?
Alpha Bravo Charlie
How social are you? Do you believe in making many friends?
I am actually pretty shy. I make few but close friends
Do you have any best friend in the showbiz industry?
No
Are you on Facebook? Do you have an official page?
Yes I am on Facebook and I do have an official page too.
Which is your favorite Bollywood film?
Zindagi mile gi na dobara
If given a chance which bollywood actor would you like to work with?
Farhan Akhtar… anytime!
And here are a few clicks from the Chat Session: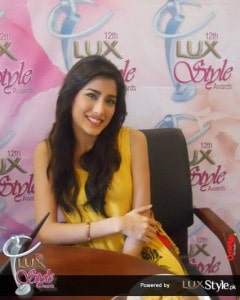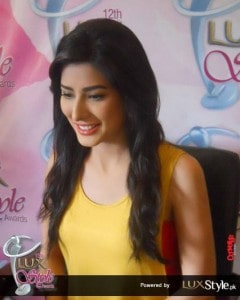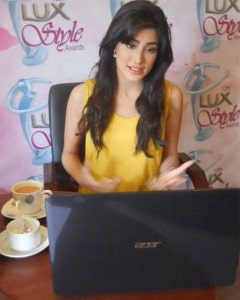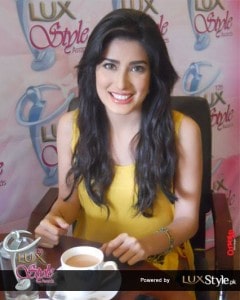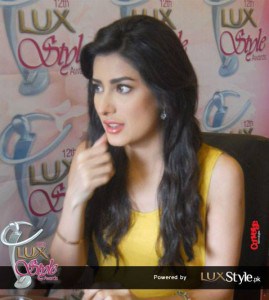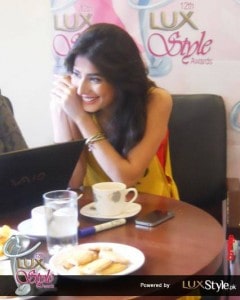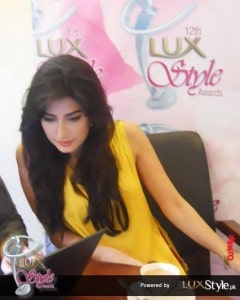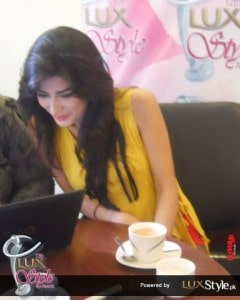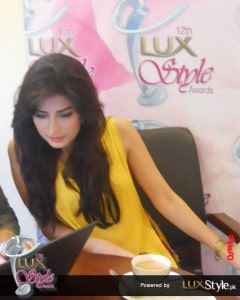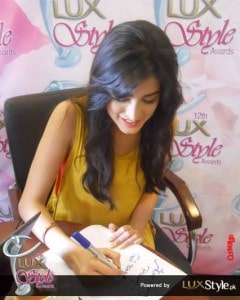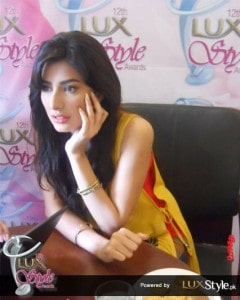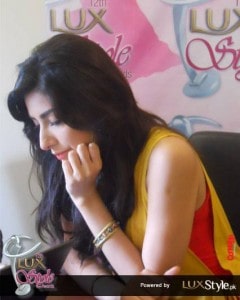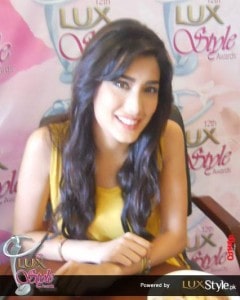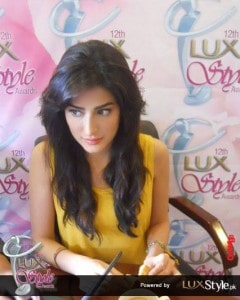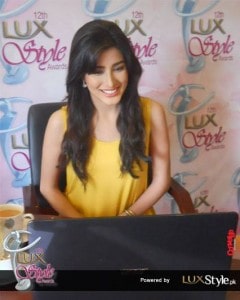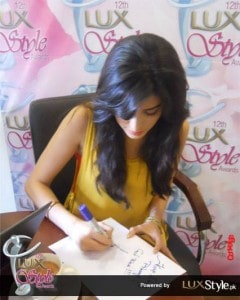 And here is her autograph for all her fans: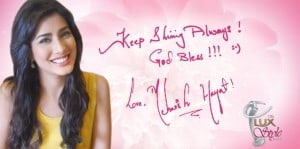 Mariam Shafiq