Oh my! I enjoyed this episode and was surprised when it ended for I lost track of time. With gentle advice and guidance from both sets of parents and with personalities that are basically 'normal' and good at heart, Urwah and Ameena have started feeling the inklings of love. Man, I sound like a bad romance writer, forgive me, but I can not help it. It is so so refreshing to watch a drama where there are no bigger than life egos nor any particular family member devoting his/her life to scheming and plotting against the lead couple. Where Urwah's father gently chides Urwah at times and explains matters to Ameena sometimes as does his mother, similarly Ameena's mother did not 'demand' explanations of what is amiss in her daughter and Urwah's relationship but politely and gently tried to make him understand Ameena. These traits give such a good feel to this drama and this episode which was only marred by Urwah's attachment to the letter but I shall touch upon that in a bit.
I was a bit taken aback that Ameena struggled to read the letter for well, she is educated and how does she manage to read all those 'risalas' all the time then? Anyway, although Urwah's father was curious who the letter was from, Urwah dealt with that and the sender of the letter and the letter itself was soon forgotten – by all, except Urwah that is.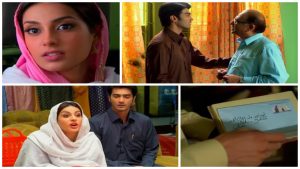 Ah, knight in shining – Urwah! I liked how he was indignant about the guys bothering Ameena and also his awkwardness when he saw Ameena chatting so happily with her cousin. The shopping trip made me miss Pakistan for I have not been back in years and truly enjoyed the shopping experience through Ameena. Ameena is immature but she has a good heart which was evident from how she shopped for everyone and bought nothing for herself and the reason she gave Urwah put a bigger smile on my face than it did on sarrial Urwah's! I thought the two were getting closer but I was not pleased at all to see Urwah get up and re read Azra's letter. I seek comfort from the thought that he did not compose a reply but Azra is still in his thoughts as is the letter he treasures. It truly ruined the whole 'sweetness' between Urwah and Ameena for me but then I guess reality check – for Azra is still pretty much in Urwah's life.
Choti Si Zindagi continues to be entertaining and I am glad I am watching this show. Next week's episode showed a different side to Azra – sigh. For the first time ever, I hope this was just a bad dream Urwah/Azra has or it is the very last confrontation between the two for I really would not be able to take Azra chasing Urwah full guns blazing and him succumbing! How many of you enjoyed this episode? Would love to hear your thoughts.
Kunwal Javid