The change in Rameen's personality had to be the most significant development in tonight's episode other than that we are pretty much going around in circles. Rameen finally decided to be open with Azar about Numair's intentions without giving him the details of course. Azar did not believe Rameen like always but he decided to go along with her "plan" nevertheless because he wants to put an end to all the accusations and fears. Numair continued alluring Azar into his trap by loaning him money to buy things which he cannot afford and probably doesn't need too! Numair always plays the "you are like my brother" card whenever Azar decides to do anything that may prove to be a hurdle in Numair's plans or if he does something which Rameen wants him to to. Manal's conversation with Rameen put her fears to rest at least for now but if Azar ever finds out and decides to speak about what has been going on then she might start believing Numair once again afterall love is blind!!
Manal and Numair kept on talking about Rameen and Azar without giving consideration to the fact that their daughter who is wise enough to understand these things was sharing that space with them! I have to say though that not too many people think twice before sharing such details in front of their kids and that is definitely a big don't when you have a 7 year old kid in your house. Manal and Numair kept on pretending as if Naila wasn't there, Manal even made that comment about Naila when she was sitting right there. Numair is very wise otherwise but he doesn't have the common sense to keep her daughter away from all this petty politics, I have to say that I don't expect any better from someone like Manal!!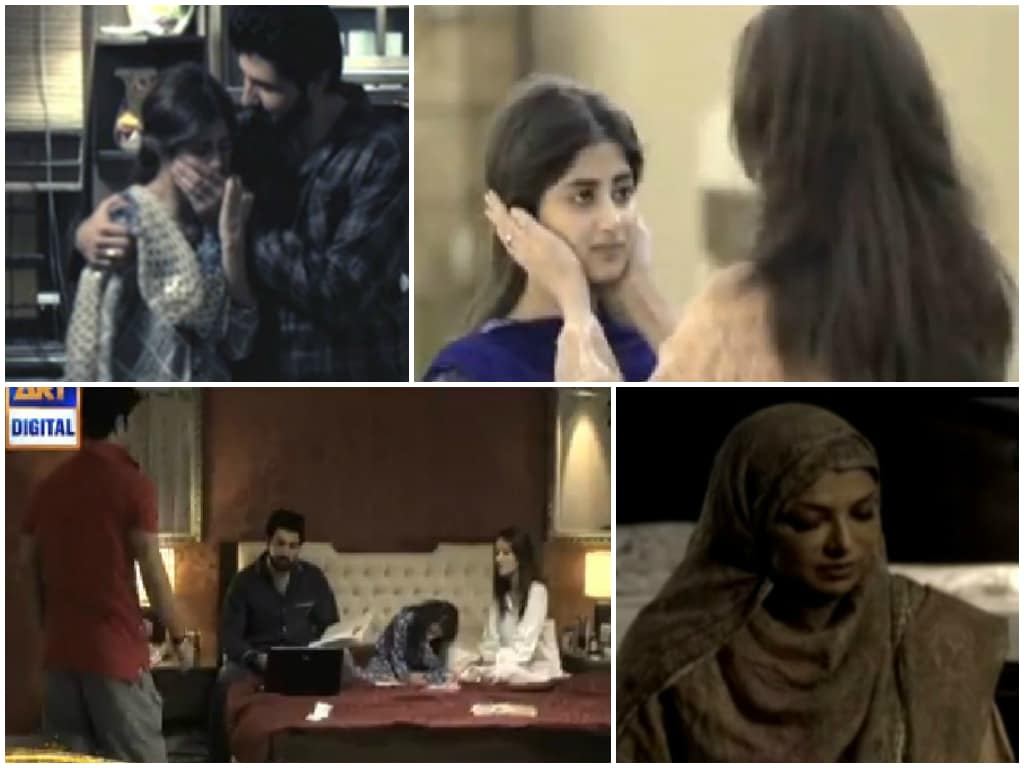 For the first time tonight Rameen decided to call for help when Numair harassed her. Azar's confidence in her has given her the strength to prove to him that she is right and also the faith that he will stand by her no matter what. . Just like all the previous episodes this time too Rameen had gone to get water when Numair harassed her, I must say that it is almost as if we are watching the same scenes over and over again. Rameen's mother's track has to be the most unnecessary one of all the tracks…why is this woman even alive?? Her dialogues and the conversations between Rameen and her have been the same ever since she left Rameen.
The story has been moving forward at a snail's pace, I am hoping that the next episode will give the story a much needed twist. Until now everything that has happened in the past 5 episodes could have been summed up in 2. Usually Samira Fazal's plays are full of unexpected twists and turns but this one is definitely not one of those plays. I am only watching this play now because I have to post this review every week otherwise apart from Numair's character (Syed Jibran) the play does not have much to offer. If Numair gets away this time around too, I won't be surprised because he can talk his way out of anything at all but I will be very disappointed. Every episode follows the same pattern with some minor changes in the personality of the characters. Sajjal Ali acted well in tonight's episode, Syed Jibran never goes wrong and Feroz Khan is a very promising newcomer indeed, I just hope that we get to see him in different roles.
Do share your thoughts about tonight's episode.
Fatima Awan