Ali Zafar's younger brother Danyal Zafar recently released an English-language song called 'Blue Butterfly,' bringing across a fusion of part rhythm and blues/part soul. The song, a beautiful composition to listen, shows the musical capabilities of Zafar, particularly as a young artist entering the industry.
However, its the video of Blue Butterfly that has generated a lot of hype. With Blue Butterfly, it is the first time a Pakistani artist flown across to the West and created likewise content for the international audience as well. And by that we mean, the content of the video is rather bold. It brings across the rawness of love and feelings, going a tad bit overboard for the gairat brigades in Pakistan.
However, people have been sharing all sorts of comments and reactions on Danny's YouTube page and all over social media where the song has been uploaded.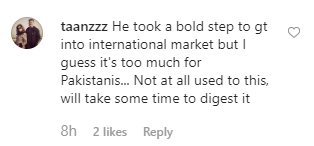 In fact Danyal Zafar's elder brother Ali Zafar, who looks a lot like him and is an acclaimed artist himself, has also been at the receiving end of the bashing stating how people have been mistaking him to be Danny and sending across hate his way for the bold video.