This episode reminded me of Martin Luther King's famous quote, " The silence of the good people is more dangerous than the brutality of the bad people." Tonight, watching Taya Abu feel for Sila and genuinely wanting to help her but failing to do so since he lets his wife have her way showed that the few people in the house who could see that Sila wanted love and attention more than anything else were completely "helpless". Zaini, Zaini's father and even Raheel are few such people who can see that Sila isn't "pagal" and they can also see that Joi isn't as perfect and harmless as Bari Aapa would want everyone to think he is, yet, all these people cannot fight Sila's war for her because they can only go to a certain extent and don't have much of a say in the house. The only person who could have exercised more power is Sila's Taya but he is no match for his wife. Even with a house full of people who want to help Sila, Sila feels vulnerable and insecure because those people who are constantly belittling and harassing her are much more vocal and powerful.
Just like every other episode of this drama, this one too was truly upsetting. Watching Sila go through all the mental turmoil especially after watching her being so calm and even happy with people like Zaini and Raheel, served as an ugly reminder of how a young girl's personality shapes up when she is living in a house where she does not feel safe and protected. For the first time Zaini did not speak her mind and was willing to go along with whatever her mother had planned for her. It was almost as if she was tired of fighting since she was constantly facing situations in which she was getting very little support from people around her. Although Zaini's father supported her throughout but even then perhaps watching everyone accept the prospect of Sila and Joi's marriage so easily disturbed her. It seemed like she had given up on this family and didn't want to waste her energy arguing any more. She did try to make Sila realize that she deserved better but this time around she didn't present her case with the same enthusiasm as she did before.
The scene in which Raheel was teaching Sila was one of my favorite scenes from this episode because it showed a side of Sila which we rarely get to see and it also showed how easy it was for Joi to make Sila uncomfortable and fearful. Raheel believes in Sila and he could also see how Sila reacted when Joi entered the room. It is absolutely refreshing watching so many intelligent characters in this play. Bari Aapa got plenty of screen time in this episode and all her scenes showed how she perceived everything the way it suited her. She had decided not to feel anything for anyone around her except Joi a long time back therefore she cannot see what is going on around her. Zaini's father yet again questioned Joi but no one else thought on those lines.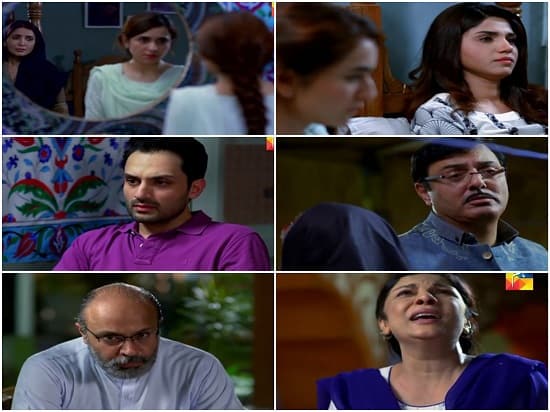 The scene covering Sadia's confession was very well directed and acted-out. Sila finally knows the reason why her mother cannot take a stand for her or for herself and why she has to constantly please a man who she hates. If everyone found out that Hathim was Joi's son, no one will point fingers at Joi, he will make up a story to save himself and everyone will believe him but Sadia will immediately get divorced and will be abandoned by this family. Sadia is not strong enough to raise these children on her own or face the consequences therefore she continues to trade her self-respect and dignity in return for Joi's silence.
Dar Si Jati Hei Sila has a powerful script, the director Kashif Nisar has given this drama the right treatment and all the actors have been performing brilliantly. The portrayals are realistic and impactful which is why there are times when you completely forget that you are watching a drama.
How many of you watched tonight's episode? Don't forget to share your thoughts about it.