Just like every other episode of Dar Si Jati Hei Sila this one too was deep and meaningful. There are no trivial conversations in this drama at all, every single conversation serves a bigger purpose and has a hidden meaning. The contrast between the old and new generation was also highlighted in this episode apart from the mindset behind giving boys preferential treatment. Although treating boys like superior beings is a normal occurrence in our society but most often this fact is highlighted in dramas through the birth of girls and the problems the mother faces because of it. Dar Si Jati Hei Sila on the other hand points out the mindset behind such thinking with utmost clarity. This drama also raises some serious, intelligent and articulate questions about these norms in our society. While Joi, who isn't even related to anyone in Noor Manzil, gets to enjoy all the luxuries of life and more importantly gets acceptance but Sadia and Sila are constantly belittled and are treated like they are not good enough because they are women! The most ironic part of this entire situation is that a woman is at the helm of affairs in Noor Manzil yet she cannot see past her mu bola bhai perhaps because she doesn't have a son or brother to make her feel special or even complete!
This episode opened with Zaini giving Joi a piece of her mind and it was gratifying watching her confront him. Joi's reaction showed just how weak he actually was and he was just as afraid of being confronted as Sadia. All the questions that Hatim asked today were innocent yet unintentionally he highlighted the shallowness of the entire concept that boys were superior to girls. I love how the writer has penned down the story since most of the situations are ironic in a really meaningful way. The only boy in the house who is treated like royalty never felt loved or wanted because his own mother made him feel unwanted right from the time he was born. Many of the conversations tonight drew attention to the fact that Sadia never even attended to Hatim when he was born. She wanted to terminate her pregnancy but it wasn't meant to be, after hearing all this tonight Hatim's character is more understandable than ever. There is a good reason why he is constantly looking for acceptance even though his father and rest of the family think highly of him. Also, it is ironic that Hatim isn't even Sikandar's son yet he is the only reason why Sikandar keeps on coming back to Noor Manzil! Hatim and Sila's scene yet again were the highlight of this episode. The performances, dialogues, situations and direction couldn't have been better.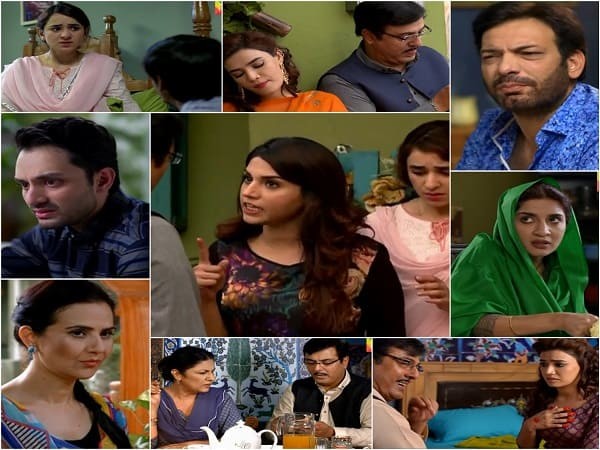 Nadia's character has been used by the writer to show a different perspective to everything. Although Zaini and Raheel too show a viewpoint that is poles apart from that of everyone else in the family but the difference between them and Nadia is that Nadia is not afraid to speak her mind. Also, since Nadia was not raised in Noor Manzil therefore she observes everything more than others. Sadia and Joi's relationship was never noticed by anyone other than Sila but now Nadia can see that there is something going on between these two. Similarly, unlike others she has Joi wrapped around her little finger because she does not see him through Bari Aapa's eyes the way Sadia and Sila do! She sees him for who he is – a lazy good for nothing man! Nadia's reaction when she found out that she was pregnant was comical but just like every other situation in this drama it also raised some important points.
Zaini and Raheel's scenes are always the best part of every episode. Zaini's dialogues tonight about how Sila felt, reflected the thinking of every boy and girl out there who has ever been harassed. These dialogues were written beautifully and Aamna Malick's performance once again was brilliant.
Dar Si Jati Hei Sila continues to impress; the script, the performances and the direction never fails to impress. I am waiting for the time when Sadia will finally take a stand for her daughter or when Sila will learn to be more brave because that is when things will start to change for the better. Will Hatim ever find out the truth? Waiting to find out!
How many of you watched tonight's episode? Do share your thoughts about it.