This was another episode of Dar Si Jati Hei Sila with some really solid performances to its credit and this time around too Zaini's character stood out more than any other. The relationship dynamics between all the characters have been well established by now therefore the story needs to pick up pace. Although I would prefer a slow-paced and non-commercial venture like this drama highlighting an important social issue any day of the week to one of those commercial dramas which follow a specific pattern but I also feel that there is a great deal of repetition in every episode. A lot of things which are being shown in detail are also being said over and over again which is why there are times when you feel like some of these conversations do not add much to the story. The drama has a realistic feel to it which is why even with the slow pace it keeps your interest alive. Also, I feel that dramas like this one deserve to be watched so that Pakistani drama makers would have incentive to continue making dramas which serve a bigger purpose.
This episode once again showed how Joi ran the show in Noor Manzil. He managed to turn the entire situation around single-handedly. Sadia and Sila both would have loved the prospect of moving out of Noor Manzil and away from Joi but Joi wasn't going to let that happen. He did everything in his power to make sure that ultimately Sadia refused to go to Canada. It was wonderful watching Sadia take a stand because she knew that Sila won't be safe without her. Sila however cannot see that her mother is taking all these decisions to protect her. Sila's impression of what is going on between Joi and Sadia is totally opposite to what is really happening between them therefore she sees things differently. She blames her mother because she feels that she is having an affair with Joi and perhaps also because in her opinion her mother has not done much to make her feel secure in Noor Manzil. There are times when you feel like Sila is taking out her own frustrations on her mother and for her hating her mother is an act of rebellion, perhaps something which makes her feel liberated. Yumna Zaidi and Saman Ansari's brilliant performances make their characters easier to relate to and make you forget that you are watching a play! Both these characters are difficult to translate on screen but these brilliant actresses are portraying them faultlessly and effortlessly. Nauman Ijaz is absolutely exceptional as Joi. The exceptionally impressive performances from all these actors are one of the major reasons why I tune into this drama every week.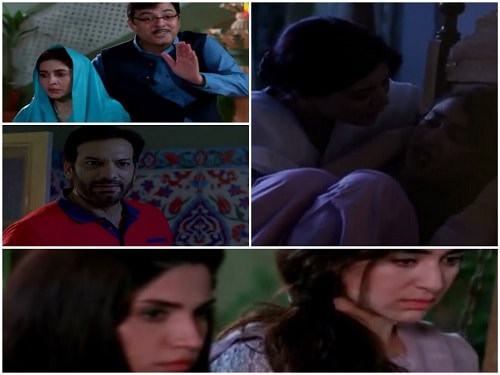 Zaini's conversation with Raheel summed up the difference between how people perceive something and how it really is. Zaini's character is turning out to be a breath of fresh air since she is the only person in Noor Manzil who thinks differently. While Joi managed to convince everyone else in the house rather conveniently that Sila had a mental illness, Zaini was the only one who wondered why Sila was frightened of everyone and everything without declaring her a "pagal"! She is also the only person, Sila ever has a normal conversation with therefore she knows Sila better than anyone else. I am so glad that the relationship between Zaini and Sila didn't take a typical turn. Amna Malik and Yumna Zaidi also share great on screen chemistry which is why their scenes together are realistic and impactful.
The relationship between Joi and Aapa is very interesting and amusing at the same time. While Aapa is always busy judging everyone else, she has no clue what Joi is doing. She keeps on supporting Joi unconditionally and there are times when her scenes make you laugh as well! I absolutely love Sakina Samo in this role and I am waiting to see what role Aapa will play as the story progresses.
Overall, this drama has enough substance to keep me coming back for more but it would have been picture perfect if some of the scenes were chopped down and the pace of the drama was relatively faster.
How many of you watched this episode? Don't forget to share your thoughts about it.