Genre: Period drama
Based on: Deewar-e-Shab by Aliya Bukhari
Written by: Aliya Bukhari
Directed by: Iqbal Hussain
Produced by: MD Productions
Schedule: Every Saturday 8pm on HUM
This drama comes with a big warning, it is yet another period drama by HUM after Aangan and this one too has the same filmy feel to it. The actual story will revolve around the future generations and right now the viewers are getting to see what would be the backstory of these characters. Deewar-e-Shab so far is the story of relationships and deceit with a different setting. The first two episodes did not work for me at all but with episode 3 and 4 the story started taking shape. Some of the scenarios have been quite filmy and fairytale like. Nagina (Nausheen Shah) and Faiz Ali's (Mohsin Abbas Haider) track piqued my interest therefore here I am reviewing a drama which I am hoping will not disappoint the way Aangan did. So far, the story is all over the place and the side tracks keep you guessing.
The Cast & Characters
Bushra Ansari (Sitara Jahan) plays the role of the head of the family which consists of two daughters Nagina (Nausheen Shah) and Feroza (Zara Noor Abbas). Nagina is the careless one and Feroza is the perfect daughter Sitara Jahan has invested in, so that she can play a more active role in the 'family business'. Although Feroza is essentially someone who dances to earn a living but she is highly educated and well-mannered. Zara Noor Abbas' portrayal was like Sonya Hussyn's in drama serial Aangan – filmy to the core! Both the actresses clearly were asked to take major inspiration from Ashwarya Rai's character in Devdas. The confidence with which Zara Noor Abbas faces the camera is impressive but why do we have to copy actresses from across the border? I am certain they could have pulled this off without 'copying' so blatantly; the sets, looks and the performance. Feroza runs away from home, just like Sonya's character from Aangan, breaking her mother's heart and trust.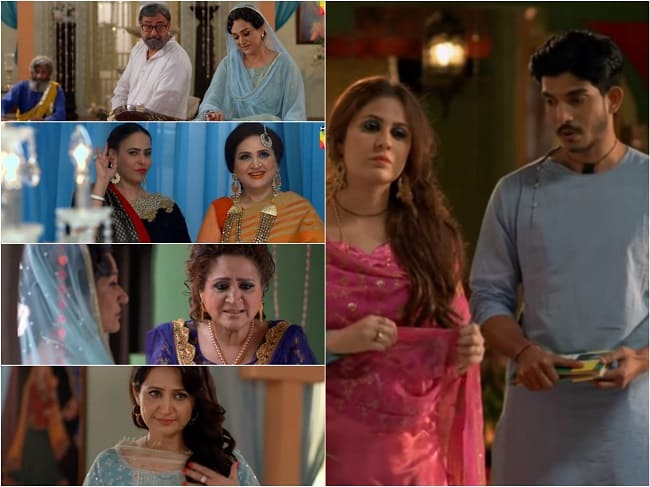 Nagina's role after Feroza runs away has been the most pleasant aspect of all the developments so far. Nagina tries her best to look after her mother and also accepts small roles in films to help her mother financially. Nagina ends up getting married to Faiz Ali, a man she never loved, just because her mother is too scared of losing her as well. I absolutely loved the episode covering Nagina and Faiz Ali's bond, it was the highlight of this drama, so far. The way Nagina falls in love with Faiz Ali and the manner in which he shows her love was fabulous. I was hoping to see more of Mohsin Abbas Haider but found out later that he is only playing a cameo in the drama. Nausheen Shah's nuanced performance has stood out more than any other till now.
Dildar Begum (Asma Abbas) is Sitara Jahan's sister who is constantly shown stabbing her sister in the back. Sitara Jahan has no idea that her sister is so jealous of her. Asma Abbas tends to go overboard whenever she is playing a negative character and in this drama too she is giving me those evil vibes which you get from such characters in fairytales! The overall get-up of both the sisters is as over the top as it gets. Bushra Ansari has carried her character with grace but her overall appearance doesn't go well with how graceful her character is. I am wondering if Dildar begum had something to do with the accident.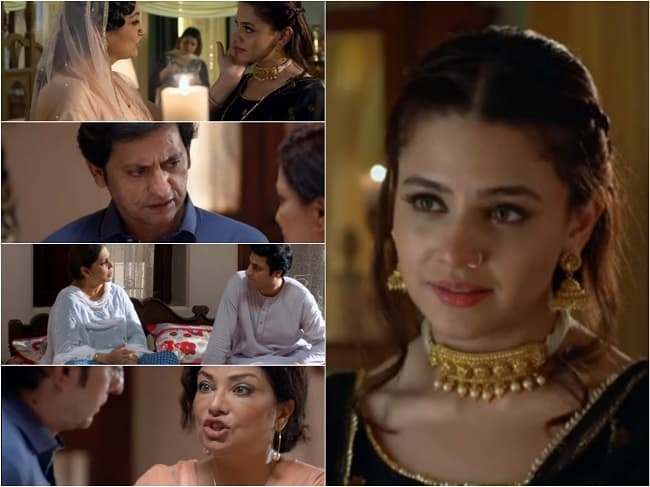 Syed Muhammad Ahmed plays the role of Ustaad Faraghat Baig who has helped Sitara Jahan bring up the girls and run the business. Unlike Sitara, he can see that Dildar begum is upto no good but has little say since Sitara ultimately does whatever she wants. Syed Muhammad Ahmed is a brilliant actor and he fits this role well but the wig on his head is nothing but a distraction.
The side track involving Izhaar (Saleem Miraj), Shakra (Shaheen Khan) and others so far is focusing on one thing more than any other which is Izhaar's income. I am waiting to find out where this track ultimately leads and how it will be connected to the main track.
Final Remarks
Deewar-e-Shab's actual story hasn't really started therefore I am waiting to see what this drama has to offer in the upcoming weeks. Right now, I am more interested in Nagina's track than any other. We will find out tonight if Faiz Ali will survive the accident or not and if he doesn't, how will Nagina raise her daughters alone? It is highly likely that he will die and that is when this family will be in deep waters.
Did you watch these episodes of Deewar-e-Shab? Do share your thoughts about them.