This was another fast paced episode of Deewar-e-Shab and the most significant development in it was Nagina's growing resentment and changed personality. Apart from that, few of the characters from the new generation were introduced in this episode. Some of the scenarios were rushed, which is okay, as long as the writer has enough to keep the viewers entertained right till the end or at least for more than 10 weeks. Most of the characters in this play so far are black and white, Nagina is the only dynamic character which is why her track is that part of the story which makes you feel connected. Sitara Jahan and Dildar begum's personalities and their relationship did not change in all these years. I am not surprised that Sarah Khan is playing Geeti Ara's role because she has continuously been seen taking up such roles in dramas. Nausheen Shah's performance continues to be the best part of this play since some of the other performances have been over-dramatic. The young actress playing Geeti Ara's role was also quite impressive.
Khayyam's Welcome
The first half of this episode covered in detail how different family members reacted to Khayyam's arrival and the news of Feroza's death. Islam's character was further revealed and his dialogues were beautifully written. He is definitely the most positive character in this play and Kamran Jillani is well-suited for playing this role. Sitara Jahan's reaction was shown in an overdramatic manner and just like always Dildar begum was there to remind her how Feroza had betrayed her. Nagina's reaction could have been covered in a better way since she was more excited to meet Khayyam instead of showing the shock she felt knowing that her sister was dead. I am glad the viewers got to hear how Feroza suffered and they were not shown this scenario as a backstory since the way the backstory was covered in the most rushed and unconvincing manner in the previous episode. Gaiti Ara immediately welcomed Khayyam, noticed that he was a sad little boy and decided she was going to do whatever it took to make him happy. Although I absolutely loved the performance of the child star playing Gaiti Ara's role but I must say that the character so far has too good to be true written all over it. Hopefully, Gaiti Ara will have more to offer in the future.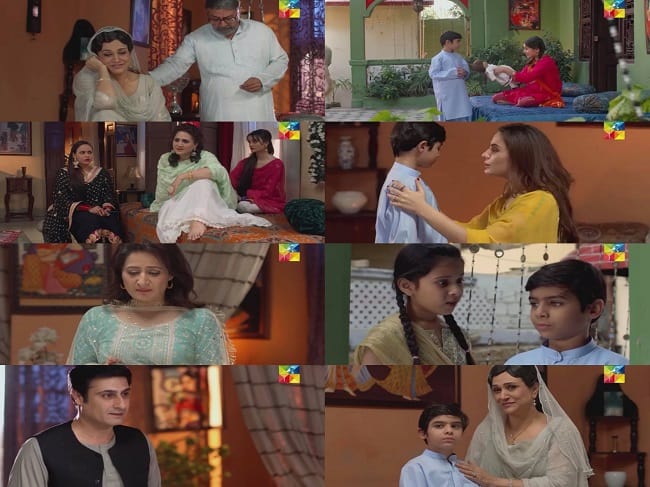 Sandal on the other hand wanted Khayyam out of the house right away and the fact that her nanni hit her because of him probably made her hate him even more. Sandal therefore is a complete opposite in every single way. There hasn't been a single scene in which she was shown in a good light. All of this also seems like a repeat of Feroza and Nagina. Khayyam's confusion and his discomfort was also translated well on screen. He had no idea who these people were and was obviously distant even though he was getting all this love. Another thing which stood out more than any other was his hatred for everything which was musical or which in any way was related to the actual profession of the family he now belonged to. These scenes were meaningful as well as alarming since his mother also left this life because she did not like it, was Khayyam going to cause more problems for Sitara Jahan?
Present Day Story
The second half of this episode covered the present day story and some of the characters from present day were introduced. Sarah Khan is playing the role of Gaiti Ara, who is about to complete her studies. Gaiti Ara is a studious young girl who is still close to her cousin Khayyam (Shehroze Sabzwari). Khayyam seemed like an angry young man who hated the family profession more than ever. Nagina changed the most in all these years. After working hard and compromising on roles, she had still achieved nothing. She blamed Feroza more than ever and her dialogues about Khayyam also suggested that she didn't think highly of him. While Dildar begum's granddaughter took the family business forward and earned well for them, things in Sitara Mahal were quite different. Sitara Jahan was still finding it hard to make ends meet but was unwilling to compromise on her rules and integrity.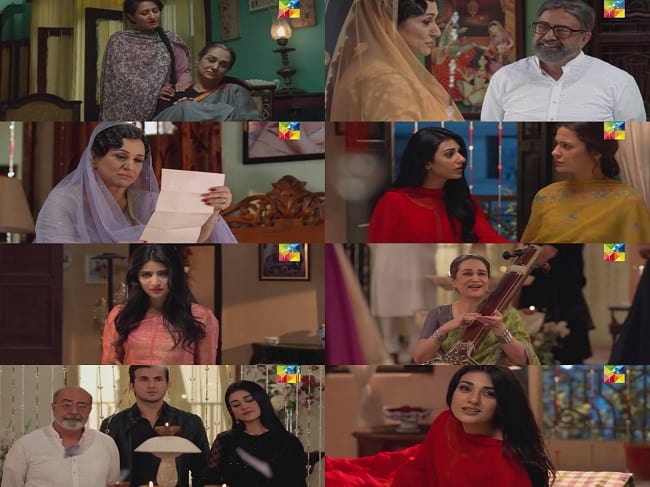 Kinza Hasmi, Osama Tahir and Anmol Baloch were among some of the actors from the new generation which were introduced in this episode. Quite surprisingly Islam and Izhaar's children are engaged. Islam mentioned that there was a huge class difference between them but his wife was more than eager to get the children married.
These characters and their stories were covered for a short duration therefore right now it is too early to say anything about them. I am waiting to find out more about them but definitely not looking forward to Khayyam's father making an appearance since Raja Haider's performance last week was extremely disappointing.
Final Remarks
Overall, this was an entertaining episode with the story moving forward considerably. Although Deewar-e-Shab is a decent play but the over-dramatic performances sometimes undermine the impact of certain important developments. I am however looking forward to the next episode and waiting to see what the Deewar-e-Shab team has in store for us next.
Do share your thoughts about tonight's episode.