Indian movie Dhoom 3 has been released all over Pakisan today (Friday 20 December 2013). As per media reports the film is receiving overwhelming response from public especially in Karachi, where cinemas have increased the number of daily shows from three to five. As per Voice of America there are rumors that in some cinemas the price of normal ticket of Rs. 300 per person is raised to Rs. 90o.
Here is what English Daily The news is reporting on release of Dhoom 3
KARACHI: The much-awaited day has finally arrived—fans have to wait no more as Dhoom 3 with record advance booking being released in 4,700 cinema houses all across the world including Pakistan today (Friday), Geo News reported.
Indian movie Dhoom 3 is set to break records of success even before its release. Tickets for nearly all of its Karachi shows have been booked in advance. As a result, a majority of the people wanting to watch the movie have been frustrated due to the unavailability of cinema tickets.
According to details, Dhoom 3, featuring Indian actors Amir Khan and Katrina Kaif, will be released on Friday, December 20 in Karachi. But the expectation for Dhoom 3 has rarely been as high for any other movie.
The people keen to watch the movie include children, women and old people as well. Long queues were seen outside cinema houses in Karachi to get movie tickets and a majority of the people could not get tickets for the first show.
However, they have booked tickets in advance after not getting tickets for the first show. The owners of cinema houses have increased shows per day from three to five keeping in view the demand of the people. Now five shows will be held on Friday in all cinema houses in Karachi.
The cinema owners said that advance booking for several coming weeks had been made. The people attached to the film industry, said that by seeing the passion of aspirants and success of 'Dhoom 3' it could be said that the environment of Karachi had changed and charms of the city had returned.
Source: English Daily The News (http://www.thenews.com.pk/article-131094-Dhoom-3-being-released-across-the-world-including-Pakistan-today–)
The same news from Urdu Daily Jang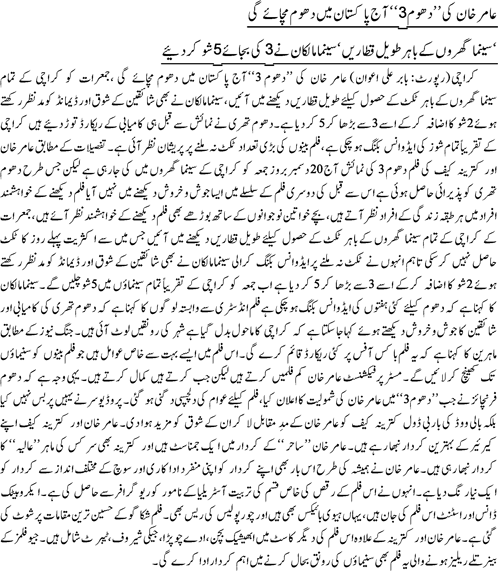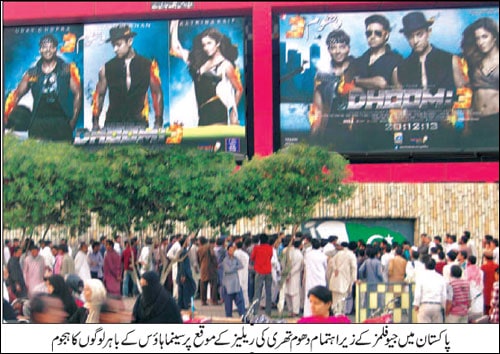 Voice of America has also reported on the release of Dhoom 3 in Pakistan
کراچی — پاکستان میں ریلیزسے پہلے 'ہائپ کری ایٹ' کرنے والی فلم کی نمائش جمعہ کو ہورہی ہے۔۔۔ جی ہاں ہم بات کر رہے ہیں مسٹر پرفیکٹ، عامر خان کی فلم 'دھوم 3' کی، جس کے ایڈوانس میں بھی ٹکٹ دستیاب نہیں۔
فلم کراچی کے کئی سنیما گھروں میں ریلیز کی جارہی ہے جن میں کیپری، بمبینو، ایٹریم، نیو پلیکس، سنے پیکس اور یونیورس سنے پلیکس شامل ہیں۔ لیکن، ان تمام سنیماگھروں پر ایڈوانس بکنگ کئی دن پہلے ہند ہو چکی ہے۔۔ سب کے سب ابھی سے ہاوٴس فلم ہیں لیکن فلم بینوں کی بڑی تعداد اب بھی ٹکٹ کی منتظر ہے۔
مقامی سطح پردھوم تھری کی ایڈوانس بکنگ کے حوالے سے اس قسم کی خبریں بھی گردش کر رہی ہیں کہ بعض سنیما گھروں میں اس فلم کے ٹکٹ کی قیمت 300 فیصد تک بڑھادی گئی اور ایک ٹکٹ کے 900 روپے وصول کئے جارہے ہیں۔
پاکستان میں 'دھوم تھری' کی نمائش کے حقوق 'جیو فلمز' کے پاس ہیں۔اس کے ایک عہدیدار شرافت علی نے بتایا کہ 'پاکستان میں ایک طویل مدت کے بعد یہ ماحول پیدا ہوا ہے کہ فلم دیکھنے والوں کی خاصی بڑی تعداد ریلیز کے پہلے ہفتے ہی فلم دیکھنے کی خواہش مند ہے۔'
Rashid Nazir Ali