This episode of Dil Banjara was slow mainly due to the focus on Taya's efforts to ensure that Nida gets her share and Nida being unable to tell her father the truth about her fiancé but like every other episode of this drama there was nothing illogical about any of the latest developments. The entertainment factor however was absent from tonight's episode. Apart from the breathtaking locations we saw in the past few episodes, the other good thing about this drama is that so far there is always a solid reason for every major development and most often it is spelled out for the viewers. Tonight everything which Taya abu had planned and executed was clearly shown through different scenes, although these scenes could have been chopped down a bit. Also, Zaman's explanation as to why Nida's Taya will have to do whatever they asked from him put things in perspective. The viewers heard from Sikandar himself why he decided not to take up his dream job, something which came as a complete surprise for someone like me who was expecting him to run away once again! Shama's decision to let Sikandar go made up for all those scenes in which she was seen thinking about Sikandar 24/7 and did not ask him before deciding a date for the marriage. It is great to see a drama in which women are not desperately pursuing a man even though both of them like him. Mira Sethi is definitely doing a much better job in this play than she did in Jhoot. It seems like her heart was in this character, perhaps because it isn't run-of-the-mill. Adnan Malik has his own style of acting which is unconventional but then there is nothing conventional about Sikandar's character either.
Although it was somewhat frustrating when Nida was not able to tell her father the truth but the way the whole scenario was covered was convincing enough. There were a few scenes in which Sanam Saeed should have underplayed the becharapan because all the rona dhona didn't quite fit in. Taya Abu's decision came as a complete surprise but at the same time it was good to see him looking out for Nida the way he would for his own daughter. Phupo and her son are the only negative characters in this family, rest of the family members might have problems with one another every now and then but deep down they care for each other.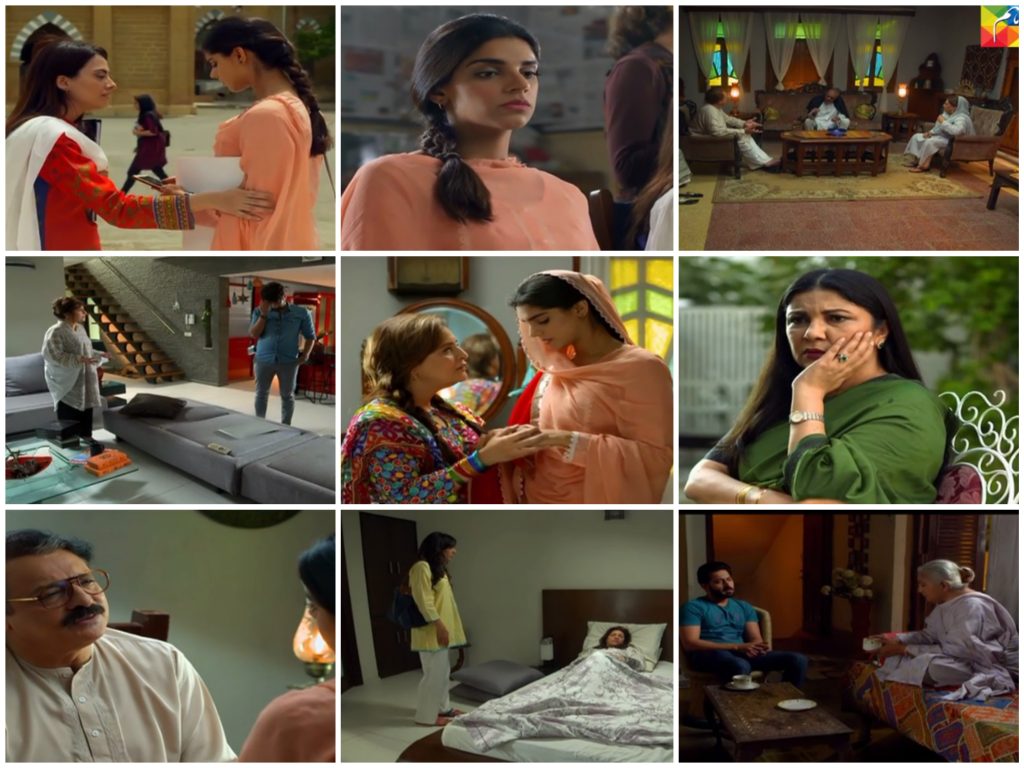 Zahra and Ayaz's track is moving forward gradually. All the conversations in this episode in Taya's house and in Ayaz's house clearly suggested that the primary reason why Zahra cannot find a rishta and never got married to Ayaz was that Taya Abu does not want his girls to get married to anyone out of the family. So basically, even if a guy from the family is as twisted as Zaman he is more acceptable than anyone else who might be better but is not a close family member. Hina Bayat's scenes were a treat to watch once again; I love the way this character is etched-out and the manner in which it has been translated on screen.
The last scene of this episode was the most shocking twist so far. I am wondering how this latest development will effect the story. Although this wasn't my favorite episode of Dil Banjara but it was definitely one which gave me a reason to tune into this drama next week too. I have to say that Sanam Saeed and Adnan Malik make a great on-screen couple and I am missing their scenes together.
How many of you watched this latest episode? Do share your thoughts about it.