The characters of this drama are so beautiful that a viewer really indulges in the whole situation. Dil Nawaz will now go to any extent to get Fawad and she extremely tortured Mariya. She even accepted openly in front of Alam Ara that she has fallen in love. The way Fawad behaves with her has made her even more hopeful that she will get a happy ending. Fawad is strongly under her spell. He does not care about his life anymore. All he wants is Dil Nawaz and he is not even realizing that he wants a supernatural entity to be his wife and spend a normal life with him.
Alam Ara has tied down Dil Nawaz and is reciting long rants against love. She always mentions what she did with Jahan Ara and Tauseef. She has gone insane to the level that even her nearing death has no effect on her. She not only tied Dil Nawaz due to her obsession with power but she has also tied Jahan Ara with the love Jahan Ara holds for her elder sister. She wants Jahan Ara to take her place and become the successor to the seat of Hazrat Bibi. Jahan Ara is a very nicely written character too. The writer has shown through her character that if you have good inside you. no darkness of your surroundings can overcome it.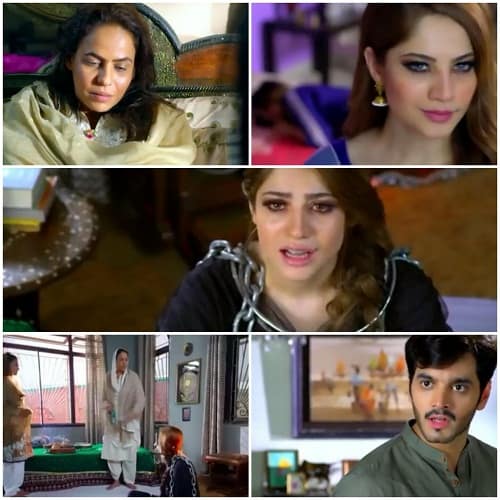 Neelam Muneer owned her character today again with great prowess. She translated the greyness of Dil Nawaz beautifully on screen. She knows that keeping Fawad under a spell and torturing Mariya is wrong but she is a creature in love and will go to any lengths to succeed. Kiran's character has really gone into the background though. She believes that something is wrong with Fawad and is willing to help him but she is not really trying to get things done. Also, she does not like her fiance and is still preparing for the wedding she has no intention to do.
Rasheeda is just plain egoistic. Her ego is the reason for the destruction of many lives but she is still on a Mohallay main badnam karr doongi spree. She knows she has caused all these problems but is still not willing to even accept her mistakes. Khalid, however, has become annoying now. A brutally injured girl was taken from his home in an ambulance. His son remained in the hospital due to hallucinations. He gets a house in one-fourth of its original price but he does not want to believe something is wrong. This family has acceptance issues.
How Fawad is now going to free Dil Nawaz, that is a sequence to look forward to. Let us see how the story unfolds further and if Kiran will ever try to do something other than preparing for her non-ending exams!