Awwwwwww, this episode was just so so so sooo special. It left me speechless & to be honest I am not ashamed to admit, it got me overwhelmed too. It was directed just so beautifully & all the actors actually took us on a ride of emotions with them. I am loving this play for the fact that nothing is over-done & all the things that they show, all the conversations that we get to hear & all the situations that we see unfolding – each & everything is just so realistically portrayed & is just so relatable that you can't help falling in love every single time.
I liked the fact that they showed how everyone got busy in their lives & moved past the depressing period. Agha Jaan got busy with his routine work & Suhaib joined the family business but the best thing that happened to this family after a long time was Wali Suhaib Khan. Similarly, Behroz was pretty much done with the struggling period of his life & he was able to earn a decent living for himself & Ruhina.
I loved the way Arjumand's character showed every emotion that a mother goes through. Yes, she was unable to come to terms with her relation & that is why she saw this baby as nothing but a liability. She really didn't give enough time to Suhaib to prove her wrong. In the duo of Behroz & Suhaib, Suhaib was the courteous one & if she had just only for once gone easy on him, he would've done everything to make her happy. Yes, they both did not love each other & sadly, they couldn't fall in love with each other as well because they didn't give this relation a chance of that sort but luckily for them, the binding factor was introduced & that made them both change. Like Arjumand admitted later, all the things she said were only to punish Suhaib because she saw him as a culprit which he actually wasn't. It was Arjumand who was finding it hard to accept the destiny's play & she ended up blaming every single person around her, which I found convincing as well. Yes, after her first outburst, I really felt she was being unfair but the transition that she showed & the way she started showing acceptance left her scot-free. She proved that when a woman becomes a mother, everything changes & that is why, for her the only thing by the end that mattered the most was the well-being of her child, which was beautiful. I actually loved the way Suhaib treated her all this while; he pushed himself as much as he could to never lose his cool & patience because he knew, Arjumand had all the right reasons & he was the only one who was ears to all her rants & rambles that is why he allowed her to say whatever she felt like without judging her for once. The patience that he showed & the way he let go of everything that Arjumand said actually showed the transition he made as a father too & by the end of the episode, I was extremely happy to see them both happy & content with each other.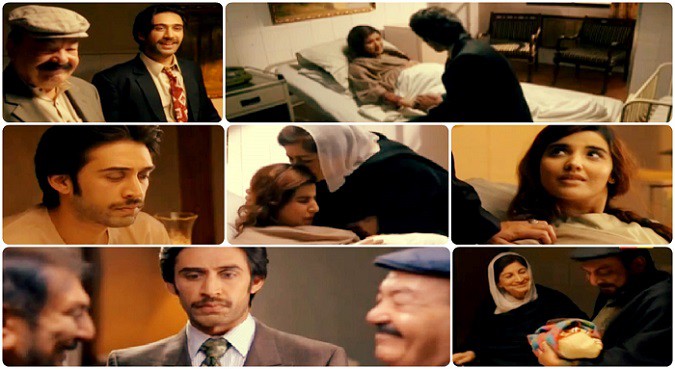 It was good to see Tajjamul accepting his fault in judging Behroz wrongly. He saw how much Ruhina was being taken care of by Behroz that is why he felt it was now a perfect time to let go of his ego & accept Ruhina & Behroz. Like I said before, I so wish Zohra wasn't such a typical bhabhi but seems like she can't help being negative. It was actually kind of annoying to see her being two-faced where she only posed to be a well-wisher of Ruhina in front of Tajjamul but just when she met Ruhina, she couldn't resist reminding her about the loss that she had suffered & the factor that was missing from her life. I hope the coverage that her character gets is restricted to one or two dialogues per episode because that's how much I can take from her.
I like Behroz's character for a fact that he is someone who stands by his words & he is doing everything that he promised Ruhina right after he got married to her. Even though he left a luxurious life behind him, he makes sure to let Ruhina know that all the struggles that he is putting up with are worth it because by the end of the day he gets the satisfaction by knowing that he is fulfilling his promises & he is making his lady love happy. Ruhina's character isn't offering much for now but I hope that changes because at the moment, in their story; it is Behroz who is running the show & even though she is supporting him wholeheartedly but, by the end, she just remains a supporting character & I must say a pretty good one at that, so no denying there but I definitely want to see more of & from her.
I must say, the best thing for me about this episode was how it was shown that they all were busy in their respective lives but the connection was never lost. Gen. Feroz also reminded Bakhtiyaar about Behroz & said that he should forgive his son & most importantly, Suhaib actually felt Behroz's absence the most because he is used to sharing each & everything with his brother & now when it was the biggest day of his life, it was imperative that Behroz was on his mind. Similarly, no matter how swamped with work & responsibilities Behroz must be, he always allows Suhaib & Agha Jaan & the rest of his family to cross his mind because that's the only way he feels connected to them. They all may be apart, but the relation is still not lost & neither is the hope.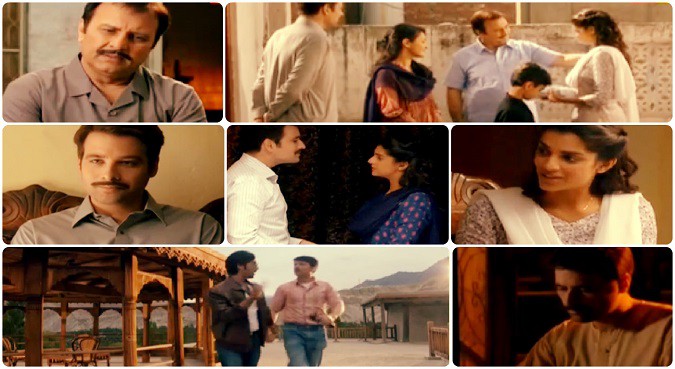 So, this was it from tonight's episode. I'll say that again; I loveddd watching this episode & for me, this one belonged to Suhaib, Arjumand & Wali. It was good to know that Laila moved on in her life & got married too. I really like the way the director has taken care of all the minute & intricate details, be it a casual mention of a character to show how they are doing or the backdrop setting, it just adds so much more to the story-telling. This is the reason why I couldn't stop noticing the old telephone sets, CRT-TV's, old furnishings in the background & even their dressing. The way they showed a view of Behroz's house also depicted how well he was doing because when they moved to this place, it was almost empty & now their house was filled with all the necessary things that make a household complete.
I love love loveeeee all the elderlies in this drama. Be it Arjumand's mother; Yasmeen or Arjumand's father; Bedaar, be it Bakhtiyaar's best friend Feroz who hasn't had a considerable screen time or the most important character Bakhtiyaar, they all are so very special. I love the fact that both the generations have been dealt with so much attention & vigilance because of which you feel for every single one of them as they actually make the story complete & you really can't imagine either one of them not being in the frame (Zohra excluded). I must say Hareem Farooq takes a crown in this episode because she portrayed all the emotions of Arjumand truthfully without going over-board. You could feel her agitation, her irritation, her depression, her worry & by the end her happiness. I am glad that the casting directors chose Hareem Farooq to play the role of Arjumand because she actually has done justice to it & for a change it is good to see her performing so well. So, I'll wrap the review & leave the rest for you guys to discuss & also to let me know how much did you guys enjoy watching this episode of Diyar-e-Dil. Can't wait for the next episode already & seems like finally Behroz will also get the happiness that his brother Suhaib has & I can't wait to see the reunion of Behroz & Suhaib. Share your thoughts please. :)
Keep Supporting,
Cheers,
Zahra Mirza.