We have recently seen many youngsters coming in the line of acting in Pakistan Drama industry. Out of these energetic youngsters, there are only few ones which don't only have good acting-sense but also have good looks at the same time that helps them to engage themselves with the viewers via their dramas. Shehryar Munawar is one of these fresh faces. We have noticed his performances in a number of Pakistani dramas and undoubtedly he performs very well though he doesn't possess a professional degree in the field of acting.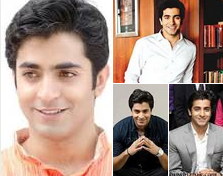 Whether it be "Zindagi Gulzar hai" in which he played a supporting character with famous faces like Fawad Afzal Khan or "Asmanoun Pay Likha"' in which he is currently playing lead character, the hazel-eyed boy has proved himself a great professional actor.
Unlike other actors who live, breathe and dream of acting, Sheheryar just stumbled on it. He was sitting on a job offer from an excellent multinational after completing his bachelors programme. But instead of just going the normal 9-5 route, he thought he'd take a year-long break and do the kind of fun stuff that he'd reminiscence about when he turns 40. Acting turned out to be one of them. When he told his family, including his elder sister who went to Harvard, there was a lot of trepidation
His acting is divine. But the bad news here is, he is acting only for one year, after that he will head off to get his postgraduate degree that his parents agreed on. In this one year he has to do as much as he can and has been successful as he has already made his position in an upcoming Pakistani film "Kambakht". His fans hope that his parents extend that one year to forever or else they will be heartbroken.
Shehreyar has not only proved himself a great actor but also as a model too. Shehryar Munawar is a versatile actor. So far he has done a number of projects and all of them went quite successful. His fans want to see him in more lead characters and in more dramas as well. Currently, he is doing only few projects. He believes in the fact that the focus of an actor should be in quality of the drama and not the quantity therefore he has not engaged himself in a large number of TV projects.
Moreover, you will be very astonished to know that he likes "Fatima Bhutto". He appreciates her and he has a soft corner for her. This is something about his personal life. Also, he is a sporty guy. He loves to play games from the years of his school.
May be you will not be able to see much of Shahryer Munawar in the coming years as he might take a break from his acting career for pursuing his postgraduation. But his fans are going to miss him a lot. In a very short span of time he has won the hearts of a number of people via his excellent acting skills and his looks as well
So, all you die-hard fans of Shehryar, you guys need to be patient and wait for his return back. For the time being enjoy his dramas.
He has put a lot of effort in winning the hearts and it will definitely not go in vain. He is the next rising star. We should keep our fingers crossed and hope to see more of him to entertain us.
Those who have seen his performance and appreciate him as an actor, you guys should post beneath about the performance which you think is best from all of his performances so far. And don't forget to tell us whether you too think that Shehryar is the next rising star
Cheers
S.Rasool