Interview of Fahad Mustafa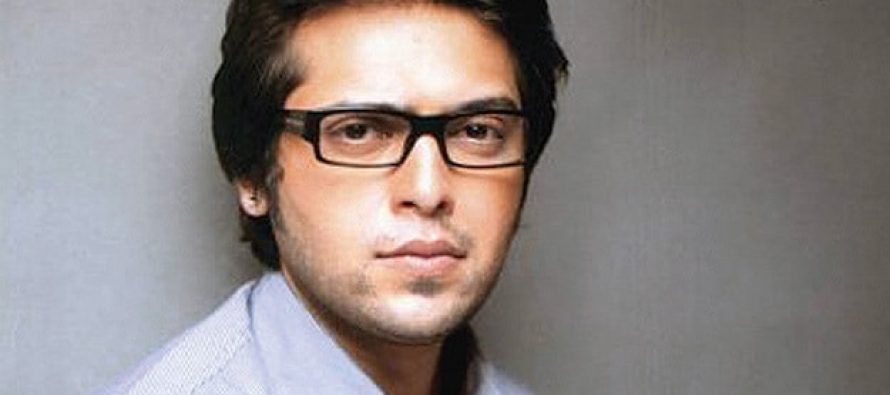 Fahad Mustafa is famous artist and host.  His father Salahudin Tunio is a renowned artist of sindhi and urdu media. Here is his interview from Sunday Magazine of urdu daily Nawaiwaqt, done by Umbreen Fatima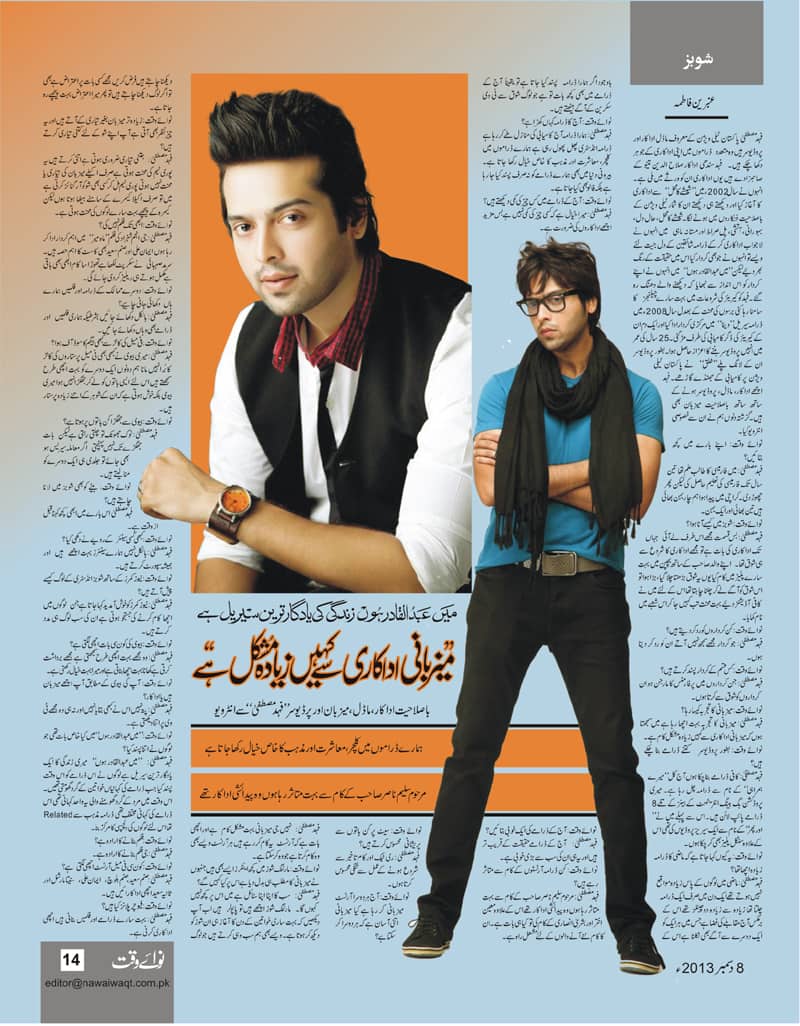 Here is interview in roman urdu
fahad mustafa pakistan television kay maroof model adakaar aur producer hain. woh mutaadid dramon mein apni adakaari kay johar dikha chukay hain. fahad sindhi adakaar salahudin tunio kaay sahibzaday hain yoon adakaari unko virsay mein mili hai. unhon naay saal 2002 mein "sheeshay ka mehal" say adakaari ka aghaaz kiya aur dekhtay hi dekhtay unka shumaar television kay basalayihat fankaaron mein honay laga. sheeshay ka mehal, haale dil, bahu rani, aatshi, pul sirat aur mastana maahi mein unhon naay lajawab adakaari kar kaay drama shayiqeen kay dil jeet liye wesay to unhon nay jo bhi kirdaar kiye uss mein haqeeqat kay rang bhar diye lekin "mein abdulqadir hoon" mein unhon nay apnay kirdaar ko is andaaz saay nibhaya kay dekhnay walay dang reh gaye. fahad ko career kee shru-aat mein bohat saraay challanges ka samnaa raha kayee barson ki mehnat kay baad saal 2008 mein drama serial veena mein markazi kirdaar ada kiya aur aik dam un kay career kee dagar kamyabi kee taraf mur gayee. 25 saal kee umar mein unhain producer ban-nay kaa aizaz haasil huwa. bator producer unkaay long play "khalq" nay pakistan television per kamyabi kay jhanday garay. fahad achhay adakaar, model, producer honay kaay saath saath basilayihat mezban bhi hain. guzishta dinon ham nay unsaay khasoosi interview kiya.
Q: apnay baray mein kucch batayen?
FM: mein pharmacy ka student thaa, teen saal tak pharmacy kee taleem haasil kee lekin phir chor di. karachi mein peda huwa hum chaar behan bhai hain teen bhai aur aik behan
Q: showbiz mein kesay aana huwa?
FM: bas qismat mujhey is taraf laay aayee jahan tak adakaari kee baat hai to mujhey adakaari ka shru saay hee shoq thaa. apnay waalid sahab kaay saath bachpan mein bohat saaray plays mein kaam kiya yoon yeh shoq barhta chala gaya bara huwa to is shoq ko aagay laay kar chalna chahita thaa iskaay liye mein naay kaafi auditions diye bohat mehnat kee tab kahin jaa kar iss chobay mein naam kamaya.
Q: kin kirdaron ko rad kar detay hain?
FM: jo kirdar mujhey samajh nahin aatay unko rad kar deta hoon
Q: kis qisam kay kirdar pasand kartay hain?
FM: jin kirdaron mein performance kaa margin ho un kirdaron ko shoq saay karta hoon.
Q: mezbani ka tajarba kesa raha?
FM: mezbani ka tajarba bohat acha raha mein samajhta hoon kaay mezbani adakaari say kahin zyada mushkil kaam hai.
Q: bator producer kitnay dramay bana chukay hain?
FM: kaafi dramay bana chuka hoon aaj kal "meray humrahi" kaay naam saay drama chal raha hai. meri production big bang entertainment kaay banner talay 8 dramay pipeline mein hain. iss say pehlay mein naay "aur phir" kaay naam saay aik series produce kee thee iss kay ilawa single plays bhi kar chuka hoon
Q: yeh kyon kaha jaata hai kay maazi ka drama zyada acha thaa?
FM: maazi mein logon kaay paas zyada mowaqeh nahin hotay thaay aik din mein sirf aik drama chalta thha zyada sey zyada do channels thay iskay bar-aks aaj muqablay ki fizza hai jis mein har aik ko aik doosray saay aagay bhi nikalna hai iskaay bav-jood agar hamara drama pasand kiya jaata hai to yaqeenan dramay mein bhi kucch baat to hai jo log shoq saay tv screen kaay agay beth-tay hain
Q: aaj ka drama kahan khara hai?
FM: hamara drama aaj kamyabi kee manazil taye kar raha haidrama industry phal phool rahi hai hamaray dramon mein cultur, muashrat aur mazhab ka khyaal rakhha jaata hai. berooni dunya mein bhi hamaray drama ko pasand kiya jaa raha hai balkay follow bhi kiya jaata hai.
Q: aaj kay dramay mein kis cheez ki kami dekhtay hain?
FM: mera khyala hai kay kissi cheez ki kami nahin hai bas mazeed acchay fankaron ki zaroorat hai.
Q: aajkay dramay kee aik khoobi batayen?
FM: aajkay dramay haqeeqat kay qareeb tar hain aur yehi unko sab say bari khoobi hai
Q: kin drama artiston kaay kaam saay mutasir rahay hain?
FM: marhoon saleem nasir sahab kaay kaam saay bohat mutaasir raha hoon. woh pedayeshi adakaar thaay iskay illawa moeen akhtar aur bushra ansari kaay kaam kee to kiya hee baat hai. in kaa kaam naye aanay walooN kay liye mash-ale raah hai.
Q: set per kin baton saay perishaani mehsoos kartay hain?
FM: retake aur kaam takheer saay shru honay kaay amal saay tangi mehsoos karta hoon
Q: aajkal har doosra artist mezbaani kar raha hai kiya mezbaani itni aasaan hai kay har doosra kar sakta hai?
FM: nahin mezbaani bohat mushkil kaam hai aur achi baat hai kaay artist yeh kaam kar rahay hain har artist aisay bhi who kaam karta hai jo woh kar sakta hai
Q: morning shows mein kuch ankors aisay bhi hain jinhon nay mezbani kaa matlab hi badal diya hai iss per kiya kahain gaay?
FM: sab ka apna apna style hai mein is per kuch nahin kahon gaa. morning shows achay hain to popular hain ab aap dekhain kaay bohat saari khawateen kaay din kaa aghaaz hi in shows ko daikh kar hota hai. wesay bhi ham sab wohi kartay hain jo log dekhnaa chah-tay hain farz karain mujhey kissi baat per aitraaz hai bhi to agar log dekhna chah-tay hain to mera aitraaz bohat peechay reh jaata hai
Q: zyada tar mezban baghair tyari kaay aatay hai aur yeh cheez nazar bhi aati hai aap apnay show kay liye kitni tyaari kartay hain?
FM: jitni tyaari zaroori hoti hai utni kartay hain yeh poori team ki mehnat hoti hai sirf akelay mezban ki tyari yaah mehnat nahi hot poori team milkar kisi bhi show ko organize karti hai mein to sirf akela camera kaay saamnay betha hota hoon lekin camera kaay peechay bohat saaray logon kee mehnat hoti hai
Q: abhi tak film nahin ki?
FM: ji anjum shehzad ki film "mah meer" mein aiham kirdaar kar raha hoon iman ali aur sanam saeed bhi cast ka aiham hissa hain. sarmad sehbai nay script likkha hai thora saa kaam abhi bhi baaqi hai mukamil hotay hee release kar di jaye gee
Q: doosray mumalik kaay drama aur filmain hamaray haan dikhay jaani chahiye?
FM: bilkul dikhaye jayen bashar-tekay hamari filmain aur drama bhi wahan dikhaye jayen
Q: female ki calls saay kabhi begum ka mood off huwa?
FM: meri biwi nay kabhi bhi female paris-taron ki calls ka bura nahin maana hum dono aik doosray ko bohat achi tarah samajhtay hain isliye aisi baaton ko lay kar jhagra nahin huwa meri biwi balkay khush hoti hai kay unkaay shohar kaay itnay zyada paristar hain
Q: biwi saay jhagra kin baaton per hota hai?
FM: nok jhonk to chalti rehti hai lekin baat jhagray tak nahin pohanchti agar moamla serious ho bhi jaye to jaldi hi aik doosray ko mana letay hain
Q: betay ko bhi showbiz mein laana chahen gaay?
FM: iss baray mein abhi kucch kehna abhi qabal as waqt hai
Q: kabhi kisi senior kay rawaiyay nay dukhi kiya?
FM: bilkul nahin hamaray seniors bohat achay hain aur hamesha support kartay hain
Q: new comers kaay saath showbiz industry kaay log kesay paish aatay hain?
FM: new comers ko khush aamdaid kaha jaata hai jin logon mein accha kaam karnay kee justujoo hoti hai un ki sab hee log madad kartay hain.
Q:biwi kee kon si baat achhi lagti hai?
FM: woh mujhay bohat achhi tarah samajhti hai mujhey bardasht karti hai khhna bohat accha banaati hai aur mera bohat khayal rakkhti hai
Q: aapki biwi kaay mutabiq aap acchay mezbaan hain yaah adakaar?
FM: pata nahin uss nay kabhi bataya nahin aur naa hi mujhey tv per itna dekkhti hai
Q: "mein abdul qadir hoon" mein kya khaas baat thi jo logon nay itna pasand kiya?
FM: "mein abdul qadir hoon" meri zindagi kaa aik yaadgar serial hai. logon naay is drama ko us waqt pasand kiya jab dramon ki kahaniyan khawateen kay gird ghhoomti thheen. us waqt mein yeh wahid drama thhaa jis ki kahani mard kaay gird ghoomti thi. is drama ki kahani mukhtalif thi drama mazhab saay related tha isliye logon ki dilchaspi ka markaz bana
Q: film bananay kay irada hai?
FM: ji film bananay ka irada hai
Q: konsi female artist acchi lagti hain"
FM: sanam saeed, sanam baloch, iman ali, sunita marshal aur sania saeed achi adakarayen hain
Q: future plans kiya hain?
FM:bohat saaray drama aur filmain bananay hain acchi adakaari karni hai
Rashid Nazir Ali
---