I know that I do. Why not?
Pakistani dramas are known for their realistic touch and thought provoking nature (at least before we got the doosri biwis). They don't normally have more than one season, except a few. Most of PTV's classic dramas have had just 13 episodes. Even now, a lot of shows end before 30 episodes.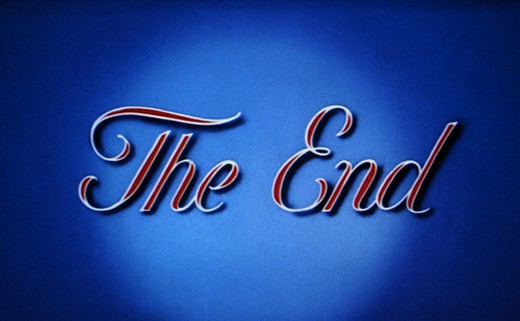 Why is this?
This is because our dramas all focus on giving a lesson. They complete their task, and then they end. But, is giving lessons all that television is about?The answer is no. I personally appreciate dramas that give a good (and DIFFERENT) message to the audience. Giving a message is a part of entertainment itself, but entertainment is not all about giving a message.
What to do?
Telling a story, whether simple or complex will make the audience fulfilled. But the "telling a story" trend is not practiced in our dramas. We have mostly stereotypical characters who are used to give us a message! So when I begin this discussion, about having seasons in dramas, I am not referring to the stereotyped shows, instead real dramas, which belong to genres like crime, action, history, horror, mystery and fantasy.
It's just about how you execute it. The budget, the direction, the acting and the locations etc, all matter. Don't put in extra cheesiness, don't make the audience cringe, don't put in roti dhoti heroines and oh yes, don't drag the story and voila, a good drama is the result.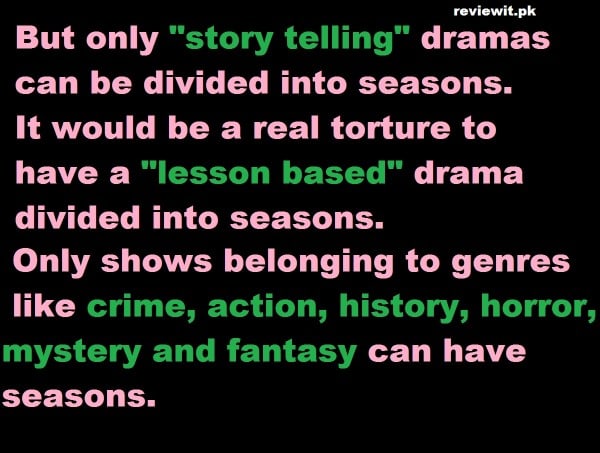 The pilot season:
When a writers write a drama with their heart and soul, they would want people to watch and appreciate their work. Billboards, promos and promotion on social network will garner viewers. But people can't be compelled to watch something simply through the advertisements. We all know how promos lie. Until we haven't gone through with a few episodes, we don't and can't make any judgments. So what's the solution? A pilot season which is supposed to be 5-10 episodes long and gives the audience an insight into the show.
Remember Hum TV's WOH? It had a 5-episode pilot season (which was really good) because the director wanted to experiment (a word that is unknown to most drama makers) and gather viewership for the main and second season. The experiment was a success, but the second season was totally monotonous and proved a disappointment.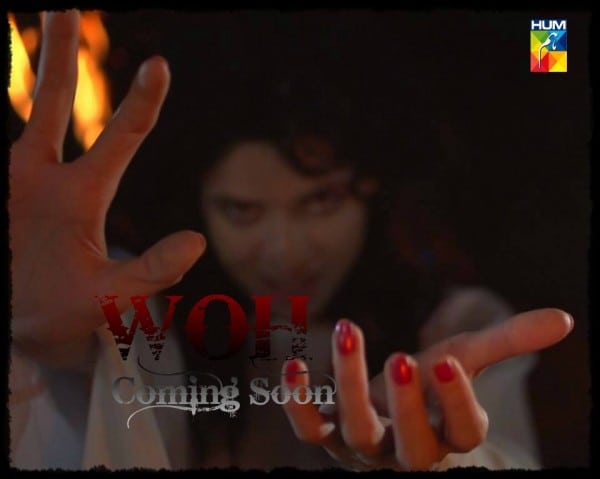 An article published on dawn.com, named TV in Pakistan: Why can't we have pilot seasons? said,
If a series is successful, it generates a lot of ad revenue through ratings. However, by the time this revenue comes through, the series has already completed its run.

Why not have a pilot season?

That way we test episodes with the target audience, based on their response, we green-light the good ones and shelf the others, preserving more funds for great content. Only good things will come of it.
Why we should have seasons:
The same article which I quoted earlier, said,
We tend to wrap up an entire show in one go. If a series is immensely successful, there is no capitalization on the business end.
This is true. A drama starts, and if it is good, it captures peoples' attention. They spread the word among their friends and family and while they try to catch up, the show ends. Now if it had a pilot season, and after that, a month long break before the next season, people would have time to catch up. More revenue could be generated when the second season of the show is telecast. Now you know why our normal saas-bahu and doosri biwi dramas can't have seasons. 'Cuz no one would watch the second season that's why! 
There is no need to drag:
As I have said before, only genre-wise productions can be divided into seasons, but there is no need to have more than 2 or 3 seasons, unless the production is a series. A series, like India's Aahat or America's How I Met Your Mother has a different story in every episode, so there is no point of dragging until you run out of ideas.
However, we all know how Indian drama industry destroys its drama serials with dragging. Same goes for American drama industry, which drags shows like Revenge through 4 seasons and ruins their stories. It's better for a serial to have 2 or 3 seasons.
There is however, one very important thing for drama makers to know. If they think that even one episode will be dragged then they shouldn't bother to make any seasons. We don't need prolonged tortures on our TV screens. This goes for Kaala Jadu, Mera Saein and WOH's second seasons.
What do you think about this? Positive criticism and compliments are welcome :)
Areeba Mohsen