Tonight's episode had a few surprises in store especially because the preview of this episode was misleading. This episode also focused on Mehru and Mahir more than anyone else. Some of the scenes were repetitive but for the most part Dobara continues to be an entertaining drama. Hadiqa Kiyani as Mehru stands out in every single episode; everything about this portrayal has been impressive throughout. Mehru's character took a completely different turn with this episode. Mahir's intentions are getting even clearer with every passing episode; his friend's disappointment with him came as a surprise because he was the one who was constantly giving him these ideas to begin with! Both these characters have been etched-out brilliantly and with the utmost clarity. Mehru and Jahangir's scenes yet again bowled me over more so because of Mehru's concern for this man even though she had just met him. Minal was one of the most likable supporting characters in the drama and Maheen Siddiqui's performance has been equally pleasant, I would really like to see her getting more screen time. Sehar finally changed her outfit in this episode; it would have been nice if Sabeena Syed would have put in a little effort into her wardrobe. Her bridal makeover was the worst and lately, we have seen her wearing the same clothes for days! The character could have been more bearable had it been translated on screen differently.
Changing Perspectives
There has been a great deal of focus on Mahir's father Jahangir in the past few episodes. Even though Shabbir Jan's performance has been remarkable and the writer has given the viewers plenty of reasons to feel for this character, somehow I have a difficult time feeling for him. Is it because I see this character more from Mahir's point of view than any other? He is constantly judging his son but has not once held himself accountable for not giving him the love, time, and attention he deserved. Jahangir is your typical desi father who expects the world from his son but has never accepted or loved him unconditionally. Apart from his health issues, his deteriorating financial condition has also been the focus of attention. I am wondering if he will choose to stay quiet because he needs Mehru's help. The bond these two characters share is so interesting and easy to connect to. Jahangir can see how genuine Mehru is but he has always doubted his son's intentions. Now, that he heard Mahir talking to his friend he is more sure than ever. That telephonic conversation, in which he wanted to tell Mehru the truth but could not make himself do it was written and executed so well.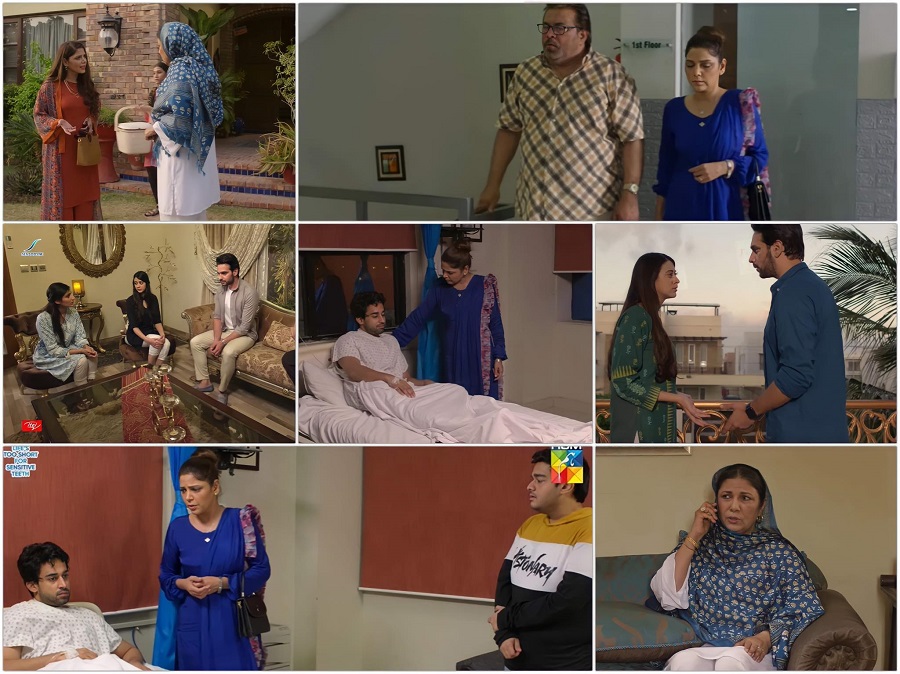 Many of Mehru's initial interactions with Mahir and now his father show the kind and caring side of her personality. She is always more than willing to help people in need even when they refuse. Mahir has successfully achieved what he was aiming for; Mehru trusts him more than she ever imagined she would be able to. She is convinced that after what happened, she has no reason to doubt him. Mahir is putting on a show and he has no feelings for Mehru. All of this goes so well with this character because Mahir never received the love which most children take for granted and had to do a lot of masking all his life therefore it comes as no surprise that he is so good at pretending that he is in love with Mehru. What surprised me the most was Mehru's complete lack of interest in her children; she was always shown as a considerate mother whose children meant the world to her. Now, all of a sudden she does not care about anyone at all, her frame of mind was completely different before this incident.
Mahir wanted Mehru to bring Affan back home which basically went to show just how confident he was. Mehru's tone when she talked to phupo about Affan was sterner than ever. She is no longer scared of his reaction and wants him to get along with Mahir. The whole equation is going to be interesting once they are all living in the same house, especially with Mahir's newfound confidence!
Final Remarks
This was another entertaining episode of Dobara. This is the kind of drama which you enjoy watching mainly because of the main characters and the performances. I am wondering where the Jahangir/Mehru misunderstanding will lead; perhaps that is how Jahangir will eventually tell his wife who Mahir is married to. I also have a feeling that Mahir will have a change of heart at some point, I hope that is shown gradually and convincingly. So far, the pace of the drama has been steady which keeps it interesting. Some of the sidetracks are slightly repetitive but the main track is enough to keep you looking forward to more.
Did you watch tonight's episode of Dobara? Do share your thoughts about it.