Drama serial Mol has been in the pipeline for two years now. After drama serial Ashk went on air the project head of the show started promoting his drama saying that he was going to cast Fawad Khan in the lead because those were the days when the rising star was a very hot commodity. There were also rumors that Mahira Khan may be seen opposite Fawad Khan but after a few months the Mol team stopped promoting the drama altogether. Now after 2 years the drama is finally going to be aired on HUM. The promos of the drama without the title are being shown on HUM too.
Naveen Waqar and Faysal Quairshi will be seen playing the lead in the drama. Faysal Quraishi recently started working with HUM otherwise he was always seen in Geo TV dramas. Faysal is also hosting a show on HUM titled Jeet Ka Dum after he stopped hosting Morning Shows on another channel.
Faysal Quraishi is very excited about this play and spoke a little about his character on facebook too.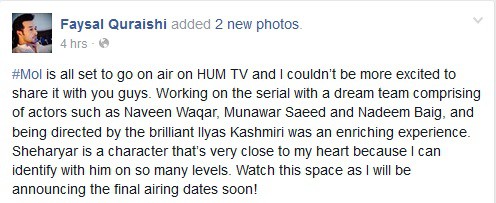 While talking to Express Tribune about his upcoming drama serial Faysal said, "Mol is a very inspiring story about family and love. It suggests that true love is not just the fairytale way in which it is mostly portrayed in novels and the movies."
Talking further about his character he said, "My character Sheharyar is somebody who I can relate to on many levels. He might not be very expressive, but he is fiercely loyal towards his loved ones. It is a very unique character and of course the total opposite of how the audience is currently seeing me in Rang Laaga."
Here are some pictures from the set: