All channels fight for the highest TRPs and for this they have to telecast quality dramas in order to gain the maximum amount of TRP. Recently Geo has claimed that its channel got the highest TRP more than ARY and HUM TV. It will not be wrong to state that Geo is now showing some quality dramas along with ARY and HUM TV for example "Aasmono Pe Likha".
Here I am going to talk about the drama "Ranjish hi Sahi" which is currently ON-AIR on Geo TV. Honestly I am shocked to see that drama TRP is only 3.0 but GOD knows may be I am only the one who is loving this drama. Normally we watch comedy or romantic dramas because mostly that's the audience choice but this drama contains a much diversified story from usually stories. A drama which is full of tragedies, sorrows and sufferings. This drama will pierce your heart away and makes you weep. Last time tears fell from my eye when I was watching "Dastaan" and now the Woe is on me while watching "Ranjish hi sahi".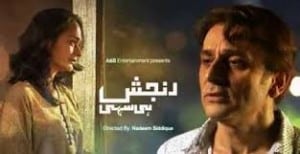 The greatest aspect of this drama is that it is close to those real life stories which never comes under discussion but happens actually. Most of the people do suffer from financial and legal difficulties and because of this they become more tense about their families and this tension results in severe health problems most commonly a person become a heart patient. It is also quite true that this society is very cruel and children without parents especially girls are like a piece of flesh in front lions.
Let me tell you the story of this drama to aware those who are not watching it.
Story starts from a Woman name Yumna (Samiya Mumtaz) who is surrounded by lots of difficulties, her husband died within 8 years of marriage leaving two daughters behind Tooba (Sana Javed) and Hiba (Maya Ali). Yumna's boutique is not doing a good business and her colleagues have deceived her by stealing millions of rupees. Due to financial problems Yumna also encountered with a heart problem, her heart become weak and therefore cannot bear pain. Kamal Hassan (Faisal Rehman) co-incidentally met Yumna in her boutique. In a flash back Yumna and Kamal loved each other and wanted to get married but their families didn't want this to happen. As soon as Kamal meet Yumna he came to know about her problems and as he still loves her he decided to help Yumna out of her difficulties. Yumna's both daughters' temperament is dissimilar from each other the only thing which is similar is that they both are very close to each other and to their mother. Tooba is a very shy and a coward girl who fails to express herself yet she is full of wit and understands everyone and take decisions very sensibly whereas Hiba is outspoken and stubborn girl, she claims that she loves her mother but never understands her, Hiba is also very possessive about her mother and sister.
Kamaal proposed to Yumna as he still loves her madly and assures her that he will sort out all her matters. Yumna accepts her proposal but this proposal becomes yet another challenge for Yumna, when Hiba came to know about this she protests leaving home but later on she came back findout her mother got admitted in hospital because of protest. Tooba convinced Hiba that their mother needs a companion who can took care of her during her failing health. Meanwhile Arsal met tooba, arsal is a brother of tooba's friend somiya. Arsal proposed to tooba and therefore they both got engaged however their engagement party did not happen in a peaceful environment Kamal's wife Bilquees (Saba Hameed) came to know that Kamaal is preparing for second marriage so bilquees sister and her husband disrupts the event by accusing Yumna that she is a characterless lady. Yumna's difficult period continues when she found out that her property is disputed and the actual claimant is someone else.
Kamaal finally told Yumna to marry her as this will remove him from defensive position hence they got married, on the other hand Bilquees calls her younger son Rohail (Erfan) from America to help her out in this situation. However the marriage didn't proved to be a helpful one instead another addition in her problems. Yumna finally told arsal's mother that Kamaal is now her husband and therefore arsal's mother who was never in favour of this relation returns the ring and engagement stuff finding it a rock solid reason. Even after marriage Kamal's habit of reassurance is still there and he never helped her an inch even Yumna asked him to took care of her daughters after her death but he didn't gave a convincing reply.
Finally Rohail approaches Yumna and told her that every wealth belongs to his mother and he will never let his father to help you out and whatever his father assures you is only an illusion and will never happen practically. These words came as a storm to Yumna as she realises that all her hopes are dispersing. On a very next day when Kamaal came to see her she refuses to talk to him and told him to leave. After Kamaal left in an anger Yumna received a call from her lawyer that she lost the case and therefore there is no way except to empty the house straight away, after listening to this news she calls Kamal in a panic still finding him a ray of hope but he didn't pick up. Yumna finally suffers a major heart attack and died.
This news came as a shock to Hiba and Tooba and they both cried for their mother. Yumna's words for her daughters is now hitting Kamal's head and therefore he approached twice to Hiba and Tooba telling them that he came to take them with him but everytime Hiba refuses to go with him accusing him the reason of her mother's death. Hiba and Tooba finally came to know about all the problems that her mother was facing which had resulted in her death but she never told her daughters because she doesn't want them to get disturbed. After the incident Rohail took Kamal and Bilquees to America now this is quite strange as two lead characters are suddenly out of picture.
Now Tooba and Hiba are only left in picture, they have to leave their house. They sold out their mother's boutique and bought a small apartment for themselves. Tooba now realises that she now needs to be strong and takes her mother place because after their mother's death Hiba's behaviour is becoming childish and she is getting more stubborn. The story is still moving on where tooba got the job and arsal is back in tooba's life as her manager and tooba as his assistant. Hiba does not like tooba to work in arsal's office as arsal is also in her hit list but Tooba explained her that there is no way that she is leaving this job as this job is very important for their living.
There are few flaws in drama as well. First of all is that there is not a single relative of yumna who could have taken care of her daughters after her death, well this is far away from reality as everyone got a relative or friend. Secondly the drama is now losing interest after the death of Yumna, before that there were many twists and turns in the drama which had maintained the interest every predictions were going wrong but now the story is only focused on Hiba and Tooba. I am really missing the flawless performance of Faisal Rehman and Samiya Mumtaz.
Now let's see what will happen in upcoming episodes. If you are watching this drama have your say and if you are not then I must recommend you to watch this drama.