Punjab Nahi Jaungi is one of the most anticipated and awaited films to be released this year. It is going through a post-production phase these days.
The dubbing sessions for PNJ, potentially the biggest film of this year, is almost under wraps. The director, Nadeem Baig has confirmed that most of the leading characters including Ahmad Ali Butt, Mehwish Hayat, Sohail Ahmad, and Urwa Hocane are through with their dubbing sessions. Currently, Humayun Saeed's dubbing session is in progress and will be finished soon.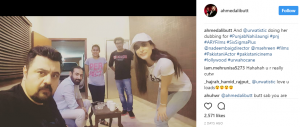 A roundup of the top celebrities of our media industry is what has created such a hype for this movie. While most of the post production is taking place in Pakistan, imported technology is being sought for the colour grading and sound mixing of the movie. The trailer of this film is to be released on Eid-ul-Fitr and all the efforts that are being put into the project definitely makes us believe that the trailer alone is going to be a real treat.The director promises that it will be enough to raise the much-needed curiosity for the movie.
One of the best elements that keeps audience engaged in a story is a love triangle and this movie will not only be entertaining one, but will also have other engaging elements such as top-notch actors, best production, and well situated and significant songs to keep the audience engaged throughout.
Will the makers of Jawani Phir nahi aani be able to meet high audience expectations of this movie? We certainly hope so!