The Pakistan Academy Film Selection Committee headed by Sharmeen Obaid Chinoy has selected recently released film Dukhtar to be sent to Oscars 2014 for a possible nomination in the foreign film category. Last year film Zinda Bhaag was selected by the same committee. This year the committee has Sharmeen Obaid Chinoy, Ali Zafar Aakifa Mian,  Iram Parveen Bilal, Samina Peerzada, Mehreen Jabbar, Mohsin Hameed, Nadiya Jameel and Rohail Hayyat as jury members.
Dukhtar is released on 18th September 2014. It is Pakistan's first road trip thriller filmed in mesmerizing locations of  Gilgat-Baltistan region of Pakistan.
The film is directed and written by Aafia Nathaniel. Its main cast consists of Samiya Mumtaz, Mohib Mirza, Saleha Aref, Asif Khan, Ajab Gul, Samina Ahmed, Adnan Shah Tipu, Abdullah Jaan, Omair Rana. The film is also screened recently at Toronto Film Festival.The film is produced by Aafia Nathaniel and Muhammad Khalid Ali while it is distributed by Geo Films (a sub company of Geo Television). It is first film for Samiya Mumtaz.
Reference excerpt from Urdu Daily Jehan Pakistan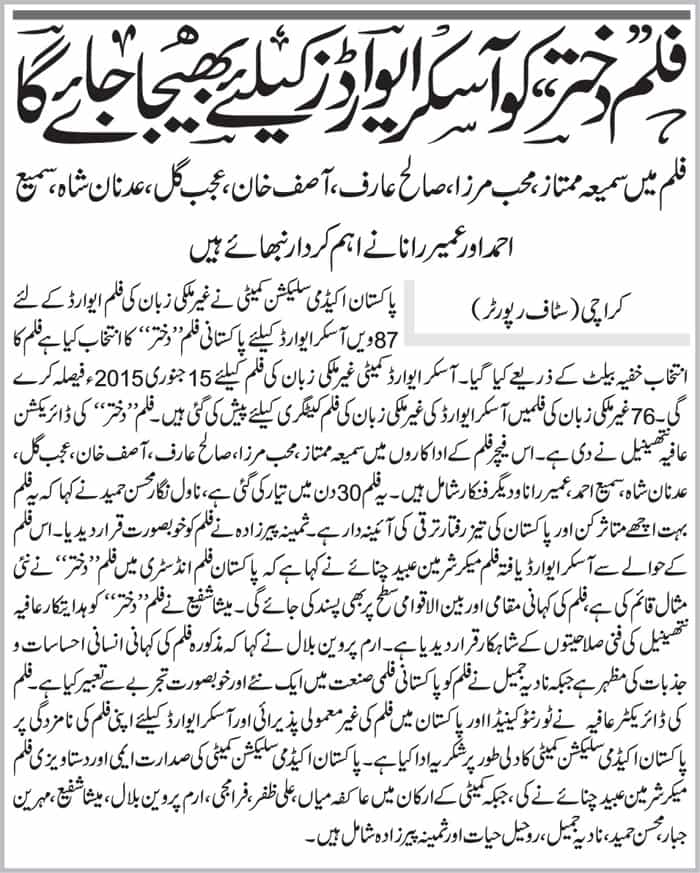 Rashid Nazir Ali