For the first time ever, the repulsive developments didn't infuriate me much because there was this extremely pleasant thought soothing my mind: the torture's ending next week and that's probably the best thing I've heard this month :D.
I think all ARY plays should come with a disclaimer that says: All characters and events in this show will stop making sense at one point so watch at your own risk!
The episode revolved around: tum Raahim ko nahe cheen sakti, mein Raahim ko cheen kay dikhaungi, tum Hassan ko nahe cheen sakti, mein Hassan ko cheen kar dikahungi... Biwi No.1 & 2 went head to head against each other and it was actually very funny how Raahim was crying at the top of his lungs and yet, Aisha and Farah were engaged in a heated and bitter exchange of words- ab bacha sambaal lo ya larr lo- koi ek kaam karo.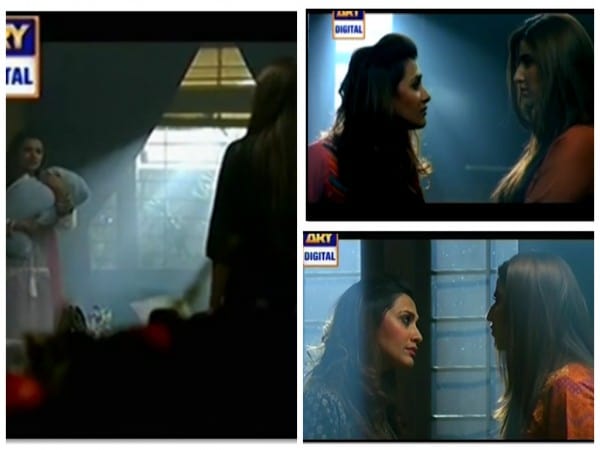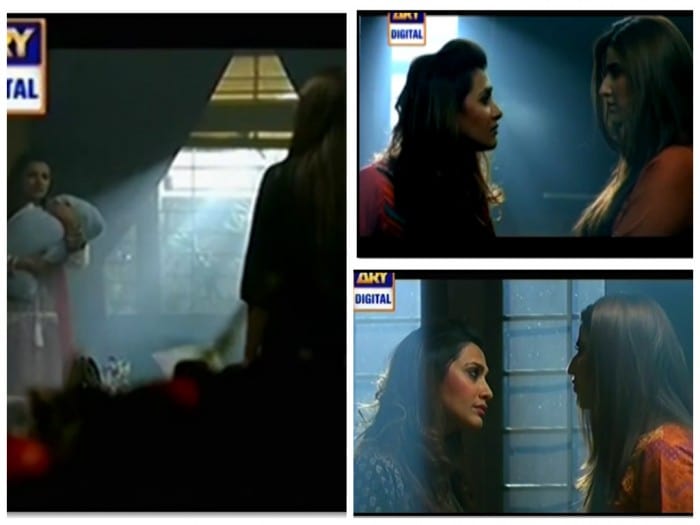 I am glad that the whole Farah-can't-take-care-of-Raahim fiasco ended in the first half of the episode and Farah ab Raahim ko sambhaal sakti hai- it's a relief, I tell you, because Farah's excruciatingly lengthy crying sequences were impossible to sit through.
"Bhai bhai, dimagh kharab kar kay rakh dia hai." Nope, this time I'm not the only one saying this- it's Aashi telling her ladli beti off for the 24/7 bhai ki rutt! I guess this should be the highlight of the episode :P. Thank God, this girl is getting on Aisha's nerves too!
It's actually pretty ironic how all of a sudden, Biwi No.2, who, let me remind you, was a home wrecker, knows all about mastering the art of making relationships work and the way she puts it, "issay rishtay nibhana kehtay hain." In contrast to this, Biwi No.1 is being portrayed as the vamp of the show. And Hassan, the fasaad ki jurr like I always call him, actually has the audacity to say, "Tum dil say utar gayi ho, Aashi." See, that's how twisted the writer is- the wife who turns psycho after her piya's second marriage ends up being the culprit and the piya who's actually the one responsible for making her go nuts has the nerve to tell her off! I was super glad when Aisha decided to seek refuge in her bhai's house but now that Saman is missing, I guess her temporary absence would lead to reconciliation- perfect ending, huh?
I like things detailed and descriptive and I know this was a very brief review but I am sorry guys, this episode had nothing to offer :P. What do you think of the latest episode? Are you waiting for the last episode? Voice your thoughts on this one :)
Maryam Mehdi