This was another interesting episode of Ehd-e-Wafa, the story is moving forward smoothly with all the boys being given equal screen time. All the tracks have finally taken off which makes Ehd-e-Wafa a drama which offers a little bit of everything; suspense, romance and comedy. In this episode, the background score was used effectively and some of the developments were completely unexpected. Shariq's track is getting more serious with every passing episode and Shehryar continues to be one of the most likable characters in the play. Dua and Saad's romantic scenes in this episode were cute and comic. Gulzar and Saad's friendship is heart-warming . Shahzain is back to being his normal self! Shehryar helped him see things from a different perspective and he was back to being his old self which made me wonder why the negative side of his personality was shown in so many episodes. It was unnecessary to give so much screen time to his 'evil' side if things were eventually going to go in this direction. Looking forward to the boys being a 'gang'.
Important Developments
Tonight's episode of Ehd-e-Wafa opened with Shehryar making a trip to Shahzain's haveli so that he could talk to him face-to-face. Ahmed Ali Akbar is extremely likable as Shehryar. Although the character itself is a pleasant one but Ahmed Ali Akbar's performance definitely adds to the appeal. It took Shehryar only a few minutes to change Shahzain's perspective, which was definitely a relief and something which made it quite clear that he was after all only angry! Shehryar said everything which the viewers had been thinking and talking about all these weeks. The change in Shahzain's personality and the dark side of his character was just as difficult for Shehryar to accept as it was for the viewers! Looks like Shahzain's track is going to take a completely different turn from here on. Osman Khalid Butt's acting left a lot to be desired even tonight. Now that Shahzain is 'over' Dua, he will focus more on Raani which will give viewers few light hearted scenes in the upcoming episodes. Raani is already keen on meeting Shahzain since she likes him a lot. Zara Noor Abbas owns her character and her scenes are always enjoyable.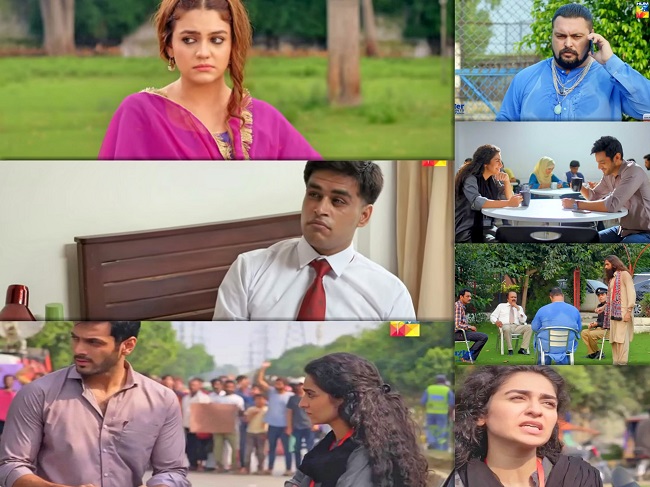 Shariq's track tonight took a serious turn and some of the developments were surprising. I am sure I am not the only one who thought that Shariq was finally at the right place where he would get his big break but then the owner of the channel did something which showed that he too wanted to protect the criminal. This entire development was frustrating to watch and I couldn't help but wonder what Jajji was going to do to Shariq after this. It was however good to see Shariq's resilience and his determination. All of these traits went well with his age and the way Wahaj Ali translated this character on screen made it easier to connect to him.
Ramsha seems like a fun and easy going young lady who does not quite understand that her channel's owner is backing the criminal she wants should be in prison. Ramsha and Shariq's scenes were interesting, both of them have tons of potential and energy, I really hope that this track is handled well and we see both of them working together perhaps independently. Hajra Yamin is a phenomenal actress and her scenes were a treat to watch.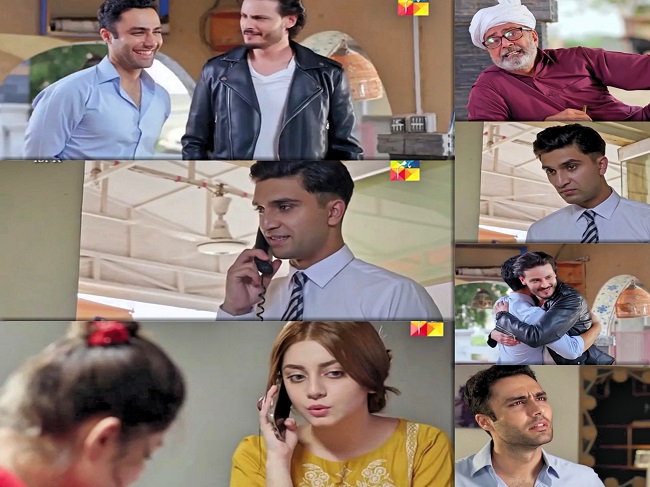 Gulzar and Saad's scenes at the PMA were sweet and funny as usual. Ahad Raza Mir and Adnan Samad Khan's on-screen chemistry makes this bromance more believable. Some of their dialogues were hilarious and the situations were fun to watch as well. I would have liked to see Saad telling Gulzar about the bhabhi but that scene ended too quickly. It was good to hear that Gulzar finally passed and got the holiday he desperately wanted. Both these actors have been performing really well. Ahad Raza Mir's acting in some of the scenes was exceptional, especially his expressions were on point.
Final Remarks
It would have been good if the viewers were shown at least one scene covering Saad's interaction with his father while he was home. The main focus of this visit seemed to be Dua and Saad's friends, the family was almost missing from it which was rather off. The first telephonic conversation between Dua and Saad was well written and acted out, an enjoyable scene to start the episode with.
Tonight's episode of Ehd-e-Wafa had a little bit of everything which made it an entertaining one, overall. These latest episodes have given me hope that this drama will get more interesting as the story moves forward.
The preview of the next episode was quite interesting. Shariq's track is keeping me on the edge and Shahzain and Shehryar's love story will start next week.
Did you watch this latest episode of Ehd-e-Wafa? Do share your thoughts about it.