The world was still not out of the "Kolaveri Di" craziness when Taher Shah's new song "Eye to Eye" has rebooted the music insanity in new ways. This Pakistani artist has came up with a crazy song Eye to Eye which is been enjoyed by a large number of music lovers who are finding its epic video interesting. If you are an active user on social media sites, you must be enjoying its broken lyrics in your friends' statuses and favorite groups.
With an unusual hairstyle and makeup highly done, Taher Shah has given his video a humorous touch where he keeps talking about his eyes and his love's eyes. His non-stop dance moves are further making people go hilarious thinking that how could something of this sort can go viral on internet.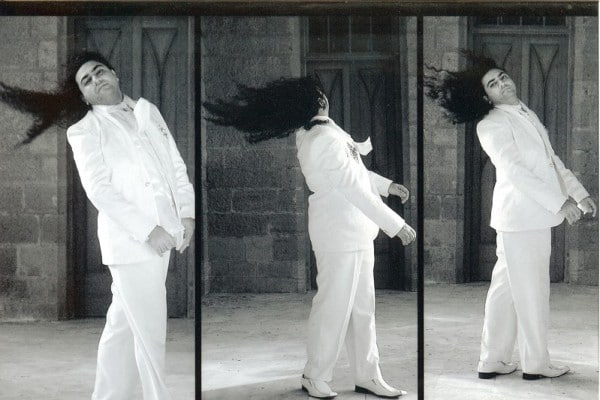 Hate it or love it, Eye to Eye is enjoying a huge audience currently on social networking sites!
Watch Eye to Eye NOW!!
Youtube
http://youtu.be/uimW6WLCpVI
Dailymotion
Read the Lyrics 
Eyeen to eyeeen, Eyeeeen to eyeeeen
sensual sensational eyeeens
my eyes and your eyens
colorful eyes our eyens
fabulous exciting eyeens
eyeeen to eyeeeen, eyeeen to eyeeeen
mmmmmm ,aaaaaahaaaaa
keep your love in the soul
make love with eye to eye
your fairs(if I am not wrong) and glorious eyes
I can see with my spectrum eye
its a genuine classic love
she will feel it romantic love :/
my BRIDE(are you kidding me) eye to eye
glowing with your sparkling eyes
Already gotta special love
sincere promise peaceful love
eyeeeen to eyeeeeen , eyeeeen to eyeeeeen
simple charming eyes
my eyes and your eyes
dreaming fairies eyes our eyes
stylish excellent human eye
eyeeeen to eyeeeen, eyeeeen to eyeeeeeen
mmmmmmmm, hmmm aaahahaaaaa
eye to eye makes happy killer love
lifetime once in a life,
substantial love is heaven
for the "size" eyes
spectacular eyes our eyes
my eyes and your eyes
eyeeeen to eyeeeen , eyeeeeen to eyeeeeen
beautiful eyes as endless love
your eyes are like a sunshine
your precious eyes belongs to me
because I love you
true love always smile
you are mine always mine
your love is faithful forever and ever
without you I am like a butterfly without flying???
eyeeeen to eyeeeeen , eyeeeen to eyeeeeen
mmmmm hmmmm, aaaa haaaaaaaaaaa
wonderful gorgeous eyes
my eyes and your eyes
emotional and happy eyes
all lovely eyes full of life
eyeeeen to eyeeeen, eyeeeen to eyeeeeen
mmmm hmmmm aaaa haaaaaaaaa"
Lyrics credit: Pakium,com
This song will surely make you smile if not laugh,
Share your views,
Nida Zaidi