This is perhaps the most well written drama that I've ever watched. It's chalk full of memorable dialogues that leave you shaking your head and chuckling. This is a female centric drama that revolves around the plight of the women from two and a half different families, who are related by sometimes fraught and reluctant ties. There's Raska, the matriarch of her family, whose husband, Anwar, married another woman Paro and according to Raska, "jise bathiji kaha karte te, usi ke saath bhurapa kharab kar liya Anwaar sahab ne." She is a strong, bitter woman, who's not afraid to speak her mind, whether her opinion is warranted or not. Raska is played by the veteran actor Hina Dilpazeer, who packs quite a punch as an acerbic woman jilted by her husband. She has three children, two girls, Fazia and Irham, and a son, who's only known by his nickname, Bhaijaan because of his serious demeanor. The interesting thing about Bhaijaan is that not only do his sisters call him that, but also his parents. He's the oldest of the siblings and unmarried. Fazia is the middle child, who's bitter over her younger sister's marriage because she was passed over for her sister. Irham, the baby of the family, is as outspoken as her mother, but not as bitter. She represents a typical millennial Karachiate to a t; she's mainly interested in Indian dramas and social media. Despite her outspoken and independent nature, she's still quite ecstatic about her marriage to Taabish, a boy that her father picked out for her.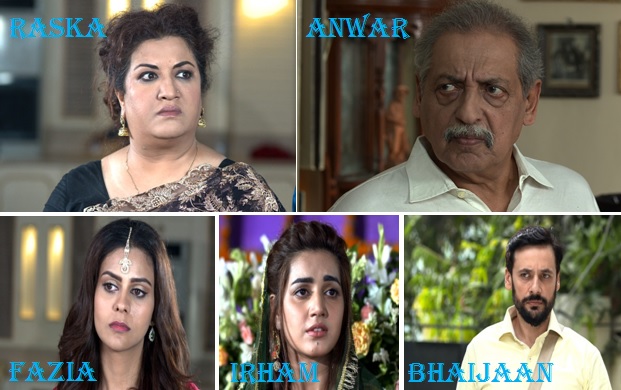 Then there is the half family of Paro and her daughter Pashi. Paro is the second wife of Anwar sahab and she's a smart and calculating woman who knows how to manipulate her husband. She was the daughter of Anwar sahab's friend, who he married after her father's death. Paro's played by Samiya Mumtaz and she's phenomenal in the role. It's a joy to see her onscreen again so soon in such a different avatar from Udaari. The young actress playing Pashi is also quite talented. Pashi is mainly interested in facebook, but she only posts "achi baatein" and plays Candy Crush, she reassures her suspicious mother. Anwar sahab is the head of the family; he owns a store near their house and looks after not only his wives and children, but also his younger brother Siraj's family.
Siraj is a kindhearted and optimistic man who's touched by the plight of his distant relative. Almaas is the wife of Siraj, and while she's not as outspoken as her bhabhi Raska, she still makes her displeasure known when her husband brings home an orphaned relative, Jahan Ara, from India. Almaas and Siraj have one son, Sherry, who's only interested in flirting with a stone-faced Jahan Ara and having fun with his cousin Irham. Jahan Ara is another interesting character. She's from Bhopal in India and she comes to Karachi with her Mamu Siraj after her mother and father pass away. She is unlike Irham and Sherry because she prefers to stay quiet and blend into the background. She's faced a lot of hardships and her eyes speak of the horror that she's witnessed, whereas Sherry and Irham have always lived carefree lives, shielded by their parents.

The writer of this drama, Fasih Bari Khan, has done immense justice to the story. He has speckled in dialogues that not only reflect the hypocrisy of the characters, but also the larger hypocrisy of society. For example, Raska on one hand condemns Pakistani dramas for showing the trend of multiple wives, but is an avid fan of Indian dramas, such as Rakshas Nandita, which show the titular character scheming to trap her dead husband's friend. Fasih Bari Khan is also the acclaimed writer of the comedy drama Quddusi Sahab Ki Bewa, which became a hit and was on air for 155 episodes. He is a master at writing dialogues that leave you laughing out loud not only at the outrageous dialogues, but also the way they're presented. Some of my favorite dialogues so far have been gems like these: "Londe aaj ke Umrao Jaan ho gaye," "Ussne unka passport jala diya," "aap thanda piyingi ke garam? Ice cream hai to vo leao."
I especially am interested to see how Jahan Ara's story plays out. She's grateful to her uncle for bringing her to Pakistan, but she knows that she's not wanted by her aunt. She's lived a hard life in Bhopal, which she vocalizes when Sherry tries to not so subtly ask her if she had a boyfriend, "Jahaan humte, wahaan boyfriend se bara masla roti ka tha." She rebuffs the advances of Sherry because she's far more mature than he is. Bhaijaan is also another character that I want to know more about. He seems to be a serious, no nonsense man that stands neutral in the craziness of his family.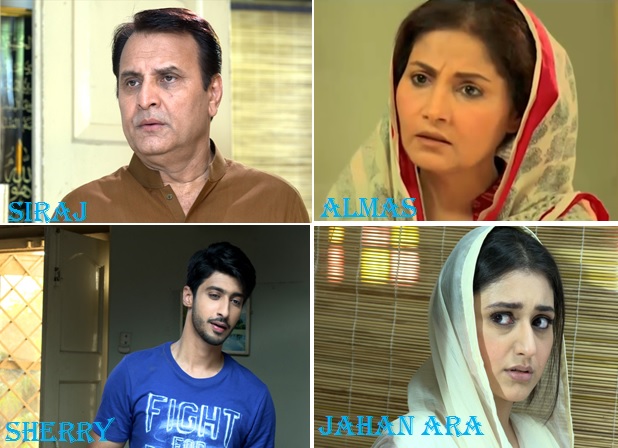 Overall, I think this is my favorite drama since Udaari and I'm quite excited to see how this unfolds. I'm curious to see who the title of this play refers to. Is the faltu larki Irham, who's only interested in vapid conversation? Or is the faltu larki Jahan Ara, who has to depend on the mercy of her relatives in Pakistan because she has no one else. I would highly recommend this drama to anyone not already watching this; it airs on A Plus on Thursdays at 8:00.
Stray dialogues that stayed with me:
"Dance to tumhare culture mein hai." – Irham
"Iss umar mein jail mein chaki piesinge aap?" – Almaas
"Yeh larkiyon walon ka ghar hai, khanum ka adda thori hai." – Raska
"Yeh jo hamari larki hai na, ye hamare upar boj nahi hai." – Raska
And my favorite dialogue of all, life advice from Bhaijaan "Jabi bijli ke kaam kiya karein, toh slippers pehen liya karein."
Safiya Yakolangi