Oh my! As if the lives of all these characters were not happening enough, these past four episodes unleashed further mayhem. Yes, I know the haveli characters are quite absurd but I like how each track in general is dealt with and one is not bored while watching the drama. This drama has wit, masala, heartbreak, revenge – each character is fighting its own battle in its own way.
Where do I begin? Probably with Paro for she seems to have lost her carefully maintained composure. She wavered when she felt Bhaijaan may end up marrying Paro but dealt with that aptly and nipped that story in the bud. Or so she thought. But Bhaijaan and her showdown had me on the edge of my seat. Watching Paro lose all control and Bhaijaan speak (!!) with the whole scene ending with the slap was definitely a scene to watch. That seemed to set the ball rolling with Paro being reminded of how she scorns love or so she feels she believes she does and unleashes all hell on Paashi when she is called to school by her teacher. Paro's love or obsession, whatever you may call it seems to envelop her where she cannot see or feel anything else. She was blinded with rage when beating Paashi but the way her demeanour changed when Bhaijaan grabbed her arm made me recoil and be drawn in at the same time. If that is possible. It seems as if that conversation with Bhaijaan has made her lose all control for she hurls insult upon insult at Anwaar Sb and him grabbing her throat (yawn) did not garner such an intense reaction from me as did what he said about how he knows she has her sight set on Bhaijaan. I mean, what?! Raaska knows, Jahan Ara has it figured when she says to Paro about having a 'chor' in her heart, even Anwaar knows so why has everyone kept mum about it? And talk about facades, why was Anwaar Sb so lovely dovey then if he had the truth figured out? Making the most of the attention from a younger woman?! Mindboggling.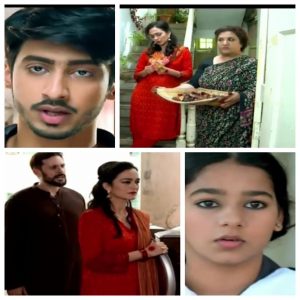 And Bhaijaan. Bhaijaan is like a bear just rousing from a deep slumber. He has found his tongue and also figured out how to use it. So to speak. Which is actually what he is doing, ha! I liked how he wrestled with himself internally wondering whether he should intervene to save Paashi or walk away to avoid another showdown with Paro – and chose the former option. I am a bit curious though – where is Paro's anger coming from? All because she loved Bhaijaan and he did not reciprocate her feelings? How did they first meet? Did he give her any false ideas or hopes? That is one part of the story I am still waiting for to unfold.
I am a bit amused by Anwaar Sb's personality – his leniency and relative open mindedness with the next generation. He tells Paro to leave Paashi alone saying children make mistakes. He admits to Raaska later that Jahan Ara is most likely innocent. Paro's verbal diarrhoea has sent him running into Raaska's arms and she is not complaining either. Even though he has been so unfair to Raaska, she has always cared for him so the kitchen scene, in spite of everything, still felt sweet.
Jahan Ara is consistent – she continues to confuse me. Like a flower billowing in the wind, she bends towards whichever direction the wind blows. Yasir approaches her and the viewer is left unsure whether she loves him or not. Bhaijaan speaks to her and you think she wants nothing more than to be married to him. This woman is the doe eyed look personified. So if she has seemingly 'friend zoned' Yasir, then why give him those looks and accept small tokens of appreciation and all the handholding! Then the tentative small smiles accompanied with holding her dupatta as in the picture below when he calls out to her. Also the same doe eyed look and the small smile she gives Moazzam Ja when she sees him. No, do not get me wrong – not being the moral police here. Mera Jahan Ara say koi laina daina nahin except that she is confusing Yasir, Bhaijaan – and moi!! Although – her latest conversation with Yasir when she seemed to be admitting her feelings for him made me wonder if that is what she really did? So jaatay jaatay is that what she has done – admitted she loves Yasir but must go ahead with this marriage because that is what his parents want? Help please!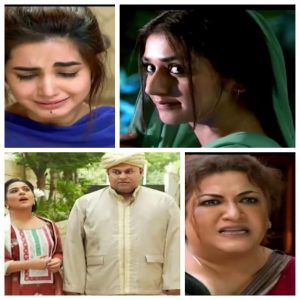 Enough of Jahan Ara. Things are only worsening for Erum and I can only wonder why she is just taking it all? She seems to have enough of a backbone so why not pack her bags and leave? Yes, I get she felt that maybe in some way, Taabish may still care for her and that hope does not let her leave but still! Her retorts when she is yelling at Taabish and the three musketeers (his mum and sisters) appearing made me laugh out loud.
Anwar returned and left. And I will also leave it at that. Moazzam Ja seriously gives me the creeps and I thought he finally gave Faiza the creeps too when he told her his white sari and chocolate (err what?!!) stories but the way her head jerked up when Yasir mentioned the upcoming marriage made me think she might snap out of her momentary leap into Moazzam Ja – free state and wreak havoc all over again. Sigh. And Moazzam Ja – uggh can we please call him MJ? I guffawed when Tajwar Bi promised him a bride prettier than Faiza and he agreed like a toddler who is crying over a lost toy and is promised a brand new one. A better one. Guilty of having used the same tactic myself with my children when they were toddlers, I could not believe it was being used here and the irony of it being used to 'replace' one bride with another was not lost on me. But then MJ is confused and although seemingly smitten when he saw Jahan Ara, he is still meeting Faiza. And MJ's mum?!! I spoke too soon- rather thought too soon when after these three episodes I sighed with relief at being spared any of her scenes and then in the fourth episode, smack, there she was in all her glory. Literally.
I said it before and I will say it again – Faltu Larki is not the kind of drama that we all tune into at 8pm and then rave about. It is not everyone's cup of tea but yes it definitely is mine and that too a kadak one! I love the humor, the wit and the insults which hit quite close to reality. Jahan Ara being openly labelled as prettier than Faiza, extra 'charbi' on Nimo, Mushtari not being a judge of prettiness – it makes me marvel at the actresses too who have taken all this in stride in the name of the drama. Like most of us (I think), I too have outrageous thoughts and sometimes retorts at the tip of my tongue which I do not utter which is why it tickles me and amuses me no end when all these characters blurt out whatever they think and feel – with no filter! I can not explain how really but after these four episodes I was left with this strange thought that all the women in this drama are strong in a way yes, but all faltu in a way as well. As in their place in life. I had pinned Jahan Ara as the faltu one, but Erum is a misfit in her in laws, Faiza in her desperation to be married has made herself look so desperate and useless, Paro with her revenge and unrequited love has chosen a path that makes any of us question her purpose in life, women of the haveli – enough said.
I wrote an overview because I was honestly quite taken with this drama. I had not planned on doing a weekly review but one of the comments on the overview stating that Faseeh Bari Khan's dramas are normally wrapped up within 30 episodes and then the events of these episodes made me really want to share my thoughts and hear everyone else's. At this point I am very unclear about where things will lead for Jahan Ara. Will Bhaijaan step in for Raaska also seems to feel bad for Jahan Ara. But if that happens then will she agree to marry Bhaijaan for I feel she cares about Yasir now? And how will Yasir's parents snap out of their greed? What will become of Paro? Next week's episode's promo gave us an insight to the 'young love' that is also part of this drama and that did not seem to be a very promising end. Will that finally break Paro? With the drama airing two days next week I am definitely looking forward to seeing what will happen. This drama is in a league of its own and each actor and actress has performed their character so well. In my opinion, Hina Dilpazir, Samiya Mumtaz and the actress playing Paashi are hands down the best. I am still chuckling over 'uloo ka gosht' and 'laraayi shuru nahin huee aur yeh teen a jaatay hain (Erum to her in laws). What did you all think of these episodes – would love to hear your thoughts.
Kunwal Javid