Zahid Ahmed has made quite a name for himself with his looks, his voice and his acting. He is a phenomenal performer in many recent dramas. He is also exceptionally open and frank with his fans and admirers about his personal life and his journey to success.
Yesterday on his birthday, Zahid spoke to his fans live. He asked them to catch him on instagram as a present from him on his birthday and they can ask him anything they want. Lots of his people spoke to him and asked the questions they had in minds about him. In his usual friendly manner, Zahid answered a lot of their questions and told them that Saba Qamar is his favourite actress and that working with Ayeza Khan is a brilliant experience, as she is very humble and down to earth. Speaking of movies, he said that he wants his first movie to make an impact, that is why he is very choosy and have not finalised a film yet. On the topic of Bollywood, he expresses his openness to the idea and said that he is an actor, if he gets a good offer from there, he will certainly consider it.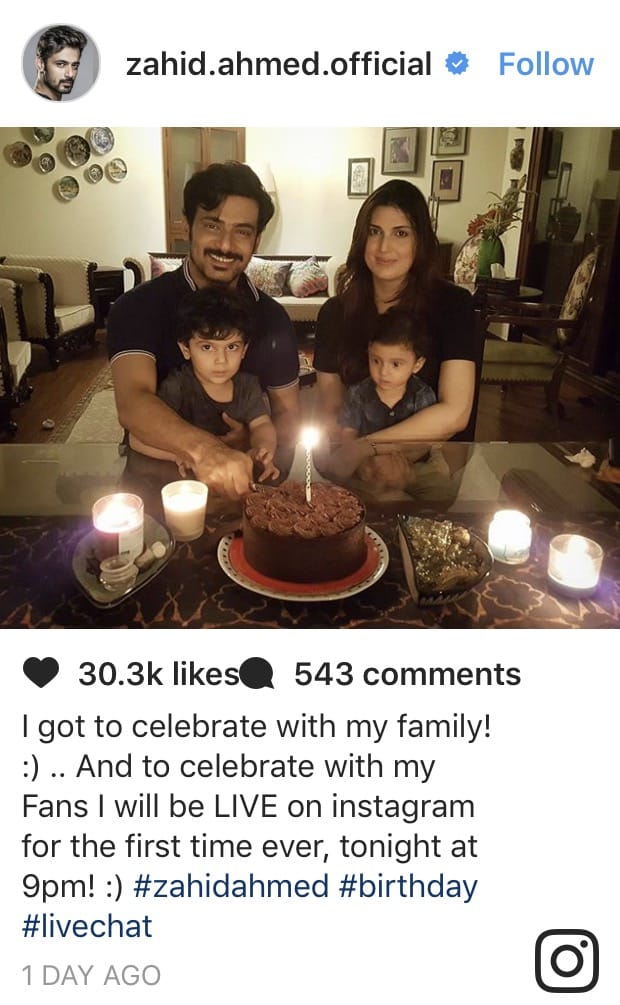 We wish Zahid Ahmed a very happy birthday and hope to see him in a lot of wonderful roles in the years to come.